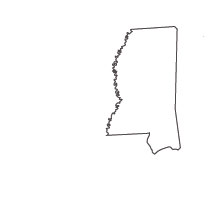 Steps to become a Lawyer/Attorney in Mississippi
Follow the step by step process or choose what situation that best describes you:
Law Information in Mississippi
Mississippi was home to the United States' first bar association for lawyers, organized in Natchez in 1821, according to the Mississippi Bar Association. After years of ups and downs, the state bar association was unified in 1832. Today, there are over 8000 members of the Mississippi bar. The Bar has adopted mandatory Continuing Legal Education for lawyers in the state, has established the Interest on Lawyers Trust Account program; has constructed the Mississippi Bar Center, and has piloted many other programs benefiting not only Mississippi lawyers but also Mississippi residents. If you would like to become a member of the Mississippi bar, keep reading for instructions on how to do so.  
Get Your Mississippi Undergraduate Pre-Law Major
The Mississippi Board of Bar Admissions says that you must have either a bachelor's degree or have completed three years of a six-year pre-law/law integrated curriculum to fulfill the state's undergraduate education requirements for lawyers.  
Accreditation
The undergraduate college or university that you attend must be accredited by a national or regional agency recognized by the U.S. Department of Education. This will ensure acceptance of your undergraduate education by the Board as well as by ABA-accredited law schools to which you later apply for enrollment.  
Requirements and Standards
Your undergraduate major should be a subject in which you are interested and which challenges you. There are no right or wrong majors or courses to take in undergraduate school as a pre-law student. Thorough, broad knowledge of humanities will help to prepare you for the rigorous curriculum you will encounter in law school.
Degree Options
You must either receive a bachelor's degree or you must have completed three years of a six-year integrated pre-law/law curriculum, under Board rules. Your major need not be in any particular area, although majors taken from humanities, history, government, political science, and economics are popular choices for pre-law students.
<!- mfunc feat_school ->
Featured Programs:
Sponsored School(s)
<!- /mfunc feat_school ->
Sponsored Listings
LSAT (Law School Admission Test) in Mississippi
Next, you must pass the LSAT, or Law School Admission Test. This standardized admission test lasts six hours and is offered quarterly around the country.
How to prepare
Free study materials for students may be found at the LSAT website. If you wish to take a LSAT preparation course, options in Mississippi include:  
LSAT Exam Prep Courses in Mississippi:
Exam content
You will be tested in the following areas on the LSAT:
Reading Comprehension – You are given four complex passages to read and must answer questions in 35 minutes. This means you have just over eight minutes to work on each passage. Make sure to read each passage thoroughly so that you have a good understanding of it and can answer the questions correctly.
Logical Reasoning – You are given 35 minutes to complete 24 to 26 logical reasoning questions (or about a minute and a half to allot to each question). You must answer questions based upon the reasoning in brief passages.
Analytical Reasoning – Also called Logic Games, this section involves problems where you must make inferences, glean rule combinations, discover linking patterns, and understand restrictions in order to choose the correct answer.
Writing Sample – You will also be asked to write a short essay on the LSAT. This is not graded as part of your exam score but is sent to the admissions personnel at the law schools to which you will apply later.
Application process
Apply online to take the LSAT, and pay the $190 exam fee. The LSAT is offered four times per year at the following locations in Mississippi:
Blue Mountain College, Blue Mountain
Delta State University, Cleveland
Mississippi College, Clinton
University of Southern Mississippi, Hattiesburg
Rust College, Holly Springs
Jackson State University, Jackson
Mississippi State University, Mississippi State
Tougaloo College, Tougaloo
University of Mississippi Law School, University
Receiving Your Score
The lowest LSAT score you can possibly obtain is 120, and the highest, 180. You should expect to receive yours by mail approximately 21 days after taking the LSAT. Average LSAT scores of admittees to Mississippi law schools are as follows:
| | |
| --- | --- |
| University of Mississippi: | 155 |
| Mississippi College: | 146 |
Go to Law School in Mississippi
<!- mfunc search_btn -> <!- /mfunc search_btn ->
Law School Application Process
Once you have completed your undergraduate education and passed the LSAT, you are ready to apply to law schools. Under Mississippi's bar admission rules, you must graduate from an American Bar Association-accredited law school. You may attend any of the over 200 such accredited law schools across the country, listed in the LSAC Official Guide to ABA-Approved Law Schools.
Credential Assembly Service
In order to apply for admission to an ABA-accredited law school, you must use the Law School Admission Council's Credential Assembly Service (CAS). You will gather transcripts from any institution you have attended classes for credit and send them to the CAS. You will also provide the LSAC with names of persons who will write your letters of recommendation, and who will write online evaluations of your work. The fee to use the CAS is $195 and covers the electronic applications made to the ABA-accredited law schools you choose.
Accreditation
All who intend to sit for the Mississippi bar exam must have a J.D. degree from an ABA-accredited law school (or be no more than 60 days away from completing requirements for such a degree at the time you take the exam).
ABA-Accredited Law Schools in Mississippi
Two law schools in Mississippi hold ABA accreditation. They are:
Course requirements
As a law school student in Mississippi, courses you will take in the average curriculum include:
Civil law and procedure
Contracts
Torts
Criminal law and procedure
Legal writing
Legal research
Property
Constitutional law
Business and commercial law
Taxation and estate planning
Labor and employment law
Online Law Degrees
(For students who choose to focus on a subset of law other than an attorney.)
Internship
Most Mississippi law schools will require that you fulfill an internship while a law school student. This may involve working in an on-site legal setting or working in a school legal aid clinic assisting the indigent. Whatever your situation, your job performance will be graded by a supervisor as well as by a member of your law school faculty.
Registration
You must register with the Mississippi Board of Bar Admissions by October 1 of your second year of law school and pay a fee of $125. (If you fail to file your application by the deadline, you will face a late registration fee of $325). The Dean of your law school must attach a certification of your progress towards your J.D. degree along with your grades. In addition to the Law Student Registration Application, you must:
Make sure pages 2, 3, 11, and 12 of your Law Student Application are notarized
Make sure everything on the application is typed
Enclose the fee in the form of cash, certified check, or money order only
Enclose an Index card (information will be provided on what to put on this)
Fingerprints (information will be provided to assist you with this)
Status sheet Form 4
Form 2 – Additional Response Page (if needed)
Indicate on Page 2 of the Law Student Application when you will sit for the Multistate Professional Responsibility Examination (MPRE)
Request for Preparation of a Character Report (will be sent by the Board to the National Conference of Bar Examiners- you will also pay a fee of $150 to the NCBE for this)
Retain a copy of all information that you will be submitting to the Board of Bar Admissions
Mail all of the above to Mississippi Board of Bar Admissions, P.O. Box 1449, Jackson, MS 39215-1449
J.D. Degree Programs
You must receive a J.D. degree from an ABA-accredited law school (or complete the majority of the requirements for one – see above) in order to sit for the Mississippi bar exam. There may be opportunities to receive dual degrees or certificates in other areas in addition to your J.D. degree. Check with your law school for details.
Pass the Mississippi State Bar Exam
After you are at least 21 years old, have registered as a law student in Mississippi, and completed the majority of requirements for or received your J.D. degree, you are ready to take the state's bar exam.
Graduates of Foreign Law Schools
Graduates of law schools located outside of the United States are not eligible to take Mississippi's bar exam.
Preparation
The Mississippi Board of Bar Admissions posts past essay questions and answer explanations on its website. Reviewing these may be of great assistance to you as you prepare to take the state's bar exam. The National Conference of Bar Examiners website provides free study aids for the MBE (Multistate Bar Examination), MEE (Multistate Essay Exam), and MPT (Multistate Performance Test).  
Other resources to help you prepare to take the Mississippi Bar Exam include:
Exam content
Mississippi's bar exam is a two-day event. On the first day, you will have six Mississippi essay questions and will be given an hour to spend on each one. While essay subjects vary, for the February 2019 bar exam they are:
Evidence
Contracts
Constitution of the U.S. and the State of Mississippi and Criminal Law and Procedure
Practice and Procedure of Mississippi Courts
Domestic Relations
Professional Conduct and Ethics
That day, you will also take the Multistate Performance Test (MPT) consisting of two 90-minute questions, and six Multistate Essay Examination (MEE) questions.
The second day of the bar exam will consist of the Multistate Bar Exam (MBE), 200 multiple choice questions on any of the following subjects:
Civil procedure
U.S. Constitutional Law
Contracts
Criminal law and procedure
Evidence
Real Property
Torts
Application Process
Applications for the upcoming bar exam will be posted online at the Board website. The Mississippi Board of Bar Examiners has posted a handy five-minute video here to explain the process of filing your bar exam application online. The fee to take the exam is $850 and will also be explained in this video.
MBE Transfer Scores
If you took the MBE in another jurisdiction within 20 months of taking the Mississippi bar exam, you may transfer the actual scaled score you received to Mississippi.
Pass Rates
The Mississippi Supreme Court says that in 2017, the overall pass rate between the February and July exams was 52.2 percent. In 2016, it was 68.8 percent. In 2015, the overall pass rate was 75.1 percent.
Admission on Motion
If you are already a member of the bar in another jurisdiction, you may be eligible for Admission on Motion to the Mississippi bar. You must meet the following requirements:
Have a J.D. from an ABA-approved law school (unless this is not a requirement of the jurisdiction in which you are a bar member)
Have at least five years' practice experience in that jurisdiction
Have been a bar member in good standing for at least five years in that jurisdiction
The laws of that jurisdiction must extend similar reciprocity privileges to Mississippi lawyers
As of 2018, the only jurisdictions not reciprocal with Mississippi are California, Delaware, Florida, Guam, Hawaii, Louisiana, Maryland, Montana, Nevada, Northern Mariana, Palau, Puerto Rico, Rhode Island, South Carolina, and the Virgin Islands. Visit this link for more information on Admission on Motion. 
Licensing and Admission to the Bar
You will receive your bar exam results by mail about eight weeks post-exam. Your bar admission will be held in Jackson at a specified date and time. You will be sworn into a Chancery Court and must then register with the Mississippi Bar and pay annual enrollment fees. Email Nikki McIntyre with any questions at nmcintyre@msbar.org.
Now that You've Been Admitted to the Mississippi Bar
You have reached the final milestone in your quest to become a Mississippi lawyer and are now a full-fledged bar member in the state! The Mississippi Bar Association can help you as you plan your career course. As a new lawyer, or if you are a lawyer in the state under age 37, you are automatically a member of the association's Young Lawyers Division (YLD). Local affiliates of the YLD may be able to help you and include:
Mississippi has many law firms throughout the state in various areas of practice. Some of the most well known include:
Watkins & Eager- Jackson
Balch & Bingham- Gulfport
Ogletree, Deakins- Jackson
Baker Donelson- Jackson
Heidelbert, Steinberger, Colmer & Burrow- Pascagoula
<!- mfunc search_btn -> <!- /mfunc search_btn ->
If you prefer to work for a company, legal positions are often available across the state. While there are no Fortune 500 companies in the state as of 2018, larger companies in Mississippi include Sta-Home Health and Hospice Inc. in Jackson; Sanderson Farms in Laurel; Commerce Bancorp LLC in Greenwood; Island View Casino Resort in Gulfport; and The Yates Companies Inc. in Philadelphia.
Legal specialty certification
If you want to practice in a specialized legal area, you might consider certification. The National Board of Trial Advocacy offers certification services for specializations including civil trial law advocacy, social security disability advocacy, family law, civil law, and criminal law. You must take an exam and file an application in order to receive certification and fulfill continuing education activities to keep your certification valid.
Requirements for maintaining license
To maintain your legal license and bar admission status in Mississippi, you must complete at least 12 hours of Continuing Legal Education (CLE) per year. This includes one hour of legal ethics, professionalism, professional responsibility, substance abuse or mental health, or malpractice prevention. For more information, contact the State of Mississippi Judiciary Commission on Continuing Legal Education.
Court Systems in Mississippi
Mississippi's Courts are divided as structured below:
Youth Courts: Located in Mississippi's 21 counties that have County Courts, Youth Courts handle matters of neglect and abuse of children, as well as offenses committed by juveniles under 18.
Municipal Courts: Mississippi has 226 Municipal Courts, handling cases including misdemeanors, violations of traffic codes, and of municipal ordinances.
Drug Courts: There are 42 Drug Courts across the state of Mississippi, handling crimes committed by drug or alcohol addicts.
Justice Courts: Mississippi has 82 Justice Courts across the state, with jurisdiction over small claims cases under $3500 in value, misdemeanors, traffic violations outside a municipality
County Courts: There are 21 County Courts across Mississippi. They hear cases involving juvenile matters, eminent domain, some non-capital felony cases transferred from the circuit court, set search warrants, issue bonds, etc.
Chancery Courts: There are 20 Chancery Court districts across Mississippi. They hear cases involving equity disputes, domestic matters, guardianships, sanity hearings, wills, and challenges to the constitutionality of state laws. They also have jurisdiction in juvenile matters in counties with no County Court.
Circuit Courts: 22 Circuit Court districts exist across Mississippi. They hear cases of felony criminal prosecutions and civil lawsuits, as well as appeals from County, Justice, and Municipal courts and from administrative boards and commissions.
Court of Appeals: Hears cases assigned by the Supreme Court, and is an error correction court. Court of Appeals Districts include:

District 1: counties of Alcorn, Benton, Calhoun, Chickasaw, Choctaw, Desoto, Grenada (split w/District 2), Itawamba, Lafayette, Lee, Marshall, Monroe, Montgomery (split w/ District 2), Panola (split w/District 2), Pontotoc, Prentiss, Tallahatchie (split w/District 2), Tate, Tippah, Tishomingo, Union, Webster, Yalobusha
District 2: counties of Attala (split w/District 3), Bolivar, Carroll, Claiborne, Coahoma, Grenada (split w/District 1), Hinds (split w/District 4), Holmes, Humphreys, Issaquena, Jefferson, Leake (split w/District 3), Leflore, Madison (split w/District 3), Montgomery (split w/District 1), Panola (split w/District 1), Quitman, Sharkey, Sunflower, Tallahatchie (split w/District 1), Tunica, Warren, Washington, Yazoo
District 3: counties of Attala (split w/District 2), Clarke, Clay, Jasper, Jones (split w/District 4), Kemper, Lauderdale, Leake (split w/District 2), Lowndes, Madison (split w/District 2), Neshoba, Newton, Noxubee, Oktibbeha, Rankin, Scott, Smith, Wayne (split w/District 5), Winston
District 4: counties of Adams, Amite, Copiah, Covington, Franklin, Hinds (split w/District 2), Jefferson Davis, Jones (split w/District 3), Lawrence, Lincoln, Marion, Pike, Simpson, Walthall, Wilkinson
District 5: counties of Forrest, George, Greene, Hancock, Harrison, Jackson, Lamar, Pearl River, Perry, Stone, Wayne (split w/District 3)

Supreme Court: Mississippi's court of last resort, hears direct appeals for annexations, bond issues, constitutionality challenges, death penalty cases, matters of discipline involving lawyers and judges, election contests, federal court certified questions, utility rates cases, cases of first impression and broad public interest issues. Districts include:

District 1: counties of Bolivar, Claiborne, Copiah, Hinds, Holmes, Humphreys, Issaquena, Jefferson, Kemper, Lauderdale, Leake, Madison, Neshoba, Newton, Noxubee, Rankin, Scott, Sharkey, Sunflower, Warren, Washington, Yazoo
District 2: counties of Adams, Amite, Clarke, Covington, Forrest, Franklin, George, Greene, Hancock, Harrison, Jackson, Jasper, Jefferson Davis, Jones, Lamar, Lawrence, Lincoln, Marion, Pearl River, Perry, Pike, Simpson, Smith, Stone, Walthall, Wayne, Wilkinson
District 3: counties of Alcorn, Attala, Benton, Calhoun, Carroll, Chickasaw, Choctaw, Clay, Coahoma, Desoto, Grenada, Itawamba, Lafayette, Lee, Leflore, Lowndes, Marshall, Monroe, Montgomery, Oktibbeha, Panola, Pontotoc, Prentiss, Quitman, Tallahatchie, Tate, Tippah, Tishomingo, Tunica, Union, Webster, Winston, Yalobusha
Elective membership organizations
Here are a few membership organizations for professional lawyers in Mississippi in which membership might benefit your career: