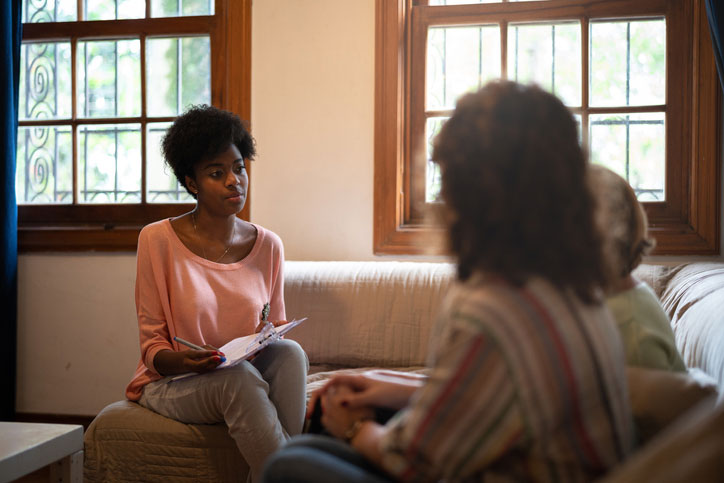 It's no secret that the legal profession can be a high-stress occupation. Being a lawyer is demanding work, and is a role in which you are entrusted with significant responsibility, whether for individuals or businesses. It's enough pressure to get to anyone, and even many lawyers who have worked hard to earn their jobs are startled by how intense their day to day experiences are.
<!- mfunc feat_school ->
Featured Programs:
Sponsored School(s)
<!- /mfunc feat_school ->
Sponsored Listings
Those who hear reports of a lawyer mental health crisis need not be alarmed by the job that lies ahead of them. Rather, they can embrace the work of looking after one's own well-being as part of the job itself.
Though many lawyers love their jobs, it is imperative when working in the legal field to account for your own mental health as you navigate your career.
You can understand this as an investment in your own longevity as a lawyer. After all, the conditions that make an attorney's job so difficult are unlikely to change too significantly. However, by managing your own stress levels and taking responsibility for your own mental well-being, you will be able to take the reins on your goals and get the most from your job. You're also likely to do your best work possible, as improved mental health often leads to improved focus, higher overall energy, and most importantly, greater enthusiasm, which can propel you to larger achievements.
This is true for working lawyers as well as those in J.D. programs. After all, law school is notoriously difficult, with frequent high-stakes testing as well as a rigorous course load that for many is significantly more challenging than their undergraduate schooling. This is to say that if you are a law student who is already feeling these stresses, you're not alone.
Many lawyers have embraced mental wellness regimens as an important requirement of their job. This is great news for all who are working in the field, as it means awareness is rising among employers and fellow professionals that mental healthcare for lawyers is a serious consideration. It also means that more and more resources for lawyers and law students are becoming available to specifically help them deal with their sources of stress and take control of their own mental well-being.
This guide is designed to help lawyers and law students find the mental health resources that are out there to help them manage their stress and maintain a healthy lifestyle that they can sustain in the long term. Some of these are individual services, while some are communal offerings designed to build solidarity between law professionals with shared situations. Whatever your needs may be, if you are a working lawyer who is seeking support, this guide will have something for you.
Beyond stress: How lawyers' mental health needs are often misunderstood
When discussing lawyers' mental health, it is easy to focus on the issue of stress, as it is easy for anyone to see how demanding and pressured a lawyer's general professional day-to-day life could be. But it is important for lawyers to understand that mental health concerns can manifest differently from one person to the next, and will not always appear as feelings of overt anxiety or strain.
What people describe as a lawyer mental health crisis is a vast phenomenon that can include (but is not limited to) the following symptoms and concerns:
Anxiety
Depression
Addiction and substance abuse
Suicidality
Insomnia
Everyone has their own ways of processing difficult circumstances and emotions, and among lawyers it is no different. This is another reason why it's important for lawyers to stay deeply in touch with their own mental well-being and account for their own unique needs. If you are experiencing any of the above, the guide below will provide resources for lawyers to help address these needs right away.
Bar Association Resources
Over the past several decades, public discourse has begun to examine the importance of mental health and the powerful impact one's professional life can have on conditions like anxiety and depression. In response to this, many prominent organizations have developed initiatives to help professionals working in their specific field find targeted support to address their unique needs. The American Bar Association (ABA) has done this for lawyers, offering resources for lawyers who are seeking mental health services.
But these initiatives are more than simply gestures of compassion. Given the deeply important work lawyers do for their clients, it is critical that they have professional resources to ensure that they remain competent to perform in these roles. The ABA has built out their mental health services partly to account for all who have received licensure as a result of their authorization.
The ABA's website includes a survey of mental health resources that are designed to address lawyers' particular concerns. Beyond specific mental health issues, topics include remote work considerations, the impact of COVID-19, and employer-focused topics such as how law firms can best support lawyers' mental health.
For the ABA's online index of mental health resources, click here.
The ABA has also created a campaign, Speaking Out to End Stigma, which is designed to put a spotlight on mental health and substance abuse issues among lawyers and encourage paths to counseling and other supportive services.
Lawyer Assistance Programs
Among the ABA's many resource offerings are Lawyer Assistance Programs (LAPs), which are available at the state and local level to provide direct support to lawyers, law students, and judges who are struggling with mental health or substance abuse issues. They can also provide career guidance, including helping individuals create holistic plans to manage their mental health in the face of the built-in pressures of their job. These are confidential services that are designed specifically and exclusively to support the needs of legal professionals.
Some LAPs provide short-term care directly, while others act as intermediaries, providing initial mental health assessments that can help direct individuals to the resources that will best support them. If you are looking for focused, targeted mental health services, calling your LAP is an excellent first step toward getting the help you seek.
Click here to see the ABA's complete directory of LAP programs.
Therapy and Counseling Services
While ABA-provided resources are a terrific first step to find mental health support for lawyers, many of the emotional and psychological issues faced by those in the legal profession are best served over the long term.
Therapy is one of the most positive resources lawyers can use to get in touch with their mental health needs and improve their work-life balance.
Indeed, many find that therapy allows them much-needed time to reflect on their own performances at work and examine how the pressures of their job are impacting the rest of their lives. It can be difficult to make space for this type of introspection while juggling so many other professional responsibilities, and therapy sessions provide the much-needed space to focus on oneself. Though mental health resources for lawyers are intended to enrich one's life as a whole, including outside of work, one can find a professional incentive to attend therapy, as many of the tools therapists use – such as empathetic listening, conflict resolution, and emotionally intelligent communication – can be of use to lawyers as they work with clients as well.
Some turn to therapy during times of crisis, while others see therapy as a part of their everyday lives, regardless of circumstances. Though it can seem time-intensive, many who attend therapy find that the safe space of their sessions provides the forum they need to process their complex jobs and make room for the rest of their lives. This can do wonders in improving one's overall motivation and enjoyment of their jobs, in turn decreasing feelings of frustration or burnout.
Types of therapy for lawyers
There are many different types of therapy out there to meet patients wherever they are. Even those who share an occupation may have vastly different preferences and needs, meaning they may find different therapeutic modalities to be the most useful to them. If you are seeking therapy, be open to trying out all the different therapy options that are out there, as they have all in their various ways proven to be effective tools in fighting the lawyer mental health crisis. It can take time to find the form of therapy that best works for you.
Below are a few of the most popular styles of therapy for lawyers:
Individual counseling. This is the most traditional form of therapy, in which a patient meets one-on-one with a therapist, usually on a weekly basis, though some opt for more regular sessions and some opt for less frequent schedules. For lawyers who seek focused space to address their specific concerns and emotional needs, this is often the best option. When seeking a therapist, be sure to look into their area of discipline, as there are many different types of individual therapy that are each designed to accommodate different personal dispositions and mental health needs.
For more resources for lawyers to find individual therapists, take a look at the following:
Group therapy. Some people who are dealing with mental health concerns find it fortifying and empowering to share their struggles with others. Group therapy can provide a space to meet others who are dealing with comparable issues. Points of affinity do not necessarily have to relate back to one's professional life, and instead often have to do with the issue for which one is seeking treatment. One key example of this is addiction support, which frequently uses group therapy models to build solidarity among people who are fighting addiction.
Some resources that include group therapy options include the following:
Online counseling. For those who are managing calendars so busy they can't imagine adding an in-person meeting to their schedules, online counseling can provide a remarkably convenient solution. Many individual and group counseling sessions are now available virtually, creating highly accessible mental health resources for lawyers who can find time to meet using remote conferencing technology.
Peer Support Networks
For some lawyers, finding a network of like-minded people with similar professional concerns and stresses is an important way of overcoming the burdens of the job.
There are few who understand the intensive demands of the legal profession as well as other lawyers, law students, and judges do.
This is where peer support networks come into play. These groups, which are typically created and organized by lawyers themselves, are designed to create spaces for professionals to air their difficulties and concerns, finding solidarity, compassion, and even solutions to some of the biggest personal conflicts that can arise for those in the field. While it's easy for lawyers to feel alone in their struggles with anxiety and depression in the face of their jobs, peer support networks can serve as a meaningful reminder that there are others out there who deeply relate to what you're going through and wish to channel their hardships into becoming mental health advocates.
Here is a list of resources for lawyers seeking peer-to-peer resources:
Many peer support networks to help fight the lawyer mental health crisis are available on a local or state level. You can connect with the Lawyer Assistance Program in your area to find the peer support network that best matches your professional life as well as your area of need.
<!- mfunc search_btn -> <!- /mfunc search_btn ->
Invest in yourself to overcome the lawyer mental health crisis
If you are a lawyer who is struggling with the demands of your job and wondering how you will sustain your career in the long term, don't fret: we are living in an age of unprecedented mental health resources that are designed to help you turn your situation around. Being a lawyer can be an exciting and fulfilling profession that doesn't need to consume the rest of your life. By taking the initiative to face your mental health needs head-on, you'll be making a major investment in your career over time and creating positive change in your life as a whole.
If you are a prospective law student looking into the different educational requirements for lawyers, visit our guide here.
For general information on pursuing a career as a lawyer, including career guides, online and in-person graduate program offerings, frequently asked questions, and more, visit our homepage.