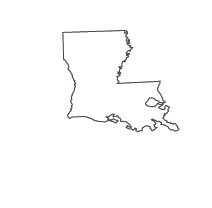 Steps to become a Lawyer/Attorney in Louisiana
Follow the step by step process or choose what situation that best describes you:
Louisiana Law Info
Louisiana is the only state in the nation whose legal system is based on civil law, namely French and Spanish codes, as opposed to English common law. This means that judges in Louisiana may rule based upon their own interpretation of the law rather than based upon legal precedents. There are also some legal terms in Louisiana law that are not found elsewhere, including usufruct, defined as the right of enjoyment that enables a holder to receive profit/benefit from property that is titled to someone else or held in common ownership, so long as the property is not destroyed/damaged; and forced heirship, providing forced heirs of an estate the right to claim a forced portion of the d estate, the right to nullify lifetime gifts, and the right to compel equalization of lifetime donations. This means that studying law in Louisiana is very different from studying law in other states, and these differences are reflected in the state's challenging and completely essay-format bar exam. If you are up to the challenge, follow these steps to become a Louisiana lawyer.
Get Your Louisiana Undergraduate Pre-Law Major
The Louisiana Supreme Court Committee on Bar Admissions does not require that you obtain any specific education before going to law school. But, because the American Bar Association (ABA) insists that you have a minimum of a bachelor's degree before enrolling in an ABA-approved law school, you must complete this undergraduate requirement.  
Accreditation
Accreditation of your undergraduate institution is necessary, according to the ABA. If your college or university is accredited by an organization listed with the U.S. Department of Education, most ABA-accredited law schools will accept your undergraduate education.
Requirements and Standards
The ABA does not mandate the coursework, majors, or minors you should take in your undergraduate education. It does state that you should take courses that challenge you and which you find interesting. Courses that involve critical analysis, problem-solving skills, critical reading abilities, written and oral communication skills, and organizational/management skills will be the most helpful to you as a pre-law student. General coursework taken from the areas of history, human behavior, politics and government, international cultures, and mathematics is recommended.
Degree Options
You are not required to complete any specific undergraduate major, just to obtain a bachelor's degree prior to entering law school. Majors that come from the above-mentioned coursework areas are often the most helpful to pre-law students.
<!- mfunc feat_school ->
Featured Programs:
Sponsored School(s)
<!- /mfunc feat_school ->
Sponsored Listings
LSAT (Law School Admission Test) in Louisiana
After completing your undergraduate education, the next step towards your goal of becoming a Louisiana lawyer is passing the LSAT, or Law School Admission Test. This is a six-hour-long standardized test required for admission into all ABA-approved law schools.  
How to prepare
The LSAT website provides a plethora of free study aids to help you prepare to take this important test. Additionally, you may wish to pay for preparation materials and/or courses, such as:  
LSAT Exam Prep Courses in Louisiana:
Exam content
The LSAT will test your knowledge and abilities in the following areas:
Reading Comprehension: This section consists of 26 to 28 questions and four long passages that you must read and answer questions based upon your comprehension of these passages. Discerning the main theme and arguments of each passage is important in succeeding in this section.  
Logical Reasoning: There are two of these sections, consisting of about 26 to 28 questions each. Questions range from reading comprehension/discerning arguments to discerning logical argument patterns.
 Analytic Reasoning: Also known as logic games, this section may provide the most challenge and difficulty for test-takers. You must arrange a group of items based on complex conditions. Recognizing patterns and thinking analytically will help you to succeed in this section.
 Writing Sample: Although this section does not count towards your total LSAT score, it will be sent to the law schools to which you apply for review by the admissions department(s). You will be given a situation with two alternatives and must write an essay arguing one alternative over the other.
Application process
The easiest way to schedule to sit for the LSAT is online. You will be asked to create an LSAC (Law School Admission Council) account and pay the exam fee of $190. The LSAT is offered on Saturdays and Mondays in November, January and March. These centers throughout Louisiana administer the LSAT:  
Louisiana State University, Baton Rouge
Southern University, Baton Rouge
Bossier Parish Community College, Bossier City
Southeastern Louisiana University, Hammond
University of Louisiana at Lafayette, Lafayette
McNeese State University, Lake Charles
Northwestern State University, Natchitoches
Academy of the Sacred Heart, New Orleans
Loyola University-New Orleans, New Orleans
Tulane University, New Orleans
Xavier University of Louisiana, New Orleans
Louisiana Tech University, Ruston
Receiving Your Score
It takes approximately three weeks for the LSAC to process your LSAT scores and mail them to you. The lowest possible LSAT score is 120. The highest possible LSAT score is 180.  Average LSAT scores of students admitted to the following Louisiana law schools are:
Tulane University:  159
Louisiana State University: 155
Loyola University New Orleans: 151
Southern University: 143
Go to Law School in Louisiana
<!- mfunc search_btn -> <!- /mfunc search_btn ->
Law School Application process
You have achieved the milestone of passing the LSAT and are now ready for the next step in your quest to become a Louisiana lawyer. Now, you must apply to ABA-approved law schools. (The Louisiana Supreme Court Committee on Bar Admissions does allow graduates of non-ABA-approved law schools located outside of the United States to take the bar exam, the conditions of which will be explained later).  You may graduate from any of the over 200 ABA-approved law schools across the country, each of which has its own requirements when you apply for admission.
Credential Assembly Service
It is imperative that you use the LSAC's Credential Assembly Service when applying for enrollment into any ABA-approved law school. This valuable service, which costs $195 to use and is payable through your online LSAC account, helps you collect transcripts from all undergraduate and graduate institutions you have attended, gather letters of recommendation, request online evaluations of your character and work, and applies electronically for you to the ABA-approved law schools of your choice.
Accreditation
The Louisiana Supreme Court Committee on Bar Admissions requires you to graduate from an ABA-approved law school to be eligible to sit for the state's bar exam.  A complete listing of ABA-approved law schools across the country may be found in the LSAC Official Guide to ABA-Approved Law Schools.
ABA-Accredited Law Schools in Louisiana
The following law schools in Louisiana hold accreditation by the ABA:
Course requirements
The Louisiana Supreme Court Committee on Bar Admissions requires that you complete coursework in the following areas as part of your legal education:
Constitutional law
Contracts
Louisiana Obligations Law
Criminal law
Business organizations
Evidence
Intellectual property
Federal Civil Procedure
Louisiana Civil Procedure
Taxation
Uniform Commercial Code
Torts
Online Law Degrees
(For students who choose to focus on a subset of law other than an attorney.)
Internship
You will likely be required to complete an internship as part of your degree program in law school. This may consist of working in a school-sponsored legal clinic assisting destitute clients with legal matters; working in a pro-bono clinic; working in a government agency; or working in a private legal firm. Regardless of your internship setting, your performance will be monitored and graded by on-site supervisors and faculty of your law school who will visit your worksite from time to time.
Registering with the Louisiana Bar
If you are enrolled in a Louisiana ABA-approved law school, you must register as a Law Student with the Louisiana Bar. You may register between August 1 and October 1 of your second year of law school. The fee for registration is $125. Information will be provided to you by your school at the appropriate time. You will be instructed to file a Law Student Registration Form with the Committee as well as a Request for Preparation of Character Report with the NCBE (National Conference of Bar Examiners). Additionally, if you are enrolled in an ABA-approved law school outside of Louisiana and plan to take the bar exam, you may also register as a Law Student.
Degree Programs
The Louisiana Supreme Court Committee on Bar Admissions requires that you graduate from an ABA-approved law school with a Juris Doctor (J.D.) degree in order to be eligible to sit for the state's bar examination.
Graduates of Foreign Law Schools
If you graduated from a foreign law school, you must complete the following steps before applying to sit for Louisiana's bar exam:
You must have an education equivalency evaluation conducted by the Equivalency Determination Panel of the Louisiana Supreme Court Committee on Bar Admissions
You must have actively worked as a lawyer for three of the past five years
You must have completed at least 14 semester hours of credit in law subjects taken from these areas (with no more than four credit hours in any one subject area):  Constitutional Law, Contracts, Louisiana Obligations Law, Criminal Law, Business Organizations, Evidence, Intellectual Property, Federal Civil Procedure, Louisiana Civil Procedure, Taxation, Uniform Commercial Code, and Torts
Send paperwork to The Committee on Bar Admissions, 2800 Veterans Memorial Blvd, Suite 310, Metairie, LA 70002
Take the Louisiana State Bar Exam
Once you have graduated with your J.D. degree from an ABA-approved law school (or have met the education equivalency requirements listed above), you may apply to take the Louisiana bar exam.
Bar Exam Preparation
Bar exam preparation resources in Louisiana include:
Exam content
The Louisiana Bar Exam is a two-part exam given on Monday, Wednesday, and Friday of the last week of February and the last week of July. It takes three days to complete, and runs from 8 am to 5 pm each day. As Louisiana is the only civil law state in the country, it does not the national examinations other states use, such as the Multistate Bar Exam (MBE).  Louisiana's Bar Exam is administered in two parts. Part I is a nine-part exam, and Part II is the MPRE, or Multistate Professional Responsibility Examination, of the National Conference of Bar Examiners. In Part I, separate essay examinations are given on the following subject areas: (the first five areas are code exams, and the last four are non-code exams):  
Civil Code I
Civil Code II
Civil Code III
 Louisiana Code of Civil Procedure
Torts
 Business Entities and Negotiable Instruments
Constitutional Law
Criminal Law, Procedure and Evidence
Federal Jurisdiction and Procedure.
Part II of the Louisiana State Bar Exam is the Multistate Professional Responsibility Examination (MPRE), administered by NCBE. It is given in March, August and November at various locations nationwide, and covers attorney professional conduct. Register here to take the MPRE.
Application Process
If you have already registered as a Law Student with the Committee, you must submit a Bar Examination Application to the Committee and a Supplemental Request for Preparation of Character Report to the NCBE. The Bar Exam Application Fee is $750. Links to applications will be posted online.
All applicants must also complete the online NCBE Character Report Application with the National Conference of Bar Examiners. Additionally you must undergo fingerprinting and a federal criminal background check, a process which can be begun at any Louisiana State Police barracks.
Bar Pass Rates
According to information provided by the Louisiana Supreme Court, 68.9 percent of those who took the July 2018 bar exam passed. Pass rates from Louisiana's ABA-approved law schools were as follows:
Loyola University New Orleans College of Law: 83%
Louisiana State University Paul M. Hebert Law Center: 87%
Southern University Law Center: 44.2%
Tulane University Law School: 78.9%
Reciprocity
Louisiana does not have reciprocity with other states. Even if you are a member of the bar of another state, or if another state would grant you bar membership based upon Louisiana bar membership, you must still sit for the Louisiana bar exam before bar admission can occur.  
Licensing and Admission to the Bar
A list of those who pass the Louisiana Bar is posted on the Supreme Court website. Your individual scores will be mailed to you six to eight weeks post-exam. You will also be notified of the time and place of your formal bar admission ceremony.
Now that You've Been Admitted to the Bar in Lousiana
You have passed the Louisiana bar exam and are now a full-fledged member of the Louisiana Bar! You will find that the Louisiana State Bar Association can help you in a variety of ways, whether your goal is to establish a solo legal practice or if you wish to join a firm.
Many Louisiana law firms have made the list of US News & World Report's Best Lawyers/Best Law Firms. They include Gainsburgh, Benjamin, David, Meunier & Warshauer, LLC in New Orleans, specializing in a variety of areas including torts and admiralty law; Domengeaux, Wright, Roy & Edwards, LLC in Lafayette, specializing in personal injury cases; Adams and Reese, LLP in New Orleans, specializing in business litigation; personal injury lawyers Babcock Partners, LLC in Baton Rouge; and personal injury/finance lawyers Corkern & Crews, LLC in Natchitoches.
<!- mfunc search_btn -> <!- /mfunc search_btn ->
Corporations based throughout Louisiana often hire lawyers in many capacities. Louisiana houses some Fortune 500 companies, including utilities company Entergy in New Orleans, telecommunications corporation Century Link in Monroe, and the Shaw Group engineering company in Baton Rouge.
The Louisiana Workforce Commission projects an increase of about 80 new jobs per year from 2016 through 2026 for lawyers across the state.
Legal specialty certification
The Louisiana State Bar Association Plan of Legal Specialization oversees specialty certifications for lawyers practicing throughout the state. You may become certified through them via examination to practice in the following areas:
Business bankruptcy law
Consumer bankruptcy law
Estate planning and administration
Family law
Tax law
Each specialization also requires continuing legal education (CLE) that you must fulfill on an annual basis. For more information, contact the Board at (504) 619-0128 or its Executive Director, Mary Ann Wegmann, at MaryAnn.Wegmann@lsba.org.
Requirements for maintaining license
Once you have passed the bar exam in Louisiana and become a member of the bar, you must complete 12.5 hours of approved continuing legal education (CLE) during your first year of practice. At least eight of these hours must be in the areas of professionalism, law office management, or legal ethics. After that, you must maintain 12.5 hours of CLE each year, including eight hours of ethics, professionalism, or law management for newly admitted attorneys.
Court Systems in Louisiana
As mentioned before, Louisiana is the only legal system in the United States based on civil law, also known as Roman law. Under Louisiana state law, cases may be decided by judicial interpretation of the statutes, without reference to prior court cases. In other states and federal courts, common law and previous judicial interpretations usually prevail. However, in practice, most Louisiana lawyers and judges do cite previous cases in arguments and rulings.
Louisiana's Judicial Branch consists of:
Mayors Courts: About 250 Mayors Courts operate in towns and villages across the state. In these courts, the mayor and appointed magistrates may try violations of municipal ordinances
Justices of the Peace: These justices have no criminal jurisdiction, and have been abolished where city courts exist. However, 390 Justices of the Peace still work across Louisiana, hearing suits for possession or ownership of movable property under $2000 in value; suits by landlords or lessors for less than $2000; and eviction suits.
City Courts: There are 46 City Courts outside of Orleans Parish existing in Louisiana.

In Orleans Parish, there are:

 First and second city courts, having civil jurisdiction
Municipal court, handling misdemeanor cases (except traffic cases)
Traffic court (handling traffic violations)

Outside of Orleans Parish, City Courts have the following jurisdiction:

Criminal offenses that are not punishable by hard labor
Civil cases from $5000 to $20,000
Municipal violations
Traffic violations

Parish Courts: have similar jurisdiction as City Courts:

First Parish Court for the Parish of Jefferson
Second Parish Court for the Parish of Jefferson
Parish Court of Ascension Parish

Family and Juvenile Courts:

Family Court: located in the parish of East Baton Rouge, handles adoption proceedings, divorce, other family matters
Juvenile Court: located in Orleans, East Baton Rouge, Caddo, and Jefferson Parishes, has exclusive jurisdiction over matters relating to children under 21 who commit acts before age 17

District Courts: 40 judicial districts exist across Louisiana. These courts are the state's courts of general jurisdiction and hear mostly all matters within the district (with the exceptions noted above)
Courts of Appeal: Five courts of appeal exist across Louisiana, and handle appeals over all civil matters, matters appealed from family and juvenile courts, and criminal cases triable by jury (except for cases appealable directly to Supreme Court or to district court):

1st Circuit: Baton Rouge
2nd Circuit: Shreveport
3rd Circuit: Lake Charles
4th Circuit: New Orleans
5th Circuit: Gretna

Supreme Court: Has appellate jurisdiction over laws considered unconstitutional, over capital cases involving the death penalty, over disciplinary proceedings against lawyers, and has supervisory jurisdiction over all lower courts. It is located at 400 Royal St., New Orleans, LA 70130.
Elective membership organizations
Now that you are a Louisiana lawyer, consider joining an elective professional membership organization such as: