Women in Law: Challenges and Resources
<!- mfunc feat_school ->
Featured Programs:
Sponsored School(s)
<!- /mfunc feat_school ->
Sponsored Listings
The American Bar Association (ABA) reports that as of 2021, 37 percent of all lawyers in the United States are female. This number has increased from 33 percent in 2011. To put this gain into perspective, from 1950 to 1970, just three percent of all lawyers were women. By 1980, that percentage had increased to eight percent, had risen to 20 percent by 1991, and had jumped to 29 percent by 2000.
One of the potential reasons that there are still fewer women lawyer than men is that women face unique challenges as attorneys that male lawyers do not face. The ABA notes that, during the COVID-19 pandemic, women were more likely to have their career schedules disrupted due to family and home obligations. Fourteen percent of women said they took on more childcare duties due to the pandemic, compared to just five percent of male lawyers.
Women consistently face gender discrimination while practicing law. This includes income disparity, fewer women being equity partners in law firms, traditional sexual stereotyping, discrimination when it comes to balancing work and home life/family, and sexual harassment. The only way to change these biases is to acknowledge them and face them head-on.
Current Challenges Facing Women in the Legal Field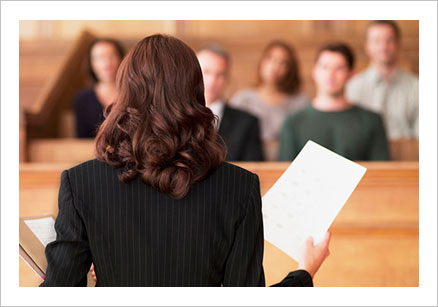 According to the National Association for Law Placement (NALP), women have made up half of the graduating class in law schools for the past twenty years. Although they have accounted for half of all law school graduates for two decades, however, those numbers don't translate into leadership roles for women in the legal field.
Women accept entry-level jobs in the legal field, such as clerkships or public interest positions, more often than men. Paralegals and legal assistants have a much higher percentage of females than other professions, with some estimating this number at 80 percent. The President of the International Paralegal Management Association, who is male, notes that the entire paralegal industry has a history of being predominantly female, but that males do not traditionally feel excluded by this. Are more women being channeled into administrative support positions than into legal practice?
After entry-level positions, the representation of women at law firms has been decreasing each year. By 2015, the percentage of women among law firm associates had dropped to 44.68 percent, the lowest level since 2006. Partners in law firms are made up by even fewer women, with 74 percent of law firm partners being white and male in 2015. Women accounted for just 21.46 percent of partners at major law firms that year. When it comes to equity partners in law firms, women accounted for just 19 percent as of 2018 (per the ABA). About 22.7 percent of non-equity partners in law firms were women as of 2018.
<!- mfunc search_btn -> <!- /mfunc search_btn ->
Women have been leaving law firms at the height of their careers – some due to gender bias and harassment that they face at work. Since the 2020 pandemic, there has been a mass exodus of women from the larger law firms. Many of them struggle to balance family and work, and end up either downsizing their profession, going part-time, or leaving it altogether. Only through addressing the challenges women face in the legal field can these challenges be remedied.
Pay Gaps
Male partners at top law firms earn an average of 53 percent more than female partners, highlighting the blatant wage disparity between the genders.  Per the Bureau of Labor Statistics (BLS), as of 2021, male lawyers earned an average weekly wage of $2,687, while women lawyers' average weekly pay was just $2,169. Women lawyers earned just 71.6 percent of what men earned. This is less than the national average for other occupations, as full-time women workers across the board earn an average of 82 cents for every dollar that men earn. The BLS notes that the gender gap is larger in occupations with higher median earnings (such as that of lawyer).
The ABA notes that among lawyers termed "associates," women make 91 percent of what men earn, at $198,687 annually vs. $217,898. Among non-equity partners, women earned 93 percent of the male salary, $340,643 compared to men's $366,805. Among equity partners, women earned 85 percent of the male compensation, at $728,923 vs. men's $861,349.
Women in Executive Positions
Women are still less likely to hold executive legal positions than men. The ABA notes that as of 2018, only 26.4 percent of general counsel for Fortune 500 companies were women. As of 2021, 41 percent of law school deans are female.
The number of female federal judges increased to 28 percent as of 2021, per the ABA. In state Supreme Courts, women accounted for 39 percent of all high-court justices as of 2021. Although half of all law school graduates have been women since about 2000, the number of women in senior executive and leadership roles in the law field is much less than half. Just 21 percent of equity partners in 2020 were female, per the National Association of Women Lawyers. 31 percent of non-equity partners were female in 2020. Only 19 percent of legal firm managing partners are women.
Gender Ratios in the Classroom
Bar exam passage rates are about equal between the genders, with 84 percent of males passing the bar on the first time in 2020, and 83.4 percent of females doing the same.
Since 2010, the ABA notes, the percentage of male law students has declined every year, while the number of female law school students has increased each year since 2015. According to the ABA, women currently outnumber men in law school classrooms. As of 2020, women account for 54.1 percent of law school students.  However, although they do graduate from law school, the numbers don't translate into practice, as just 37 percent of today's lawyers are women.
As of 2021, 41 percent of law school deans are female. Female professors are employed by some of the larger law schools in greater percentages than men, according to Internet Legal Research Group. Fifteen law schools report a larger percentage of female faculty than male faculty, including:
CUNY-Queens College                      64.6% female faculty
University of North Dakota                58.3% female faculty
North Carolina Central Univ.              57.7% female faculty
Northeastern University                     56.8% female faculty
Univ. of the District of Columbia        56.7% female faculty
Texas Southern University                  56% female faculty
Florida Coastal Univ                            55.9% female faculty
University of Montana                        53.8% female faculty
University of Tulsa                              51.6% female faculty
Southern Illinois University                51.1% female faculty
Penn State Univ (Dickinson)               51% female faculty
University of New Mexico                  50.9% female faculty
Golden Gate University                      50.8% female faculty
Widener Univ (Delaware)                   50.7% female faculty
Howard University                              50.6% female faculty
Discrimination Against Pregnancy and Maternity Leave
Women lawyers who become pregnant and want to take maternity leave often face discrimination. This occurs, of course, not only in the field of law but in other highly competitive careers.
Federal law authorizes that an employee may take up to 12 weeks of leave from work, with employer-paid health benefits, for the birth of a child and to care for that child. This leave is job-protected, meaning that the employer must hold the position open until that employee returns. It does not include pregnancy-related or childbirth-related disabilities, however, which can cause an employee to need longer leave time.
Female employment lawyers advocate for and help fight against gender discriminations in the workplace for lawyers and others. They can help women to obtain Pregnancy Disability Leave, if necessary, as well as leave under the Family Medical Leave Act (FMLA). While this leave can help to save one's position, it does not eliminate the gender bias or discrimination many female lawyers face from their male counterparts during and after their leave.
Gender Bias Among Lawyers
Women lawyers and male lawyers disagree on how well law firms support long-term careers for women lawyers, per the ABA. While most men surveyed at top law firms thought that the women lawyers at their firms were being treated fairly, the women disagreed.
Of 1200 senior lawyers at some of the country's largest private law firms, only 54 percent of women said gender diversity is acknowledged as a firm priority, while 88 percent of men said so.
Female lawyers responded much less positively in whether firms promote women into leadership, equity partnership, and retain experienced women.
Female lawyers also experience less job satisfaction than male lawyers (71 percent male vs. 50 percent female) and less satisfaction with opportunities for advancement at law firms (45 percent female vs. 62 percent male).
Fully half of all female lawyers surveyed by the ABA had experienced unwanted sexual conduct at work. Twenty-five percent of female lawyers experiencing this conduct did not report sexual harassment due to fear of retribution.
The number one reason women left law firms was caretaking commitments, followed by stress at work and emphasis on marketing or originating business. Other top reasons were inability to achieve work-life balance, personal/family health concerns, and financial compensation.
How Those Challenges Are Being Addressed
Only through acknowledging and addressing these challenges to women in law head-on can change be affected. There are some organizations and individuals who are helping to do just that.
Organizations or Individuals Spearheading Change
The National Association of Women Lawyers (NAWL) works to provide leadership and advocate for the equality of women in the field of law, under the law. Becoming a member of NAWL is valuable for women lawyers, as  it helps them to build a national network of supportive professionals, develop leadership skills, and access advocacy for issues when necessary.
The Equal Employment Opportunity Commission (EEOC) enforces laws against discrimination in the workplace. Civil rights and discrimination attorneys also work on behalf of women lawyers (and women in other fields) who feel that they have been the victims of gender bias or gender discrimination.
How the Bar Association Addresses Gender Bias
The American Bar Association (ABA) is aware of gender bias among lawyers and has addressed the problem. They have sponsored studies and written articles on gender bias in the legal profession and the impact that it has. It is too early to tell if these studies and articles will make a difference, but for now, they are shining a light upon the problem and making others aware of it.
How Women Can Self-Advocate
There are many things that women can do to self-advocate against gender bias in the workplace. Understanding that everyone contributes to gender bias can help one to recognize her own inherent biases and fight gender inequalities. Other things that women can do include:
<!- mfunc search_btn -> <!- /mfunc search_btn ->
Join boards of directors whenever possible
Educate senior leadership on gender bias
Hire and promote women whenever possible
Fight biases everywhere – at work and at home
Evaluate work assignments and make sure they are made equally between genders
Seek help for managing work/life balance when necessary – you don't have to do it all alone
Include men in educating against gender bias- enlighten and support them, too
Resources for Women in Law
The following resources are available to offer support to women in law – financially, professionally, socially and emotionally.
Financial Resources
Women's Institute for Financial Education (WIFE)
ABA Fund for Justice and Education
American Association of University Women
Equal Justice America Fellowships
Support Resources
National Association of Women Lawyers
Women's Law Project
Equal Rights Advocates
International Women's Rights Project
2022 US Bureau of Labor Statistics salary and employment figures for Lawyers reflect national data, not school-specific information. Conditions in your area may vary. Data accessed April 2023.