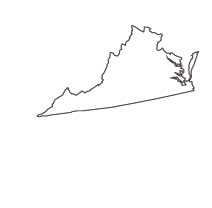 Steps to become a Lawyer/Attorney in Virginia
Follow the step by step process or choose what situation that best describes you:
Law Career Information in Virginia
The U.S. Bureau of Labor Statistics of the Department of Labor reports that in May 2022, there were 24,020 lawyers employed in Virginia, averaging a yearly mean salary of $162,640. Those working in the Richmond metropolitan area earned an even higher annual mean wage of $166,500, and those in the Charlottesville area almost met the state average with a yearly mean wage of $154,790. The majority of lawyers in Virginia work in the Washington, DC-Arlington-Alexandria area, followed by Richmond and the Norfolk –Newport News –Virginia Beach area. The following steps will enlighten you on how to join these Virginia lawyers and become a licensed, practicing member of the Virginia bar.
Get Your Virginia Undergraduate Pre-Law Major
The Virginia Board of Bar Examiners requires that you have an undergraduate degree before you may attend law school. It does not state, however, what discipline your degree must cover.
Accreditation
Your undergraduate college or university must be accredited by a national or regional accreditation agency recognized by the U.S. Department of Education. This accreditation is mandatory in order to later be accepted into an American Bar Association-accredited law school.
Requirements and Standards
The Virginia Board of Bar Examiners follows ABA rules regarding undergraduate education necessary pre-law school admission. While the ABA does not mandate courses that should be taken nor does it specify any particular majors that are preferable in undergraduate school, it does recommend certain areas be studied during your pre-legal education. Some of these areas include: 
Development of American society
History
Sociology
Politics
Government
World cultures and governments
Mathematics
Finance
Economics
Psychology and human behavior
Degree Options
All law schools that are approved by the ABA require that you have at least a bachelor's degree to enroll. You do not have to major in any specific field, however. Liberal arts, history, political science and government, and economics are some of the most commonly found undergraduate majors completed by law school students.
<!- mfunc feat_school ->
Featured Programs:
Sponsored School(s)
<!- /mfunc feat_school ->
Sponsored Listings
Pre Law Advisor
Check with your undergraduate college or university to see if they offer the services of a pre-law advisor. This staff person can assist you in choosing the best courses and majors that will assist you in getting into and succeeding in law school after graduation from your undergraduate study.
Virginia LSAT (Law School Admission Test)
All ABA-approved law schools mandate that you pass the LSAT (Law School Admission Test) prior to acceptance. This half-day, standardized test is offered on a quarterly basis at exam centers worldwide.
How to prepare
Taking LSAT preparation courses and workshops is highly recommended to ensure success on the LSAT. Other ways to prepare include using the free resources provided at the LSAT website , including sample exam questions and answers.
LSAT Exam Prep Courses across Virginia:
Exam content
On the LSAT, you will be tested on knowledge and skills such as comprehension, analysis, drawing conclusions and extrapolation, which are vital to your success as a lawyer. Ideas that are covered include:
Principles of argumentation
Analytical reasoning
Drawing conclusions
Argument evaluation
Resolution
Making assumptions
Analyzing reading passages
Inferences
Identifying the structure of arguments
Identifying flaws in arguments
Application process
Application to take the Law School Admission Test is done online. You may take the LSAT in any state in which it is offered, during one of its administrations in November, January, March, June and July. The LSAT is not offered at each Virginia test center listed below on every administration date, however, so plan accordingly:
Southwest Virginia Higher Education Center, Abingdon
Northern Virginia Community College, Annandale Campus
Marymount University, Arlington
Virginia Polytech Institute & State University, Blacksburg
University of Virginia, Charlottesville
Emory & Henry College, Emory
University of Mary Washington, Fredericksburg
Hampton University, Hampton
Liberty University, Lynchburg
Lord Fairfax Community College, Middletown
Norfolk State University, Norfolk
Old Dominion University, Norfolk
University of Richmond Law School, Richmond
Virginia Commonwealth University, Richmond
Roanoke Higher Education Center, Roanoke
Northern Virginia Community College, Springfield
Regent University School of Law, Virginia Beach
Wytheville Community College, Wytheville
Fees
You must pay a fee of $160 to take the LSAT (as of April 2012). This fee must be paid online via credit card during registration or by check or money order payable to the Law School Admission Council.
Receiving Your Score
You will automatically receive your LSAT scores by email three weeks after completing the exam. A list of test dates and deadlines, including score release dates, is here.  Your LSAT score is a raw score, calculated by the number of questions you answered correctly. The lowest score you can receive is 120 and the highest, 180.
When you receive your score report by email, not only your score for the current administration of the LSAT, but scores for the past 12 times you've taken the LSAT will be listed, along with any times you were absent for the test or canceled your test scores. Any scores that are fewer than five years old are considered current for reporting purposes to law schools.
Saturday Sabbath Observers
If you observe the Sabbath on a Saturday on which the LSAT is scheduled, you may register to take the LSAT on other days of the week. To register for a Saturday Sabbath Observers Test Date, you must file an Accommodation Request online.
Go to Law School in Virginia
<!- mfunc search_btn -> <!- /mfunc search_btn ->
Virginia Law School Application process
Once you have completed your undergraduate education and passed the LSAT, you are ready to apply to law school. The Virginia Board of Bar Examiners has ruled that, if you wish to become a member of the state's bar and practice as an attorney in Virginia, you must graduate from an American Bar Association-approved law school. Consult this list of services required when you apply to ABA-accredited law schools nationwide.
Credential Assembly Service
Most, if not all, ABA-approved law schools require that you use LSAC's Credential Assembly Service. This handy service helps to organize and compile your transcripts, letters of recommendation, and evaluations and applies to the law schools of your choice for you electronically. Additionally, you must give the LSAC the names of persons who have agreed to write your letters of recommendation and to evaluate your work online for law school admission purposes. The LSAC charges you a fee of $195 to use the Credential Assembly Service.
Accreditation
Although the Virginia Board of Bar Examiners requires that you graduate from an ABA-approved law school, it does not mandate that this school be located in Virginia. There are more than 200 law schools nationwide that hold ABA accreditation and are listed in the LSAC Official Guide to ABA-Approved Law Schools. ABA standards for law schools and the ways in which such schools are approved are listed in the Standards and Rules of Procedure for Approval of Law Schools.
ABA-Accredited Law Schools in Virginia
The following Virginia law schools hold ABA accreditation:
Appalachian School of Law, 1169 Edgewater Drive, PO Box 2825, Grundy, VA 24614
George Mason University Antonin Scalia Law School, 3301 Fairfax Drive MS 1G3, Arlington, VA 22201
Liberty University School of Law, 1971 University Boulevard, Lynchburg, VA 24502
Regent University School of Law, 1000 Regent University Drive, RH239, Virginia Beach, VA 23464
University of Richmond School of Law, 28 Westhampton Way, Richmond, VA 23173
University of Virginia School of Law, 580 Massie Road, Charlottesville, VA 22903-1738
Washington and Lee University School of Law, Sydney Lewis Hall, Lexington, VA 24450
William & Mary Law School, 613 South Henry Street, Williamsburg, VA 23185
Course requirements
The Virginia Board of Bar Examiners agrees with the American Bar Association that a law school education should include coursework in the following areas:
U.S. Constitutional law
U.S. federal civil procedure
Criminal law and procedure
Contracts
Uniform Commercial Code
Torts
Property
Legal ethics/professional responsibility
ABA rules mandate that a year in law school must cover at least 130 days over eight calendar months. You must spend at least 2 years but no more than 84 months in pursuit of your Juris Doctor (J.D.) degree. The ABA mandates that you complete 58,000 minutes of class time (which equals about 83 semester hours or 129 quarter hours of credit) in pursuit of your J.D. degree.
Online Law Degrees
(For students who choose to focus on a subset of law other than an attorney.)
Internship
All ABA-accredited law schools require that you perform some sort of practical internship during your law school years. This will occur off-site in a real-life legal setting, such as a law office, moot court, law review, legal library, legal clinics, or legal research program. You will be supervised and evaluated by the staff of your law school who will conduct site visits to view and review your performance.  
Degree Programs
Under the rules of the ABA and the Virginia Board of Bar Examiners, you must receive a J.D. degree in order to practice law in Virginia. While you are studying for your J.D. degree in Virginia, you may opt to participate in dual-degree programs or concentrations such as the following:  
M.B.A/J.D. program –Dual degree of J.D. and Masters in Business Administration
National security law
Oceans law and policy
J.D. /M.A. program – Dual degree of J.D. and Masters of Arts in History
Environment/land use law
Immigration law
Intellectual property law
J.D. /M.P.H. program – Health law, combines J.D. and Masters in Public Health
Animal law
Law and humanities
Foreign Law Schools
The Virginia Board of Bar Examiners does not allow those who hold a law degree from a school outside of the United States to gain bar admission in Virginia and legally practice law there unless the school is ABA approved and the degree you earned is a J.D. degree. A L.L.M. (Master of Laws) degree from a foreign country is no longer sufficient to gain bar admission in Virginia.
Online/Correspondence Schools
The Virginia Board of Bar Examiners does not allow those who received a law degree from an online or correspondence law school to become licensed to practice law in the state.
Take the Virginia State Bar Exam
 Now that you have a J.D. degree from an ABA-accredited law school, you are ready to take the Virginia Bar Exam. It is offered over a two-day period in February and July each year in Roanoke and Norfolk.
Preparation
You should prepare for the Virginia Bar Exam as thoroughly as you prepared for the LSAT. Take advantage of all of the bar preparation courses, free materials and workshops you can find in the state. They include:
Exam content
The Virginia Bar Exam consists of two parts. Part One is the essay exam, given by the Virginia Board of Bar Examiners. Subjects on which you may have to write short answer essays include:
Agency
Conflict of laws
Contracts
Constitutional law
Torts
Trusts
Taxation
Creditor's rights
Business organizations
Domestic relations
Criminal law
Evidence
Equity
Local government law
Federal procedure and practice
Personal and real property
Professional responsibility
Sales
Uniform Commercial Code
Wills and estate administration
Virginia civil and criminal procedure (including appeals)
Part Two of the Virginia Bar Exam consists of the Multistate Bar Exam (MBE), of the National Conference of Bar Examiners. These multiple-choice questions test your knowledge of contracts, Constitutional law, evidence, criminal law, torts and real property.
In addition to the essay and MBE parts of the exam, prior to bar admission in Virginia, you must pass the Multistate Professional Responsibility Exam (MPRE). You have two years from the time you pass the Virginia bar exam to pass the MPRE with a score of 85 or better. It is offered three times yearly (November, March, and August) across the country.
Character & Fitness Requirements
In addition to passing the Virginia Bar Exam, you must display good moral character and fitness to gain bar admission in the state. When you download the application for examination at the Bar's website, you will download a special Character and Fitness questionnaire that you will complete and file on your computer.
Application Process
You must apply to take the Virginia Bar Exam online. If you plan to take the Bar exam in February, the application must be received by December 15; if you plan to take the exam in July, it must be received by May 10. You should have the following documents ready before beginning the application:
Photo ID
Credit Report
DMV records
MPRE Score Report (if not previously submitted)
NCBE number
Fingerprint card
Educational verification documents
Birth certificate/naturalization or immigration documentation
Your application and all required materials, plus fees, must be submitted by the deadline to Office of the Secretary, Virginia Board of Bar Examiners, 2201 W. Broad Street, Suite 101, Richmond, VA 23220
Fees
The 2019 fee to take the Virginia Bar Exam for the first time is $475. The character and fitness fee is $475. Fees must be paid via cashier's check, certified check or money order only to the Virginia Board of Bar Examiners.
Pass Rates
The Virginia Board of Bar Examiners has published these pass rates for previous bar exam administrations:
| | |
| --- | --- |
| July 2018: | 73.4% |
| Feb 2018: | 49.85% |
| July 2017: | 71.56% |
| Feb 2017: | 53.19% |
| July 2016: | 73.09% |
| Feb 2016: | 57.64% |
Professionalism Course
After passing the Bar exam and within 12 months of Bar admission, you must complete the Harry L. Carrico Professionalism Course. Topics to be covered in this course include handling client funds and property, business development, fee agreements, independence, loyalty, and avoiding conflicts.
Licensing and Admission to the Bar
Once you have passed the bar exam, you will be notified of the time for your bar admission ceremony. You will be mailed a wall certificate appropriate for framing about six months after passing the exam.
Admission on Motion
If you are licensed to practice law in another state, you may apply for Admission Without Examination to the Virginia Bar. You must download and file the Admission Without Examination Application, and follow the instructions to complete it. Along with your application, you must submit the following information to the Board:
Recent copy of your credit report from one of the three major reporting bureaus
Recent copy of your DMV record
Birth certificate or naturalization/immigration documentation
Certificates of discipline for all jurisdictions in which you have ever been licensed to practice law
Verification of reciprocity, signed by the judge in the jurisdiction in which you were last licensed to practice law
Detailed summary of your past practice of law
Law school official transcript
Letter confirming your employment in Virginia or office lease in Virginia if self-employed
A statement signed by you certifying that you will not divide your time in the practice of law between another state and Virginia
Completed Character & Fitness questionnaire (with application form)
$2500 fee payable to the Virginia Board of Bar Examiners by cashier's check, certified check or money order only
Complete the 12- hour Reciprocity Course on Virginia Law before submitting application.
Mail the above to Office of the Secretary, Virginia Board of Bar Examiners, 2201 W. Broad Street, Suite 101, Richmond, VA 23220.
You've Been Admitted to the Virginia Bar
Congratulations on your admission to the Virginia Bar! Now you must decide how to begin your law career in the state. Do you want to strike out on your own, as a sole practitioner? Would you like to join with others in a smaller or larger firm? Perhaps you would like to work as legal counsel for a nonprofit organization or corporation. Opportunities for all of these types of scenarios exist across Virginia.
You might want to read the Checklist for Opening your First Law Office published at the Virginia State Bar website. It provides valuable resources to consider when opening your own law office, such as quality of life factors involved, the size of the office you will need, costs, and how to negotiate a rental agreement.
Although Virginia lawyers are not required to obtain professional liability insurance, the state bar recommends it. The need for malpractice protection and pros and cons of purchasing professional liability insurance is outlined in the Guide To Purchasing Lawyer's Professional Liability Insurance In Virginia.
Popular law firms across Virginia include Martin & Raynor PC in Charlottesville; Miller, Earle & Shanks PLLC in Harrisonburg; Pender & Coward PC in Virginia Beach; Nixon & Vanderhye in Arlington; and McCandlish Holton PC in Richmond.
Virginia is home to 21 Fortune 500 companies as of 2016 that could be in need of legal counsel or assistance. Some of these are Freddie Mac in MacLean, Dollar Tree in Chesapeake, WestRock in Richmond, Markel in Glen Allen, Performance Food Group in Richmond, NVR in Reston, Capital One Financial in McLean, and Altria Group in Richmond.
Many nonprofit organizations in Virginia also hire legal help from time to time. They include the Autism Society of Northern Virginia in Oakton, Virginia Conservation Network in Richmond, Chesapeake Bay Foundation in Richmond, Equality Virginia in Richmond and Community Empowerment Northern Virginia of Sterling.
Legal specialty certification
The National Board of Trial Advocacy is just one of the many nationwide agencies that offer certification services to attorneys who wish to specialize in a legal area. Popular areas that Virginia attorneys specialize in include personal injury, civil and/or criminal trial advocacy, crime prevention, bankruptcy, and creditors' rights.
Requirements for maintaining license
In order to maintain your legal license and bar admission status in Virginia, you must complete Mandatory Continuing Legal Education (MCLE).  The requirement is to complete 12 hours of MCLE each year, with at least two hours in ethics or professionalism courses. A list of approved MCLE courses in Virginia and online and ways to submit your MCLE hours is here at the Virginia State Bar website.
Court Systems in Virginia
Virginia's Judicial System includes the Magistrate System, Juvenile and Domestic Relations District Court, General District Court, Circuit Court, Court of Appeals in Virginia, and Supreme Court of Virginia.
The Magistrate System has offices in all 32 judicial districts across Virginia and conducts probable cause hearings on complaints of criminal conduct, as well as decides bail eligibility for arrested persons. Virginia's eight magisterial regions are shown here.
The Juvenile and Domestic Relations District Court has offices in all 32 judicial districts in Virginia and hears cases relating to child and domestic matters only. Individual Juvenile and Domestic Relations District Courts are listed here.
The General District Court has offices in all 32 judicial districts across the state and hears civil cases involving amounts up to $15,000, as well as cases involving misdemeanors and traffic offenses.
The Circuit Court is found in 31 judicial districts across Virginia, in each city and county. It hears civil cases involving amounts over $25,000, as well as cases involving divorce, and appeals from the general district court and juvenile and domestic relations court. A Circuit Court map is here.
The Court of Appeals of Virginia reviews decisions of the Circuit Courts made involving domestic relations matters, traffic offenses and criminal cases (except for those involving the death penalty), as well as appeals from administrative agencies and decisions of the Virginia Workers' Compensation Commission. It is located at 109 North Eighth Street, Richmond, VA 23219-2321.
The Supreme Court of Virginia is Virginia's "court of last resort." It reviews decisions made by the Circuit Court and Court of Appeals, as well as disciplinary actions brought by the Virginia State Bar against attorneys. It is located at 100 North Ninth Street, 5th Floor, Richmond, VA 23219-1315.
Elective membership organizations
Now that you are a full-fledged member of the Virginia Bar, think about joining one of the following elective organizations that provide professional support and networking services for Virginia lawyers:
2022 US Bureau of Labor Statistics salary and employment figures for Lawyers reflect national data, not school-specific information. Conditions in your area may vary. Data accessed April 2023.