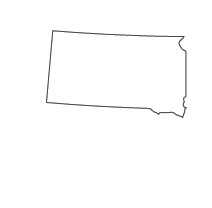 Steps to become a Lawyer/Attorney in South Dakota
Follow the step by step process or choose what situation that best describes you:
Law Career in South Dakota
In 2013, the South Dakota Legislature passed a Recruitment Assistance Pilot Program, offering attorneys a subsidy to live and work in rural areas of the state.  This occurred after a report in 2011 that 65 percent of the state's lawyers were concentrated in four cities in the state. Project Rural Practice was created to try to rectify this situation and lure more lawyers to more rural, less populated areas of South Dakota. It is in rural areas of the state that lawyers in South Dakota are highly necessary. Other bar association-related organizations that assist rural and low-income South Dakotans in finding legal help include Dakota Plains Legal Services, East River Legal Services, South Dakota State Bar Access to Justice, Sicangu Oyate Bar Association, and the South Dakota Legal Form Helpline. If you would like to become a lawyer in South Dakota and help out in these rural areas, or even work in the state's larger cities, keep reading.
Get Your South Dakota Undergrad Pre-Law Major
The South Dakota Board of Bar Examiners does not require undergraduate education before law school. The Board does, however, demand that your law degree comes from a law school accredited by the American Bar Association (ABA). Because all ABA-accredited law schools require you to have a bachelor's degree upon entrance, it follows that, in order to become a member of the South Dakota bar, you must first obtain a bachelor's degree.
Accreditation
Any ABA-accredited law institution demands that your undergraduate degree is from a school that is accredited. In order to be recognized as valid, your school should be accredited by a national or regional accreditation organization listed with the U.S. Department of Education.
Requirements and Standards
You are not obligated to take any certain courses, minors, or majors in undergraduate school. Advisors suggest that you take coursework that fulfills, challenges, and interests you. This may be in any area, although some courses tend to lend themselves well to later law studies. These include political science, philosophy, communications, economics, history, and business courses. 
Degree Options
You must graduate with a bachelor's degree in arts or sciences prior to entering an ABA-accredited law school. The major you choose is irrelevant.
<!- mfunc feat_school ->
Featured Programs:
Sponsored School(s)
<!- /mfunc feat_school ->
Sponsored Listings
LSAT in South Dakota
Once undergraduate education is completed, you may apply to take the LSAT or Law School Admission Test. The Law School Admission Council (LSAC) administers this test at centers across the country.  
How to prepare
Practice tests and sample question and answer sets are available for your review at the LSAT website. Other LSAT review materials in South Dakota may be provided by:  
LSAT Exam Prep Courses in South Dakota:
Exam content
The LSAT is a three and a half hour long standardized test with the following sections:
Reading Comprehension – Your ability to read and understand long text passages is tested here. There are four parts to the reading comprehension section, with each having one passage followed by five to eight questions on that passage.
Analytical Reasoning – Your ability to apply rules and facts to a system to tell what is and is not true is tested here. You are given four logic problems, each followed by five to eight questions.
Logical Reasoning – Your ability to analyze and evaluate the validity of an argument is tested here. You are given 25 short passages, each followed by one or two questions.
Writing Sample – You are also presented with a problem in which you must choose a position and defend your choice in writing. This section is not scored as part of the LSAT but is counted by the admissions officers of the law schools to which you apply as part of their admissions process.
Application process
Apply online through the LSAC to take the LSAT, which is given in November, January, March and June, on Saturdays and Mondays, in the following South Dakota test centers:
Northern State University, 1200 S Jay St, Aberdeen, SD 57401-7198
South Dakota State University, Box 2201, Adm 324, Brookings, SD 57007-1898
South Dakota School of Mines and Technology, 501 E Saint Joseph St, Rapid City, SD 57701-3995
Augustana College, 2001 S Summit Ave, Sioux Falls, SD 57197-0001
University of South Dakota, 414 E Clark St, Vermillion, SD 57069-2390
Receiving Your Score
Your LSAT score, which will be between 120 and 180, should arrive at your address via postal mail about three weeks after you take the test. There is just one ABA-approved law school in South Dakota, the University of South Dakota School of Law. As an example, the median LSAT score of its freshmen in 2017 was 147.
Go to Law School in South Dakota
<!- mfunc search_btn -> <!- /mfunc search_btn ->
Application process
The next step in becoming a South Dakota lawyer is to apply to ABA-approved law schools. Having a law degree from an ABA-accredited law school is a requirement of the South Dakota Board of Bar Examiners before you will be allowed to take the state's bar exam. You need not attend a law school in South Dakota – it may be anywhere in the US, as long as it holds ABA accreditation. A complete list of all ABA-accredited law schools may be found in the LSAC Official Guide to ABA-Approved Law Schools.
Credential Assembly Service
The Credential Assembly Service (CAS) is a mandatory service provided by the LSAC that you must use when you apply for admission at any of the over 200 ABA-approved law schools nationwide. It helps to centralize all of your data, including your LSAT score, transcripts, and letters of recommendation. It also provides access to online applications of ABA-accredited law schools. Once you register with the CAS, you must have all of the undergraduate colleges and universities you have ever attended send official transcripts to CAS. Your law school report will be created by the LSAC and CAS, and will be sent to each law school to which you apply. This report will include:
Academic credit summary
Your grades each year
Transcript copies
GPA for each year
Cumulative GPA
Description of your overall grade distribution
Mean GPA of other students at your school who registered with CAS
Your percentile rank among those students
Your LSAT scores (any cancellations or absences will be noted)
Average LSAT score if you took it multiple times
Copy of your LSAT writing sample
Mean LSAT score for students from your undergraduate institution
Accreditation
The South Dakota Board of Bar Examiners requires that you graduate with a law degree from an ABA-accredited law school before taking the state's bar examination. There are no provisions for graduates of non-ABA accredited institutions or from foreign law schools. These graduates are not eligible to take the South Dakota bar exam.
ABA-Accredited Law Schools in South Dakota
Just one law school in South Dakota holds ABA accreditation:
Course requirements
These types of courses usually make up the foundation of an ABA-accredited law school's curriculum:
Civil Procedure
Contracts
Criminal Law
Fundamental Legal Skills
Property
Torts
Other courses you may choose as a second year student usually revolve around subjects such as:
Constitutional law
Evidence
Legal Profession
Commercial law
Mediation
Trial techniques
Drafting and legal practice
Online Law Degrees
(For students who choose to focus on a subset of law other than an attorney.)
Internship
Your law school may require you to participate in co-curricular activities. These may include an internship at an off-campus site, a legal clinic, trial advocacy, law review, moot court, or the like. Check with your law school's policies and procedures for more information.
Law Student Registration
Under rules of the South Dakota Board of Bar Examiners, if you are a first-year law student and intend to take the South Dakota bar examination after graduation, you may register with the Board on forms provided by the Board. You must pay a $50 registration fee, plus the fee required by the National Conference of Bar Examiners' (NCBE) law student registrant program for preparation of an initial character report. You are not registering to take the bar exam at this time.  
Degree Programs
You must have a Juris Doctor (JD) degree from an ABA-accredited law facility in order to take the South Dakota bar exam. There are other options, such as dual degrees and legal concentrations, to JD students. Depending on your school, they may include:
Concentrations and/or course tracks:

Natural resources/Environmental law
Indian law
Relationship between law and government
Statutory analysis
Abstract analysis
Business law
Civil litigation
Commercial law
Constitutional law
Criminal law/procedure
Employment law
Environmental law
Real estate
Estate planning

Dual degrees:

JD/Master of Professional Accountancy
JD/Master of Business Administration
JD/Master of Science in Administrative Studies
JD/Master of Arts in Education Administration
JD/Master of Arts in English
JD/Master of Arts in History
JD/Master of Arts in Political Science
JD/Master of Public Administration
JD/Master of Arts in Psychology
Take the South Dakota State Bar Exam
Are steps 1, 2, and 3 completed? You might be ready to apply to take the South Dakota bar examination if you are at least 18 years of age.
Residency Requirement
The South Dakota Board of Bar Examiners has a residency requirement for taking the bar exam. You must either be a resident, maintain an office in South Dakota, or designate the clerk of the Supreme Court as an agent for service of process prior to taking the bar exam.
Non-ABA Approved Law School Graduates
If your law school was not approved by the ABA, you are not allowed to take the South Dakota bar exam.
Graduates of Foreign Law School
If your law school was located outside of the United States, you are not allowed to take the South Dakota bar exam.
Preparation
When you take the South Dakota bar exam, you will encounter sections that are the same from one state to the other, and sections that are unique to South Dakota. The National Conference of Bar Examiners website offers free study aids for the national parts of the exam (the Multistate Bar Examination (MBE), Multistate Essay Exam (MEE) and the Multistate Performance Test (MPT)). Other bar review resources in South Dakota include:
Exam content
You will take the South Dakota bar exam over a two-day period (Tuesday and Wednesday). Tuesday you will take the MPT for three hours, one South Dakota essay question on Indian law, and six MEE questions for three hours. The MPT is a performance test that requires you to use a file and a library to perform a lawyer's task. The MEE is the essay exam, which may cover any of the following subjects:
Agency
Commercial Paper
Conflict of Laws
Corporations
Family Law
Federal Civil Procedure
Partnerships
Sales
Secured Transactions
Wills, Trusts & Future Interests
Wednesday you will take the MBE, with 100 multiple-choice questions in the morning (three hours) and 100 multiple-choice questions in the afternoon (three hours). The MBE may cover any of these subjects:
Constitutional Law
Contracts/Sales
Criminal Law/Procedure
Evidence
Real Property
Torts
Additionally, the Board of Bar Examiners posts Sample Indian Law Bar Exam questions for your perusal at its website.
Application Process
You may download a Certified South Dakota Bar Application Kit here.  It includes:
Rules and Regulations for Admission to Practice Law in South Dakota
South Dakota Application for Admission to Practice Law on Examination
Dean's Certificate of Study
Instructions for completing the National Conference of Bar Examiners (NCBE) Character Report
Instructions for SoftTest Laptop Computer Registration
Instructions for requesting DCI and FBI fingerprint cards and having them filled out
Affidavits for allowing/not allowing the release of pass/fail results
Instructions to pay $300 exam fee to the Board of Bar Examiners
Instructions to pay $355 to NCBE for your Character Report if this is your first time taking the bar exam after law school graduation; or $500 if it is more than one year since law school graduation
Instructions to pay $43.25 fingerprint processing fee to South Dakota Division of Criminal Investigation
Instructions to pay $100 Examplify Laptop Registration form fee, if using your own laptop for the exam
Mail everything to South Dakota Board of Bar Examiners, 500 E Capitol, Pierre, SD 57501
Pass Rates
Expect to receive your South Dakota bar exam scores in about 10 weeks, by mail.
The following overall passing rates for past South Dakota bar exams have been posted by AdaptiBar:
| | |
| --- | --- |
| 2016: | 50% |
| 2015: | 56% |
| 2014: | 72% |
| 2013: | 87% |
| 2012: | 83% |
Multistate Professional Responsibility Exam (MPRE)
You must pass the Multistate Professional Responsibility Exam (MPRE) with a score of at least 75 within 25 months prior to the next scheduled bar exam.
Admission on Motion
If you are already a licensed attorney and bar member in another state and have been practicing for the past five years, you may be eligible for admission to the South Dakota bar without examination. You must be a member of that bar in good standing, be familiar with the rules of the State Bar of South Dakota governing the conduct of its members, and submit the Admission Without Examination Application.
Licensing and Admission to the Bar
Once you have passed the state's bar exam, you will be notified of the details of your bar admission ceremony. After that, you will be a full-fledged member of the South Dakota bar.
You've Been Admitted to the South Dakota Bar
Congratulations on your monumental achievement of becoming a member of the State Bar of South Dakota!  Litigation positions are often available for new lawyers across the state, and may be listed on the bar website's Career Center. Major firms across South Dakota include non-profit legal services program Dakota Plains Legal Services in Sioux Falls, general practice attorneys Neumayr & Smith in Gettysburg, and litigators MorganTheeler LLP in Mitchell.
<!- mfunc search_btn -> <!- /mfunc search_btn ->
Although no Fortune 500 companies exist in South Dakota, many other companies are headquartered here or have large offices here and may be in need of legal counsel from time to time. The largest companies in South Dakota include senior health care provider The Good Samaritan Society in Sioux Falls, regional health system Avera Health in Sioux Falls, utility corporation the Black Hills in Rapid City, and household durables company Daktronics in Brookings.
Legal specialty certification
South Dakota recognizes certain companies that provide certification services for lawyers wishing to specialize in certain areas. These include the National Board of Trial Advocacy for specializations in trial advocacy, social security disability, and civil pretrial advocacy; and the American Board of Certification (ABC) for specializations in business bankruptcy, consumer bankruptcy, and creditors' rights. Contact the ABC at (319) 365-2222 or director@abcworld.org for more information on its certification process. The NBTA can be contacted at (508) 384-6565.
Requirements for maintaining license
The State Bar of South Dakota does not mandate continuing education for its members in order to maintain your license to practice law in the state.
Court Systems in South Dakota
South Dakota's Unified Judicial System consists of the Supreme Court, Circuit Courts of general jurisdiction, and Lower Courts of limited original jurisdiction.
Elective membership organizations
Also, think about joining one of the following South Dakota lawyer associations, or one like it that fits with your personal and professional situation:
2022 US Bureau of Labor Statistics salary and employment figures for Lawyers reflect national data, not school-specific information. Conditions in your area may vary. Data accessed April 2023.