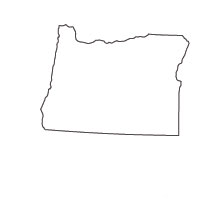 Steps to become a Lawyer/Attorney in Oregon
Follow the step by step process or choose what situation that best describes you:
Oregon Law Careers
The Oregon Employment Department projects an increase of 10.2 percent in the number of jobs available for lawyers throughout the state from 2017 to 2027. In 2022, the U.S. Department of Labor's Bureau of Labor Statistics reported that the average lawyer's annual salary is $144,610. Projected openings for lawyers during this period are that 851 new lawyer jobs will be due to employment change, and 3631 openings for replacements, for a total of 4482 openings for lawyers across Oregon during the decade. These numbers represent a bright future for those who plan to become lawyers in Oregon. If this is your chosen career path, read on.
Get Your Oregon Undergraduate Pre-Law Major
The Oregon State Board of Bar Examiners does not require that you obtain a bachelor's degree prior to going to law school. However, if you plan to attend any law school accredited by the American Bar Association, you must have a bachelor's degree prior to entry.  
Accreditation
Any ABA-accredited law school will require that you receive a bachelor's degree from an accredited college or university. If your school is accredited by an agency recognized by the U.S. Department of Education, an ABA-accredited law school should accept the legitimacy of your undergraduate degree.
Requirements and Standards
You need not take specific courses, majors, or minors while in undergraduate school. Some courses may end up benefiting you during law school if taken during undergraduate schools, such as criminal justice, economics, business, philosophy, political science, and communications. However, there is no ABA mandate that you take these or any other courses, as long as you receive a bachelor's degree from an accredited school.
Degree Options
You may obtain a bachelor's degree in arts (B.A.) or sciences (B.S) within any subject major you choose.
<!- mfunc feat_school ->
Featured Programs:
Sponsored School(s)
<!- /mfunc feat_school ->
Sponsored Listings
LSAT (Law School Admission Test) in Oregon
Before you can be admitted to any law school, you must pass the LSAT (Law School Admission Test). This standardized examination is offered multiple times per year.
How to prepare
You can find much free study help at the LSAT website. If you would like to take a paid LSAT preparation course, options throughout Oregon include:
LSAT Exam Prep Courses in Oregon:
Exam content
You will encounter the following types of multiple-choice questions on the LSAT:
Analytical Reasoning — Here, you will be faced with four logic problems, each followed by five to eight questions. They test your ability to apply rules to a system, restricting your analysis to what can be logically inferred or is directly stated. This section counts for 25 percent of your total LSAT score.
Logical Reasoning — These sections are made up of25 passages, each followed by a few questions. These questions test your abilities to identify an argument's main point, deduce what the author of the passage assumes, draw conclusions, and identify principals and spot logical errors. The two Logical Reasoning sections count for 50 percent of your total LSAT score.
Reading Comprehension — You must read four lengthy passages and answer questions about each passage. Your abilities to identify conclusions, tones, organizational structure of a passage, and the meaning of words are tested here. This section counts for 25 percent of your total LSAT score.
Additionally, you will be asked for a 30-minute writing sample. This does not count towards your total LSAT score but will be used by admissions personnel at the law schools you apply to in evaluating your suitability for law school.
Application process
The Law School Admission Council requires that you apply online to take the LSAT, which is given in November, January, March, June and July on Saturdays and Mondays. As of January 2019, Oregon testing centers are:
Central Oregon Community College, Bend
Oregon State University, Corvallis
University of Oregon, Eugene
Eastern Oregon University, La Grande
Lewis & Clark Law School, Portland
Umpqua Community College, Roseburg
Chemeketa Community College, Salem
Corban University, Salem
Willamette University College of Law, Salem
Receiving Your Score
You should receive your LSAT score, which will total between 120 and 180, about three weeks after you take the examination. Per ABA law school data, these ABA-approved law schools in Oregon typically accept the following LSAT scores from new admittees:
| | |
| --- | --- |
| Lewis & Clark Law School: | 158 |
| University of Oregon School of Law: | 157 |
| Willamette University College of Law: | 153 |
Go to Law School in Oregon
<!- mfunc search_btn -> <!- /mfunc search_btn ->
Application process
With a passing LSAT score, you are now set to apply to ABA-approved law schools. The Oregon State Board of Bar Examiners requires that, unless you are already a practicing attorney licensed elsewhere or a graduate of a foreign law school (see below); you must graduate from an ABA-accredited law institution. There are more than 200 of them across the country from which you may choose. They are listed in the LSAC Official Guide to ABA-Approved Law Schools.
Credential Assembly Service
All ABA-accredited law schools mandate that you utilize the Law School Admission Council's Credential Assembly Service (CAS) when applying for admission. It will help you to gather undergraduate transcripts, letters of recommendation, online evaluations, and other information necessary to apply to law school. The CAS will compile all of this information into a law school report and present it to the law school(s) to which you wish to apply. You may ask the CAS to create up to five law school reports for you.  
Accreditation
The Oregon State Board of Bar Examiners says that you must have a J.D. or L.L.B. degree from an ABA-accredited law institution if you want to take the state's bar examination in the future. There are exceptions, however.
Graduates of US law schools that are not ABA-accredited may take the exam if:

You are a member in good standing of the bar of a reciprocal jurisdiction
You have actively practiced law there for three of the past five years

Graduates of foreign law schools may take the exam if:

The requirements of admission to the bar in the foreign country are equivalent to Oregon's
You are a member of the bar in a foreign jurisdiction that uses the Common Law of England as its basis of jurisprudence
You graduated from a foreign law school determined by the Board to be equivalent to an ABA-approved law school
ABA-Accredited Law Schools in Oregon
These Oregon law schools are ABA accredited:
Lewis & Clark Law School, 10015 SW Terwilliger Boulevard, Portland, OR 97219-7799
University of Oregon School of Law, 1221 University of Oregon, Eugene, OR 97403-1221
Willamette University College of Law, Truman Wesley Collins Legal Center, 245 Winter Street SE, Salem, OR 97301
Course requirements
All ABA approved law schools typically offer the same basic foundation legal courses including:
Civil procedure and law
Criminal procedure and law
Constitutional law
Contracts
International law
Legal research and writing
Practice issues
Legal ethics and professionalism
Torts
Property (real and personal)
Trusts, estates, and wills
Online Law Degrees
(For students who choose to focus on a subset of law other than an attorney.)
Internship
Internships provide you, as a law student, with fun and educational practical opportunities on which you may be able to build after graduation. Your school may place you into an off-campus situation in which you work as an assistant to a lawyer, carry on some legal duties, or work in a government agency or legislature. These situations test what you have learned in class up to this point and allow you to use that knowledge in a practical setting.
J.D. Degree Programs
You must have a J.D. (Juris Doctor) or L.L.B. (Bachelor of Laws) degree from a law school approved by the American Bar association in order to sit for the Oregon bar exam.
Take the Oregon State Bar Exam
With your law degree in hand, you may now register to take the Oregon bar examination. (Actually, you can take the bar exam if you are expected to earn your L.L.B. or J.D. within 120 days of sitting for the exam. Simply file the Affidavit for Examination found on page 12 of the Rules for Admission of Attorneys in Oregon).
Character Requirement
Under the rules of the Oregon State Board of Bar Examiners, you are not eligible for bar admission if you were ever convicted of a crime that would have led to disbarment if you had been an Oregon lawyer at the time.
Preparation
Oregon administers the Uniform Bar Examination (UBE). Free materials to help you study for this examination are available at the National Conference of Bar Examiners website. The sections to study are the Multistate Bar Examination (MBE), Multistate Performance Test (MPT) and Multistate Essay Exam (MEE). Other choices you have for bar exam review and preparation in Oregon include:
Exam content
The Oregon Bar Exam is administered over two days in February or July. It consists of:
The MBE: six hours of 200 multiple choice questions on:

Real property
Contracts (includes Uniform Commercial Code)
Torts
Evidence
Constitutional law
Criminal law

The MPT: you are provided with a file and a library and must complete a performance task. Skills tested include:

Legal reasoning and analysis
Problem-solving
Factual analysis
Communication
Organization and management
Recognizing and resolving ethical problems

The MEE- six 30-minute essay questions on subjects including:

Agency & partnership
Business associations
Family law
Conflict of laws
Secured transactions
Wills & estates
Trusts
Application Process
Complete the Bar Exam Application. File by Nov 15 for the February exam and April 15 for the July exam to avoid late fees. Instructions are as follows:
Complete and submit two copies of the Application Information Sheet
Complete and submit six character and fitness statements with the address and contact info of your last five employers
Include $750 fee by cash, money order or check payable to Oregon State Bar
Include notarized affidavit (part of application package)
Include completed, certified Certificate of Graduation showing that you have a law degree
Include completed fingerprint card (instructions contained in application package)
Include signed professionalism statement (part of application package)
Submit everything to Oregon State Board of Bar Examiners, 16037 SW Upper Boones Ferry Rd, Tigard, OR 97224.
Pass Rates
The Oregon State Board of Bar Examiners has posted the following passing results from previous years' bar examinations:
| | |
| --- | --- |
| July 2018 | 73% |
| Feb 2018 | 63% |
| July 2017 | 79% |
| Feb 2017 | 67% |
| July 2016 | 58% |
| Feb 2016 | 60% |
| July 2015 | 60% |
| Feb 2015 | 64% |
Multistate Professional Responsibility Exam (MPRE)
Within 24 months of passing the Oregon bar exam, you must take and pass the Multistate Professional Responsibility Exam (MPRE) with a scaled score of 85 or better. You must apply online with the NCBE to schedule this exam.
Admission on Motion
If you are a licensed attorney and bar member in a reciprocal state, you may be eligible for admission on motion (without examination) to the Oregon bar.
Are you  licensed in WA, ID, UT or AK and applying for admission on motion prior to December 31, 2015? If so, you must demonstrate active, substantial and continuous practice of law for three of the past five years
Are you licensed in another US jurisdiction? If so, you must demonstrate active, substantial and continuous practice for five of the past seven years
File the Application for Reciprocal Admission.
Licensing and Admission to the Bar
Oregon bar exam results are normally mailed to you within six weeks of taking the examination. You will be given instructions for your bar admission ceremony (if you pass).
You've Been Admitted to the Bar in Oregon
What a milestone you have passed! You are now a licensed member of the Oregon bar! During your first Continuing Legal Education (CLE) reporting period, you must complete 15 credits that includes 10 practical skills, one legal ethics, one child abuse reporting, and one  elimination of bias course. You must also participate in the State Bar's New Lawyer Mentoring Program (NLMP) during your first year of practice.  This program offers you individual guidance on what makes up a highly competent legal practice. Additionally, it promotes collegiality, professionalism and civility among Oregon attorneys. Your mentor can answer just about any question that you may have in starting out as a new Oregon lawyer.
Where should you work, as a new lawyer in Oregon? Should you open your own solo practice, join an existing legal firm, work for a corporation, or what? There are two Fortune 500 corporations in Oregon, which may hire legal help from time to time: Nike in Beaverton and Lithia Motors, Inc. in Medford. Other companies with locations in Oregon that may need legal assistance include accounting firm PricewaterhouseCoopers LLP n Portland, and Microsoft Corporation in Portland and Tigard.
<!- mfunc search_btn -> <!- /mfunc search_btn ->
Law firms in Oregon that may be a great place to get your start as a lawyer include international business litigation firm Perkins Coie LLP in Portland; Schwabe, Williamson & Wyatt general practice attorneys in Portland, Bend, and Salem; multi-practice firm Harrang Long Gary Rudnick, LLC in Eugene, Portland and Salem; and business litigators Harris Velazquez Gibbens Attorneys at Law in Hillsboro.
Legal specialty certification
Specialization in a legal area is possible once you have your law license in Oregon. Depending upon the area in which you wish to practice, various associations are available to provide certification services. The American Board of Certification (ABC) provides certification services for legal specializations in business bankruptcy, consumer bankruptcy, and creditors' rights. Passing an examination in your intended specialty area is required. Call the ABC at (319) 365-2222 or email them at director@abcworld.org for more information.
The National Board of Trial Advocacy offers legal certification services for specializations in social security disability, civil pretrial advocacy, criminal trial law, family trial law, and civil trial law. Again, passing an examination within your specialty area is required. For more information, call (508) 384-6565.
Requirements for maintaining license
To keep your Oregon legal license active and maintain bar membership, you must complete 45 credit hours of Mandatory Continuing Legal Education (MCLE) every three years. Five of these credit hours must be in legal ethics. One credit hour must be in child abuse reporting. One credit hour must be in mental health. Three credit hours must be in the elimination of bias. Contact Jade Priest-Maoz at jpriest@osbar.org or (503) 431-6346 or more information.
Court Systems in Oregon
The Oregon State Court System is comprised of the following courts:
Elective membership organizations
Consider joining an elective membership organization that can assist you in your career growth as a lawyer in Oregon, such as:
2022 US Bureau of Labor Statistics salary and employment figures for Lawyers reflect national data, not school-specific information. Conditions in your area may vary. Data accessed April 2023.