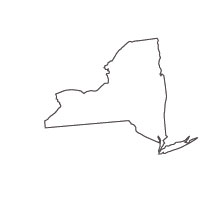 Steps to become a Lawyer/Attorney in New York
Follow the step by step process or choose what situation that best describes you:
Law Careers in New York
The American Bar Association notes that in 2022, there were 187,246 practicing attorneys in the state of New York, an increase of 20.4 percent in just a decade. The U.S. Bureau of Labor Statistics (BLS) of the U.S. Department of Labor states that the annual mean wage of New York lawyers in 2022 was $188,900, making New York attorneys the eighth-highest paid in the nation that year. New York also holds the record for the second-highest level of employment of lawyers in any state in the union for 2022, at 86,230. The New York-Newark-Jersey City metropolitan area is the highest paying metropolitan area in the country in which lawyers worked in 2022, making an annual mean wage of $193,280.
These well-paid attorneys in New York are kept quite busy, as the FBI reports that in 2017, 356.7 violent crimes were committed per 100,000 people. This rate is lower than the rate of violent crime in the U.S. as a whole, but still gives New York attorneys plenty of work. If you wish to join the rolls of these New York lawyers and become a licensed member of the New York Bar Association, keep reading.
Get Your New York Undergrad Pre-Law Major
The New York State Board of Law Examiners follows the mandates of the American Bar Association (ABA) in terms of requirements for undergraduate pre-legal education prior to admission to an ABA-approved law school.
Accreditation
Your undergraduate school must be accredited by a national or regional accreditation agency that is recognized by the U.S. Department of Education. If you graduate from such a school, your chances of being accepted into an ABA-approved law school increase greatly.
Requirements and Standards
The ABA does not set requirements or standards regarding undergraduate pre-law education. Basic areas of knowledge that will help a lawyer later in his or her career are expected to be covered, such as:  
Diversity of international cultures and world events
Development of American society and how that has been influences by history, economic, social, cultural, and political factors
Familiarity with the  American political system and philosophy
Basic mathematical and financial skills
Good  understanding of human behavior and social interaction
Understanding of the diversity of cultures beyond the United States and of world events
Degree Options
ABA-accredited law schools require that students first possess a bachelor's degree prior to applying for admission. No specific field of study is required. Majors that will increase your chances of acceptance into an ABA-accredited law school should focus on writing and research, analysis and problem solving, and be challenging and interesting to you. Undergraduate majors that are often found on the resumes of successful law school students include economics, business, English, philosophy, political science, and history.
<!- mfunc feat_school ->
Featured Programs:
Sponsored School(s)
<!- /mfunc feat_school ->
Sponsored Listings
Pre Law Advisor
If your undergraduate college or university has a Pre-Law Advisor on staff, take advantage of this valuable resource. A Pre-Law Advisor is trained to assist students who plan to go on to law school after completing their undergraduate studies. The Pre-Law Advisor can help you choose undergraduate courses that will maximize your potential in law school.
LSAT (Law School Admission Test) in New York
The New York State Bar requires graduation from an ABA-accredited law school in order to become a member. Passing the LSAT, or Law School Admission Test, a half-day standardized test given quarterly at testing centers in New York and elsewhere, is the first step in this process.
How to prepare
The LSAT website provides free information for aspiring test-takers in preparation for the exam, including sample questions with answers. Taking these timed practice tests will help you prepare for the real LSAT exam.
LSAT Exam Prep Courses in New York:
Exam content
The LSAT measures skills that are crucial to your success as a law school student. Areas covered in the LSAT include:
Reading Comprehension – Read and answer comprehension questions based on what you read. Long and complex passages are included, reflecting your grasp of this type of information.
Analytical Reasoning – Read statements and make conclusions and deductions. Your ability to solve complex analysis and legal problems is measured here.
Logical Reasoning – Read the material and answer questions based on your own critical evaluation. Thinking, drawing conclusions, reasoning through analogy, applying principles and rules, and identifying flaws and strengths in an argument are abilities tested here.
Application process
Apply to take the LSAT online. In the United States, the LSAT is offered on Saturdays and Mondays in November, January and March. As not all testing centers offer the LSAT on each date, early registration is recommended. In New York, testing centers are located in:
Pace University -Elisabeth Haub School of Law, White Plains
Onondaga Community College, Syracuse
Lemoyne College, Syracuse
Wagner College, Staten Island
University of Rochester, Rochester
Vassar College, Poughkeepsie
Marist College, Poughkeepsie
Clarkson University, Potsdam
SUNY -Oneonta, Oneonta
Saint Bonaventure University, Olean
Pace University-New York City, New York City
Fordham University School of Law, New York City
New York Law School, New York City
SUNY-New Paltz, New Paltz
LaGuardia Community College, Long Island City
CUNY School of Law, Jamaica
Saint Johns University, Jamaica
Ithaca College, Ithaca
Cornell University, Ithaca
Hofstra University, Hempstead
Hobart & William Smith College, Geneva
Queens College, Flushing
Hamilton College, Clinton
Saint Lawrence University, Canton
Canisius College, Buffalo
C.W. Post-Long Island University, Brookville
St. Francis College- Brooklyn Heights
Touro College, Brooklyn
South Shore High School, Brooklyn
Medgar Evers College, Brooklyn
Brooklyn College, Brooklyn
Binghamton University, Binghamton
SUNY-Buffalo, Amherst
Alfred University, Alfred
SUNY-Albany, Albany
Albany Law School, Albany
Fees
The fee to take the LSAT is $160 (as of April 2012) Checks or money orders may be made payable to the Law School Admission Council. Testing fees may also be paid via credit card when you register online.
Receiving Your Score
Once you establish an online account at LSAC.org, your LSAT scores will be emailed to you about 21 days after you take the exam. The lowest possible score you can get on the LSAT is 120, and the highest possible score is 180.
LSAT scores may be cancelled if, after the test, you feel that you did not do well. On the day after exam day until six days after the test, you may cancel your LSAT score. Do so online in your LSAC.org account, only during business hours (in case you encounter technical difficulties). Keep in mind that no refunds will be given for canceled scores, and canceled scores cannot be reversed.
Limitations
It is only possible to take the LSAT three times every two years, even if you take the test and cancel your score. Exceptions may be made to this rule. Write the LSAT with the date you wish to re-take the test, by emailing your request as an attachment to LSACinfo@LSAC.org. Once your request is denied or approved, you will receive notification.
Go to Law School in New York
<!- mfunc search_btn -> <!- /mfunc search_btn ->
Application process
Congratulations! You have passed the LSAT and taken a big step towards becoming an attorney in New York. Now you are ready to apply to law school. The LSAC can help with this process. Consult this list of services recommended by ABA-approved law schools across the country to ensure that you have completed all of the school's requirements.
Credential Assembly Service
If you are applying to an ABA-approved law school, using the LSAC's Credential Assembly Service is required. After establishing your LSAC account and passing the LSAT, the CAS will help you to get all college transcripts mailed to them, get letters of recommendation requested and sent, and follow any specific instructions provided for any law schools to which you are applying. The LSAC's Credential Assembly Service charges $195, payable online.
Accreditation
The New York Bar Association requires all lawyers to graduate from an ABA-approved law school in the U.S.  There are currently over 200 law schools across the country that are ABA-approved. A complete listing is provided at the LSAC Official Guide to ABA-Approved Law Schools.
ABA-Accredited Law Schools in New York
Fifteen law schools in New York are currently accredited by the ABA. They are:
Course requirements
The New York State Bar places the following course requirements upon those attending ABA-accredited institutions who plan to seek bar admission upon graduation:
After you have begun studies at law school, you have between 24 months and 60 months to complete it.
You must complete at least 83 semester hours prior to graduation:

 64 of those hours must come from classroom study
Two credit hours must come from a course in professional responsibility
30 credit hours are allowed for field placements, externships, and clinical courses
12 credit hours are allowed for other courses or joint degrees
12 credit hours of distance education courses are permitted
Only one-third of your total credits may come from an international study
Internship
An off-site internship or field placement is required while you attend law school, usually about a year after you have started your J.D. degree program. This work experience may include moot court, law review, real-life legal experiences, and research programs, and you will not be paid during this time. Off-site evaluations will occur from time to time as a faculty member of your law school evaluates your progress.
Online Law Degrees
(For students who choose to focus on a subset of law other than an attorney.)
Degree Programs
 The J.D. (or Juris Doctor) degree must be obtained in order to be admitted to the bar in New York. Other legal degrees include:
Academic degrees for nonlawyers:
Masters of Professional Studies (M.P.S.)
Masters of Science or Masters of Studies (M.S.)
Post-JD law degrees for lawyers:
Juris Master (J.M.)
Master of  Jurisprudence (M.J.)
Master of Comparative Law (M.C.L.)
Master of Laws (L.L.M.)
Academic-based and research doctoral degrees:
Doctor of Comparative Law (D.C.L.)
Doctor of Judicial Science (S.J.D.)
Doctor of Jurisprudence (J.S.D.)
Schools offering the above-mentioned degrees are listed here.
Take the New York State Bar Exam
Once you have your J.D. degree from an ABA-approved law school in hand, you are eligible to take the New York Bar Exam. As of 2012, there are four modes of qualifying for eligibility to take the bar exam and become a member of the New York Bar:
Graduate with a J.D. degree from an ABA-approved law school (see above for additional course rules)
Have a combination of at least 28 hours of study at an ABA-approved law school and a clerkship or study in a law office for at least four years
Graduate from a non-ABA-approved law school in the U.S. with a J.D> and practice for five of the past seven years in another jurisdiction
Complete a foreign program of law study equivalent to an approved program in the U.S.
Pro Bono Scholars Program
The New York Board of Bar Examiners also has a Pro Bono Scholars Program, allowing students who are in their final year of a J.D. program at an ABA-approved school to sit for the February bar exam, as long as they devote their last semester of study to performing pro bono law services through an approved program. More information on this rule may be found here.
Preparation
The State Board of Law Examiners has created the New York Law Course, which can be accessed online and can help you to prepare to sit for the New York Bar Exam. Other bar exam prep resources in New York include:
Free study guides to help you prepare for the Multistate Bar Exam (MBE), Multistate Essay Exam (MEE), Multistate Performance Test (MPT) and Multistate Professional Responsibility Exam (MPRE) are available from the National Conference of Bar Examiners.
Exam content
New York administers the Uniform Bar Exam (UBE), consisting of the parts identified above. It is administered on the final Tuesday and Wednesday of February and July. February exam applicants must file their application between November 1 and Nov 30, and July applicants from April 1-30. No late applications will be accepted.
In addition to the UBE, applicants must pass the New York Law Exam, which has a separate administration date. Future administration dates are listed here.
Application Process
File online with the New York State Board of Law Examiners to take the New York State Bar Exam. The application will be posted beginning April 1 for the July exam and October 1 for the February exam.
Testing sites change, but for the February 2019 exam, they are:

Armory Track & Field Center, 216 Fort Washington Ave at West 168 St, NYC
New York State Judicial Institute, 78 North Broadway, White Plains
Empire State Plaza Convention Hall, Concourse Level, Albany
Buffalo-Niagara Convention Center, 153 Franklin St., Buffalo

You will receive your seating ticket by mail two weeks prior to the exam, which will also verify your test location
Results of the July exam are released by mid-November, and of the February exam, by mid-May.
Fees
The application fee for the New York State bar examination is $250. For candidates who qualify for eligibility to take the exam by studying in a foreign law school the fee is $750. Fees are payable online via credit card only. A certified check or money order payable to NYS Board of Law Examiners may be submitted alternatively, but only if you file a paper application by mail.
Pass Rates
Overall pass rates for the July 2018 New York State Bar Exam were 83%. For the February 2018 bar exam, overall pass rates were 69%.
Licensing and Admission to the Bar
Within three years of passing the bar exam, you must apply for admission to the New York State Bar. You will be sworn in formally and then officially licensed to practice law in New York State.
You've Been Admitted to the New York Bar
Congratulations! As a newly licensed New York lawyer, you must now decide what type of practice to pursue.  Do you want to work with a smaller law firm, or start your own law practice?
Before deciding, read  Starting a Practice in New York  published by the New York State Bar Association. Many good tips and relevant advice is provided in this document, especially for those who wish to set out on their own law practices.
<!- mfunc search_btn -> <!- /mfunc search_btn ->
Joining an established law firm might be the best way to break into law in New York. There are many large and small firms statewide. They include the following:
New York City: Loeb & Loeb, LLP, specializing in Corporate Law
Albany: Hinckley, Allen & Snyder, LLP, specializing in Environmental Law
Buffalo: Lipsitz, Green, Scime & Cambria LLP, specializing in Criminal Law
Syracuse: Hinman, Howard & Kattell, LLP, specializing in Civil Practice
Many Fortune 500 corporations are also headquartered in New York and may be looking for legal counsel to join their teams. They include:
J.P. Morgan Chase & Co in New York City
Citigroup in New York City
Verizon Communications in New York City
MetLife in New York City
Pfizer in New York City
TIAA in New York City
According to the New York Department of Labor, job projections for lawyers statewide are very favorable during the decade from 2016-26, with an estimated 11.5 percent increase in employment opportunities for lawyers across New York.
Legal specialty certification
Legal specialization is a route that many new lawyers in New York wish to pursue after becoming bar members. The National Board of Trial Advocacy offers certification for specializations in family, criminal, and civil law, plus social security disability advocacy and civil trial law advocacy. Credentials are checked and exams are taken before a lawyer is certified in any specialty.
Requirements for maintaining license
The New York Court System requires that all licensed members of the New York State Bar complete continuing education to maintain a license to practice law. New attorneys must complete 32 credit hours in the first two years of practice, including:
Three hours in professionalism and ethics
Six hours in skills
Seven hours in professional practice and practice management
After the first two years of law practice in New York, attorneys must complete 24 hours of continuing legal education every two years. This must include four hours in ethics and professionalism, and one hour in diversity, elimination of bias and/or inclusion. More information on the Continuing Education requirements of the New York Court System may be found here.
Court Systems in New York
The New York State Unified Court System consists of the following:
New York City Courts

Supreme Civil and Criminal
Civil Court

Housing court
Small claims

Criminal Court
Family Court
Surrogate's Court

Specialized Courts & Parts

Court of Claims
Commercial Division
Litigation Coordinating Panel
Problem-Solving Courts

Courts Outside New York City

Supreme Court
County Court
City Court
District Court
Family Court
Surrogate's Court
Town & Village Courts

Appellate Courts

Lower Appellate Courts
Appellate Divisions
Court of Appeals
Elective membership organizations
There are many elective membership organizations for practicing attorneys in New York, including:
2022 US Bureau of Labor Statistics salary and employment figures for Lawyers reflect national data, not school-specific information. Conditions in your area may vary. Data accessed April 2023.