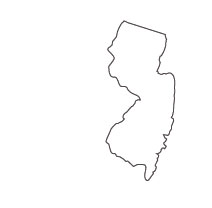 Steps to become a Lawyer/Attorney in New Jersey
Follow the step by step process or choose what situation that best describes you:
Law Job Information in New Jersey
Information published by the Bureau of Labor Statistics (BLS) of the US Department of Labor (DOL) indicates that New Jersey has the highest concentration of jobs and location quotients for all metropolitan areas for the lawyer occupation (as of May 2022). BLS figures indicate that in May 2022, there were 23,010 lawyers employed in New Jersey. Lawyers in New Jersey also earned one of the highest annual mean wages for lawyers working anywhere in the United States. The average yearly salary for a New Jersey lawyer in May 2022 was $163,690. If your dream is to become a practicing attorney in the state of New Jersey, read on.
Get Your New Jersey Undergrad Pre-Law Major
The New Jersey Board of Bar Examiners does not require that you complete any undergraduate education prior to enrollment in law school. It does, however, require that you graduate from a law school accredited by the American Bar Association (ABA). All ABA-accredited law schools mandate that you have a minimum of a bachelor's degree before entering law school.
Accreditation
Under ABA orders, you must receive your bachelor's degree from an accredited college or university. Your school must be accredited by an agency recognized by the U.S. Department of Education.
Requirements and Standards
As long as you receive your undergraduate degree from an accredited institution, it does not matter what courses you take or what major you choose. There are some courses that tend to help students perform better in law school when taken in undergraduate school. These include philosophy, political science, business, economics, psychology, English, communications, and mathematics.
Degree Options
You must have a minimum of a bachelor's degree to enter into law school. It need not be in any specific major.  Undergraduate majors culled from the above-mentioned coursework areas often produce law school students who are successful.
<!- mfunc feat_school ->
Featured Programs:
Sponsored School(s)
<!- /mfunc feat_school ->
Sponsored Listings
LSAT (Law School Admission Test) in New Jersey
You have achieved the first step towards becoming a lawyer in New Jersey – receiving your undergraduate degree. It is now time to take the six-hour standardized LSAT (Law School Admission Test). You must pass this exam before admittance to any ABA-accredited law school can occur.  
How to prepare for LSAT
You will find many helpful free study materials on the LSAT website. Other resources that may help you prepare to take the LSAT in New Jersey include:  
LSAT Exam Prep Courses in New Jersey:
LSAT Exam content
As an aspiring lawyer in New Jersey, the LSAT is one of the most important tests you will ever take. It tests your knowledge of three critical areas:
Reading Comprehension – your abilities in dissecting information, skimming passages to receive the author's main point, recognizing types of questions, recognizing styles of writing (argumentation, etc), and being able to make comparisons and analogies will be tested here.
Critical Reasoning – you must be able to recognize arguments and use the six types of reasoning to evaluate that argument (i.e., generalization, analogy, deductive argument, causal reasoning, business thinking, and identifying assumptions)
Analytical Reasoning – also called "Logic Games," this sections test your analytical abilities using four types of games (single-linear, multiple-linear, grouping, and networking).
Application process
LSAT applications are processed online. You must also pay the $190 examination fee online.  The LSAT is given quarterly on Saturdays and Mondays at the following New Jersey testing centers:
Rutgers-The State University, Camden
The College of New Jersey, Ewing
Brookdale Community College, Lincroft
Rutgers-The State University, New Brunswick
Rutgers-The State University, Newark
Richard Stockton College of New Jersey, Galloway
Seton Hall University, South Orange
Mercer County Community College, West Windsor
Montclair State University, Montclair
William Paterson University, Wayne
Receiving Your Score
You can expect to receive your LSAT score via mail about 21 days after the exam. The score range is 120 to 180. Median LSAT scores that New Jersey law schools accept (per ABA Law School Data) are:
| | |
| --- | --- |
| Rutgers Law School: | 155 |
| Seton Hall University: | 156 |
Apply to Law Schools in New Jersey
<!- mfunc search_btn -> <!- /mfunc search_btn ->
Application Process and Accreditation
You are ready for Step 3 of the process of becoming a New Jersey lawyer- applying to the ABA-accredited law school of your choice. Remember, under the rules of the New Jersey Board of Bar Examiners, before you can take the state's bar exam, you must graduate with a Juris Doctor (J.D.) degree from an ABA-accredited law school anywhere in the United States (not necessarily in New Jersey). There are more than 200 ABA-accredited law schools nationwide, and they are listed in the LSAC Official Guide to ABA-Approved Law Schools.  
Credential Assembly Service
Formerly known as the Law School Data Assembly Service (LSDAS), the Law School Admission Council's Credential Assembly Service (CAS) is vital to use when applying for enrollment at any ABA-accredited law institution. It will help you to gather, coordinate, and send law school applications with all necessary supporting documentation (such as transcripts, letters of recommendation, and evaluations) The CAS charges $195 for the usage of this valuable service, and the fee includes applying electronically for you to your chosen ABA-accredited law schools. Although the CAS standardizes the procedures and process, check with your individual law school's requirements for admission to ensure that you send the proper number and types of documents when applying for enrollment.
ABA-Accredited Law Schools in New Jersey
Two law institutions in New Jersey are ABA-accredited:
Rutgers Law School, Camden/Newark
Course requirements
These subjects should be included in any ABA-accredited New Jersey law school, as they may be tested on the state's bar examination:
Contracts
Criminal law
Real property
Torts
Constitutional law
Evidence
Civil procedure
Agency
Conflicts of law
Corporations
Equity
Family law
Partnership
Uniform Commercial Code: Articles 2 (Sales), 3 (Commercial Paper), and 9 (Secured Transactions)
Wills, trusts, and estates
Zoning and planning
Disciplinary rules
Ethics (you must present evidence that you have passed an ethics course in law school, or pass the Multistate Professional Responsibility Examination (MPRE) with a score of at least 75 when applying to take the New Jersey bar examination)
Online Law Degrees
(For students who choose to focus on a subset of law other than an attorney.)
Internship
Most, if not all, ABA-accredited law institutions require that you participate in some sort of practical experience during your tenure in law school. Depending upon your school's practices, this may occur in an in-house legal clinic, on-site legal office or organization, or governmental agency. Wherever you are placed, you will have the chance to develop real-life, working skills necessary to succeed as a New Jersey lawyer.
Degree Programs
You must have a J.D. degree in order to sit for the state's bar exam. Other degree options offered by New Jersey law schools (such as dual degrees and concentrations) that may increase your career opportunities after graduation include:
Seton Hall University School of Law:

JD Concentration in Health Law
JD Concentration in Intellectual Property
JD/Master of Arts in Diplomacy
JD/Master in Business Administration
JD/MD

Rutgers –University School of Law-Newark/Camden:

JD/MBA
JD/MA in Criminal Justice
JD/MCRP (Master of City and Regional Planning)
JD/MSW (Master of Social Work)
Pass the New Jersey State Bar Exam
If you are at least 18 years old and have a J.D. degree from an ABA-accredited law institution, you are eligible to take the New Jersey bar examination.
Non-ABA Approved Law School Graduates
Graduates of law schools not approved by the ABA are not eligible to sit for the New Jersey bar exam.
Foreign Law School graduates
Graduates of foreign law schools are not eligible to sit for the New Jersey bar exam.
Preparation
New Jersey administers the Uniform Bar Exam (UBE). Preparation materials for its three parts – the Multistate Bar Examination (MBE), Multistate Performance Test (MPT), and Multistate Essay Exam (MEE) are available at the National Conference of Bar Examiners website. Other resources (not necessarily free) to help you get ready to take the New Jersey bar examination include:
Exam content
The New Jersey bar exam consists of:
The MBE, 200 multiple-choice questions focusing on the topics of contracts, criminal law, constitutional law, real property, evidence, and torts.
The MEE, 6 30-minute essay questions on business associations, civil procedure, conflict of laws, constitutional law, contracts, criminal law and procedure, evidence, family law, torts, real property, estates and trusts, and Article 9 of the Uniform Commercial Code.
The MPT, two 90-minute skills-based tests
Application Process
The first step in applying to take the New Jersey bar examination is to create a registration account online. You will complete the Character & Fitness Questionnaire online and submit your signed and notarized Application for the Bar Exam online, plus the following documentation:
Upload an acceptable photo
Submit payment online or via check/money order ($675 if paid on time)
Upload a signed and notarized Authorization and Release form
Mail all information to NJ Board of Bar Examiners, PO Box 973, Trenton, NJ 08625-0973. You will receive an acknowledgement packet from the Bar once they receive your application. Included in the packet will be information on completing your fingerprinting requirement and correcting any deficiencies in your application, plus obtaining other necessary information such as:
Law School Certificate
Proof of satisfaction of professional responsibility requirement (grade of C or better in an ethics course in law school or score of 75 or better on the MPRE)
Pass Rates
The following pass rates for previous New Jersey bar examinations have been noted:
| | |
| --- | --- |
| July 2018: | 58.83% |
| July 2016: | 65.3% |
| July 2015: | 69.9% |
| July 2014: | 74.2% |
Multistate Professional Responsibility Exam (MPRE)
If you did not take an ethics/professional responsibility course in law school, you must obtain a passing score of 75 or greater on the Multistate Professional Responsibility Exam (MPRE). More information on the exam and signing up to take it can be found at the National Conference of Bar Examiners website.
Admission on Motion
New Jersey does not recognize admission on motion (that is, admission without examination) to the state's bar except in the following situations:
If you are already a licensed lawyer in another state and in good standing within that jurisdiction's bar organization, you are eligible to practice law in New Jersey for up to two and a half years with an approved legal services program.
If you are a law school professor who has taught law full-time for the past five years at an ABA-accredited New Jersey law school, you can be admitted on mo­tion (without taking the examination). You must also have a J.D. or LL.B. degree from an ABA-approved law school and have already passed the bar examination in at least one other U.S. jurisdiction.
MBE Transfer Scores
The New Jersey Board of Bar Examiners does not accept MBE scores from prior bar examinations you may have taken in another state.  If you plan to take New Jersey's bar exam and will be taking the MBE in another state in their bar exam concurrently, you must arrange to have your MBE score transferred to New Jersey  by July 1 for the July bar examination or February 1 for the February bar examination. You may take the MBE in another jurisdiction on the Wednesday before the New Jersey essay portion of the examination.
Licensing and Admission to the Bar
After passing the bar, you must sign the attorneys' roll and take an oath prior to admittance to the New Jersey Bar. The oath swears that you will support the Constitution of the United States and the Constitution of New Jersey, show allegiance to New Jersey, and includes the oath of office as an attorney. You may give an affirmation instead of an oath if you prefer. You must be sworn in no later than 90 days after passing the bar examination. Public swearing-in ceremonies are usually held about a month after examination results are published.
You've Been Admitted to the New Jersey Bar
Congratulations on passing the New Jersey Bar Examination and becoming a licensed member of the New Jersey Bar! As a new member, you must complete 15 credit hours of continuing legal education (CLE) in five of nine subject areas during your first full two-year compliance period. Those subjects include:
New Jersey basic estate planning
New Jersey civil or criminal trial preparation
New Jersey family law practice
 New Jersey real estate closing procedure
 New Jersey trust and business accounting
New Jersey landlord/tenant practice
New Jersey municipal court practice
New Jersey law office management
Your first CLE compliance period begins January 1 of the year following the year you are admitted to the Bar.
Employment opportunities are vast for newly licensed lawyers in New Jersey. Well-known law firms in the state include McCarter & English, LLP in Newark; Gibbons, P.C. in Newark and Trenton; Wilentz, Goldman & Spitzer, PA in Woodbridge; Sills Cummis & Gross in Newark and Princeton; and Lowenstein Sandler LLP in Roseland, Somerville and Princeton.
<!- mfunc search_btn -> <!- /mfunc search_btn ->
A total of 19 companies in New Jersey are on the Fortune 500 list as of 2018, and most commonly hire attorneys. They include NRG Energy in Princeton; Cognizant Technology Solutions in Teaneck; Johnson & Johnson in New Brunswick; Merck in Whitehouse Station; Bed Bath and Beyond in Union; Prudential Financial in Newark; Honeywell International in Morris Township; and ADP in Florham Park.
Lawyers Fund for Client Protection and Disciplinary Oversight Committee
As a bar member in New Jersey, you must pay an annual fee to finance the New Jersey Lawyers' Fund for Client Protection and the attorney discipline system. The Supreme Court of New Jersey determines this amount each year. The Fund provides reimbursement to clients who have financial losses because of dishonest attorney conduct. The Disciplinary Oversight Committee supports the actions of the Office of Attorney Ethics such as the Random Audit Program and the Disciplinary Review Board.  All lawyers who are New Jersey bar members, including judges, government lawyers, and law professors, must pay this annual fee. You do not need to pay the assessment fee during the first calendar year of your admission to the bar. If you are a lawyer serving in the U.S. military, Peace Corps, or VISTA, you are exempt from paying the annual assessment fee.
Legal specialty certification
Lawyers wishing to specialize in an area of the law may become certified. Under rules of the New Jersey Supreme Court's Board on Attorney Certification, in order to become certified to practice in a specialized area you must meet the following conditions:
Have been a member in good standing of the New Jersey Bar for five or more years
Have completed a certain amount of CLE courses in the past three years
Have demonstrated substantial involvement in the preparation of litigation
Have demonstrated an untarnished reputation (through giving the Court a list of names of judges and lawyers who will verify your character and ability)
Pass a written examination on the specialty practice area
The New Jersey Supreme Court currently certifies lawyers in the following areas:
Civil trial law
Criminal trial law
Matrimonial law
Workers' compensation law
For more information on legal specialty certification in New Jersey, contact the Board of Attorney Certification at (609)815-2930.
Requirements for maintaining license
As a licensed New Jersey lawyer, you must complete 24 credit hours of CLE every two years. At least four of those credits must be in ethics and/or professionalism. You may take up to half of your CLE credit hours in alternative verifiable learning (AVL) formats (such as videotape, audiotape, on-line internet presentations, satellite simulcasts, teleconferences, videoconferences, and internet self-study). At least 12 of your CLE credits must be taken in a live instructor-based course. You must report your CLE hours through the New Jersey Courts electronic registration/payment system.
Court Systems in New Jersey
There are various types of courts in the New Jersey judicial system:
New Jersey Supreme Court: The highest court in the state hears appeals from the Appellate Division, reviews the decisions of other state courts, and interprets laws that may be unclear or conflicting with other laws.
Superior Court: Also known as the trial court, the Superior Court hears cases of criminal, civil and family law are heard in the Superior Court. A Superior Court exists in each of New Jersey's 21 counties.

Appellate Division: No juries or witnesses are used in the Appellate Division of the Superior Court. Judges hear arguments from lawyers on appeals from superior court cases. New Jersey has 36 Appellate Division judges New Jersey.

Tax Court: This court reviews decisions of county boards of taxation on property tax, and of the State Division of Taxation on state income tax, sales tax, and business tax.
County Courts: Each of New Jersey's 21 counties has its own County Court, also referred to as a Vicinage.
Municipal Courts: This court hears the majority of the cases filed in New Jersey, including motor vehicle offenses; minor criminal offenses; cases involving hunting, fishing, and boating laws; and minor disputes between neighbors.   There are 539 Municipal Courts in New Jersey.
Elective membership organizations
Other professional organizations in the state for which you may now be eligible for membership as a New Jersey lawyer include:
2022 US Bureau of Labor Statistics salary and employment figures for Lawyers reflect national data, not school-specific information. Conditions in your area may vary. Data accessed April 2023.