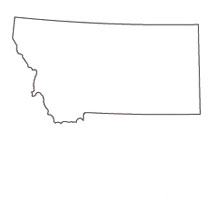 Steps to become a Lawyer/Attorney in Montana
Follow the step by step process or choose what situation that best describes you:
Law Career Information in Montana
There are approximately 4000 members of the State Bar of Montana, according to its 2017 Membership Survey.  Of those who responded to the survey, 50 percent were male, and 48 percent were female. Legal specialization areas of those who responded include litigation, criminal law, family law, administrative law/government agency matters, and estate planning, probate, and trusts. 57 percent of respondents are in private practice, and 36 percent of these are solo practitioners. As you can see from the above results, opportunities for lawyers in Montana are vast and diverse. If you wish to learn how to become a lawyer in the state of Montana, keep reading.
Get Your Montana Undergraduate Pre-Law Major
The State Bar of Montana does not require that you have any specific undergraduate education prior to sitting for the state bar exam. However, it does require that the law school from which you graduate is American Bar Association-accredited, and all ABA-accredited schools mandate that you must have at least a bachelor's degree for entrance.  
Accreditation
Your undergraduate institution must be accredited by a regional or national organization listed with the U.S. Department of Education. ABA-accredited law schools will only recognize your education if it comes from an accredited university or college.
Requirements and Standards
Some undergraduate universities and colleges offer a pre-law course of study or major. Because the ABA does not mandate which undergraduate courses you should take, if your school does not offer such a concentration, it may be difficult to determine which courses to enroll. Coursework in law, criminal justice, political science, history, world cultures, economics, business, and English are all recommended by those who have gone on to study at ABA-approved law schools after graduation from undergraduate school.
Degree Options
The ABA only requires that you have a bachelor's degree prior to entering law school – it does not specify a certain major. Majors taken from the above-listed coursework areas are often helpful to those who go on to study in law school after graduation.
<!- mfunc feat_school ->
Featured Programs:
Sponsored School(s)
<!- /mfunc feat_school ->
Sponsored Listings
LSAT (Law School Admission Test) in Montana
Your next step on the road to becoming a Montana lawyer is to pass the LSAT (Law School Admission Test). This standardized test is mandatory in order to gain entrance to ABA-approved law schools across the United States.  
How to prepare
You can find helpful, free study resources on the LSAT website such as practice tests and sample questions and answers. If you wish further LSAT preparation, options in Montana include:  
LSAT Exam Prep Courses in Montana:
LSAT Exam content
The LSAT tests your abilities in these areas:
Reading comprehension
Critical reasoning
Logical reasoning
Writing
The test consists of:
four scored 35-minute multiple-choice sections
one 35-minute unscored multiple-choice section (this is the experimental section, but because you can't tell which section it is, you must treat all questions as if they are being scored)
one 30 minute writing test (not scored as part of LSAT, but sent to law schools when you apply)
Application process
Apply to take the LSAT and pay the exam fee of $190 online, where you must create an account with the Law School Admission Council (LSAC). You may take the LSAT three times a year at these Montana testing centers:
Montana State University, Bozeman
University of Providence, Great Falls
Montana State University-North, Havre
Carroll College, Helena
Helena College- University of Montana, Helena
University of Montana, Missoula
Receiving Your Score
You will receive your LSAT score via postal mail about three weeks after taking the test. The lowest possible LSAT score is 120, and the highest possible LSAT score is 180. The following LSAT scores are the most commonly accepted by law schools in Montana, per the ABA:
University of Montana School of Law:  Median LSAT score of 153
Go to Law School in Montana
<!- mfunc search_btn -> <!- /mfunc search_btn ->
Application process
After passing the LSAT, you are ready to apply to ABA-approved law schools. You may attend any of the over 200 ABA-accredited law schools nationwide – it need not be located in Montana. Check the complete listing of them in the LSAC Official Guide to ABA-Approved Law Schools.
Credential Assembly Service
All ABA-approved law schools, regardless of their location, require you to use the Law School Admission Council's Credential Assembly Service (CAS) when applying for enrollment. This service standardizes your transcripts, letters of recommendation, and online evaluations into a format recognized by all ABA-accredited law schools. It can be a real timesaver in helping you gather the supporting materials necessary to send to law schools when you apply. The LSAC charges $195 to use this service and will also apply electronically to the ABA-approved law schools you select.
Accreditation
The State Bar of Montana mandates that you must have a JD degree from an ABA-approved law school. There are no exceptions to this rule. Even if you graduated from a non-ABA approved law school and were accepted to practice law in another state, you may not apply for admission to Montana's bar without a JD degree from an ABA-approved law school. Foreign law school graduates are not eligible for admission to the Montana bar either.
ABA-Accredited Law Schools in Montana
Just one law school in Montana holds ABA accreditation:
Course requirements
Because the following subject areas will be tested on the Montana bar exam, you must be sure to study them in your law school curriculum:
Contracts
Torts
Civil Procedure/Law
Evidence
Wills, trusts, probate, conservatorships, estates, and guardianships
Criminal law (both substantive and procedural)
Business organizations
Real property
Uniform Commercial Code as adopted in Montana (excludes Articles 5, 7, and 8)
Domestic Relations
Agency
Workers' Compensation
Rules of Professional Responsibility and the norms of professional conduct
Constitutional Law (both Federal and state)
Federal  Income tax,  Estate tax, and Federal and state gift taxation
Online Law Degrees
(For students who choose to focus on a subset of law other than an attorney.)
Internship
Expect to participate in some sort of clinical placement program during your years at law school. Depending upon your school's policies, you may be placed into a public interest setting, in-house clinic, government agency, or private law firm, where you will have the chance to put into practice the skills and knowledge you have learned in law school. Your work and performance will be faculty-supervised and you will be graded on your knowledge of substantive legal skills and components, ethical and professional issues, and legal competencies.
Degree Programs
The State Bar of Montana requires that you have a JD degree from an ABA-approved law school to take the bar exam. Some ABA-approved law schools offer joint degree programs so that you can earn another degree at the same time you are earning your JD degree. This increases your career opportunities after graduation. Examples include:
JD/Master of Business Administration
JD/Master of Public Administration
JD/Master of Science in Environmental Studies
Take the Montana State Bar Exam
You have your JD degree from an ABA-approved law institution. Now you are ready to take the Montana bar exam. There is no reciprocity or admission on the motion – all applicants to the Montana bar must take the state's bar exam. The bar exam is offered in February and July over a three-day period. It is offered in Helena in February and Missoula in July.
Preparation
Montana administers the Uniform Bar Exam (UBE). The National Conference of Bar Examiners website provides free study aids to help you study for the Multistate Bar Examination (MBE), the Multistate Essay Exam (MEE), and the Multistate Performance Test (MPT). Bar preparation options include:
Exam content
As part of the UBE, you will take the MPT and the MEE. Check the NCBE website for more information. Topics to be covered on the MEE include:
Business associations
Conflict of laws
Constitutional law
Contracts
Criminal law/procedure
Evidence
Family law
Federal Civil procedure
Real property
Torts
Trusts/estates/future interests
Uniform Commercial Code
Secured Transactions
The MPT is a performance test that judges your skills as a lawyer. Skills tested include:
Problem-solving
Legal reasoning and analysis
Analysis of facts
Communication
Organization/management of legal tasks
Recognition/resolution of ethical problems
You will also take the multiple-choice, 200 question MBE test. Expect questions from any of the above-mentioned subject areas.
Application Process
In order to register to take the Montana Bar Exam, you must complete the online NCBE Application for Montana. You must print the Montana Application Cover Page, enclose all documents required from the Montana Application Checklist,  and mail them along with the Montana application fee to the State Bar of Montana Board of Bar Examiners & Commission on Character & Fitness, 33 S. Last Chance Gulch, Suite 1B, P.O. Box 577, Helena, MT 59624.
Admission by UBE Transfer Score
If you have taken the UBE in another jurisdiction, you must request your scores to be sent to the Montana Board of Bar Examiners directly from NCBE.
Admission on Motion
If you meet these requirements, you may apply for Admission on Motion to the State Bar of Montana:
You graduated from an ABA-approved law school
You have been admitted by bar exam to practice law in another jurisdiction, and have done so for five of the past seven years
You have never been denied admission to the Montana bar or any other jurisdiction's bar due to character or fitness deficiency
You have never been admitted to the bar of Montana
You are a member in good standing of the bar of each jurisdiction in which you have been accepted to practice law
You have a passing MPRE score
You pass the Character and Fitness Investigation
You complete the Montana Law Seminar
If you meet these requirements, you must submit the documents on the Montana Application Checklist. Once you are certified, you will receive a certification letter. Send a copy of that letter with an original and seven copies of your Motion to the Court. 
Multistate Professional Responsibility Exam (MPRE)
In addition to the Montana bar exam, you must pass the Multistate Professional Responsibility Exam (MPRE) with a score of 80 or more prior to bar admission. If you have taken the MPRE in another jurisdiction within the past three years, your score is valid. The MPRE is offered at the University of Montana in Missoula in March, August, and November. Apply online with the NCBE to take the MPRE.
Montana Law Seminar (MLS)
All applicants to the Montana State Bar must register and attend the Montana Law Seminar (MLS), offered the Thursday after the February and July bar exams. It focuses on Montana's legal system and the culture of practicing law in Montana.
Pass Rates
Pass rates for the Montana bar exam are:
February 2014: 36 percent overall pass rate
July 2014: 81 percent overall pass rate
February 2015: not available
July 2015: 69 percent overall pass rate
February 2016: 33 percent overall pass rate
July 2016: 81 percent overall pass rate
Licensing and Admission to the Bar
Your bar exam results will be sent by mail to your address about six to nine weeks after the exam. Names of those who passed will also be posted online at the State Bar of Montana website. You will be notified by mail of the time and place of the formal swearing-in ceremony if you pass the exam. This is when admission to the State Bar of Montana will occur.
You've Been Admitted to the Montana Bar
You have passed the Montana bar exam and are now a member of the State Bar of Montana! Congratulations! Being a Bar member has many benefits, including networking, assistance in finding employment, practice management resources, and much more. The Bar also provides a Lawyer Referral Service. When you are listed with this service, clients who need practice specializations such as yours will be referred to you.
Career opportunities for Montana lawyers may be found in small and large law firms, solo practitioner offices, corporations, government, and non-profit organizations. Some of the most recognizable law firm names in Montana include full-service law firm Moulton Bellingham in Billings, insurance law experts Haffey Vap PLLC in Missoula, immigration lawyers Border Crossing Law Firm in Helena, agricultural lawyers Conklin Nybo & Lanning in Great Falls, and trial lawyers Waddell & Magan in Bozeman.
<!- mfunc search_btn -> <!- /mfunc search_btn ->
Larger, well-known companies in Montana that may employ lawyers include Benefis Health System in Great Falls, The Waggoners Trucking in Billings, The Washington Companies in Missoula, and Kalispell Regional Healthcare in Kalispell.
Government organizations and agencies that commonly employ lawyers in Montana include the Office of the State Public Defender in Helena, the Natural Resources Defense Council in Livingston, Montana Conservation Voters in Billings, the Montana Department of Commerce in Helena, the State of Montana Department of Health and Human Services in Wolf Point, and the City of Billings Legal Department in Billings.
Legal specialty certification
The American Board of Certification (ABC) is a State Bar – recognized certification provider for lawyers in Montana who wish to specialize in business bankruptcy, consumer bankruptcy, and creditors' rights laws. You must pass an examination as part of the certification process.
The National Board of Trial Advocacy is a State Bar – recognized certification provider for Montana lawyers who wish to specialize in social security disability advocacy, civil pretrial practice advocacy, criminal trial law, family trial law, and civil trial law. Passing an examination is part of the certification process.
Requirements for maintaining license
In order to maintain your law license in Montana, you must complete continuing legal education (CLE) each year. The State Bar of Montana requires that you complete at least 15 hours of CLE each year, and five hours of ethics courses every three years. For more information, contact the Supreme Court of Montana Commission of Continuing Legal Education.
Court Systems in Montana
The Montana Judicial Branch  has three levels:
City, Municipal and Justice Courts– There are 61 Justice Courts, 84 City Courts, and 6 Municipal Courts across Montana. These Courts of Limited Jurisdiction hear cases involving misdemeanor offenses, civil cases up to $12,000, small claims up to $7,000, landlord/tenant disputes, violations of local ordinances, forcible entry, protection orders, some juvenile issues, and other matters. These courts have a caseload about ten times greater than the District Courts' caseload.
District Courts– 22 District Courts in Montana have jurisdiction over most civil and criminal cases that involve state law. They also re-hear some cases from City and Justice Courts.
Supreme Court-Because Montana has no intermediate appeals court, all trial court decisions are appealable to the state's Supreme Court. It also supervises all other courts in the state. It is located in the Justice Building in Helena.
Elective membership organizations
Here are some elective organizations for Montana attorneys with which you might seek membership:
2022 US Bureau of Labor Statistics salary and employment figures for Lawyers reflect national data, not school-specific information. Conditions in your area may vary. Data accessed April 2023.