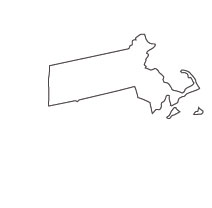 Steps to become a Lawyer/Attorney in Massachusetts
Follow the step by step process or choose what situation that best describes you:
Law Career in Massachusetts
Massachusetts is quite important in the history of the development of the United States and in the history of its laws. The Massachusetts Body of Liberties was the nation's first legal code and was established by the colonists in 1641. One of the earliest tools to protect the rights of Americans, the Body of Liberties was a precursor to the Bill of Rights. It is appropriate that the motto of Massachusetts is "By the sword we seek peace, but only peace under liberty."
Important lawyers over the years who came from Massachusetts include our second President John Adams, our sixth President John Quincy Adams, American statesman Samuel Adams, politicians Edward "Ted" Kennedy and Robert Kennedy, and attorney F. Lee Bailey.
Get Your Massachusetts Undergrad Pre-Law Major
The Massachusetts Board of Bar Examiners requires that you graduate from high school (or complete education determined to be equivalent by the Board) and receive a bachelor's degree (or the equivalent as determined by the Board) before entering law school and taking the Commonwealth's bar exam.
School Accreditation
The undergraduate institution from which you graduate must be accredited by an agency found in the U.S. Department of Education database of accreditation agencies.
Course Requirements and Standards
There are no prescribed undergraduate courses or majors that you must take as a pre-law student. Taking courses that challenge and interest you are the most important at this stage in your education. Some coursework may help to contribute to your later success in law school, including:
U.S. history
World history
Political science
Philosophy and ethics
Criminal justice
Economics
Civil liberties
Mathematics
World cultures
Undergraduate Degree Options
The only requirement of the Massachusetts Board of Bar Examiners for undergraduate education is that you obtain a bachelor's degree (or equivalent) from an accredited college or university. The major is left up to you to decide. Majors chosen from the course topics listed above are often the most helpful to students later in law school, however.
<!- mfunc feat_school ->
Featured Programs:
Sponsored School(s)
<!- /mfunc feat_school ->
Sponsored Listings
Pass the LSAT in Massachusetts
You must pass the LSAT, or Law School Admission Test before you can be admitted to an American Bar Association-approved school (a requirement of the Massachusetts Board of Bar Examiners). This test is offered four times annually at testing centers worldwide.  
How to prepare
The LSAT website provides much free materials to help you study for the LSAT. You might also want to check out a LSAT preparation course in your area, such as:
LSAT Exam Prep Courses in Massachusetts:
LSAT Exam content
The LSAT is designed to test the skills that you will need in law school and, ultimately, to succeed as a lawyer after graduation from law school. When you take the LSAT, you will be tested on your knowledge of:
Reading comprehension
Analytical reasoning
Logical reasoning and thinking
The sample tests and copies of previous tests provided on the LSAT website can assist you greatly in preparing for the types of questions you will encounter on each section.
Application process
Applications to sit for the LSAT are taken online, where you may also pay the fee of $190. The test is offered in November, January, and March at the following test centers in Massachusetts:
Middlesex Community College, Bedford
Boston University School of Law, Boston
The Hynes Convention Center, Boston
Northeastern University, Boston
Suffolk University, Boston
Suffolk University Law School, Boston
Bridgewater State University, Bridgewater
Holyoke Community College, Holyoke
Boston College Law School, Newton
University of Massachusetts School of Law-Dartmouth, North Dartmouth
Salem State University, Salem
Western New England University School of Law, Springfield
Brandeis University, Waltham
Williams College, Williamstown
Receiving Your Score
Your LSAT score will arrive by mail approximately 21 days after you take the test. The lowest LSAT score you can get is 120 and the highest LSAT score to expect is 180. The following are the average LSAT scores accepted by Massachusetts law schools:
Harvard University: 173
Boston University: 163
Boston College: 162
Northeastern University: 161
University of Massachusetts School of Law-Dartmouth: 148
New England School of Law: 147
Suffolk University: 150
Western New England College: 147
Get Your Law Degree in Massachusetts
<!- mfunc search_btn -> <!- /mfunc search_btn ->
Application process
Under Massachusetts rules of bar admission, you must graduate from a law school that is either approved by the ABA or authorized by the Commonwealth to grant the Bachelor of Laws or Juris Doctor degree. You may choose from more than 200 ABA-approved law schools across the United States (it need not be in Massachusetts).
Credential Assembly Service
The Law School Admission Council (LSAC) holds your LSAT scores and also sponsors the LSAC's Credential Assembly Service (CAS). It is required that you use this service when you apply to an ABA-approved law school. The CAS helps you gather all transcripts from all institutions you have attended up to now, whether or not you received a certificate or degree from them. It will also contact persons you specify and request that they write letters of recommendation on your behalf, as well as contact those you choose to perform online evaluations of your character and work. The CAS also helps you to apply electronically to the ABA-approved law schools you choose. The CAS fee is $195, payable through your online LSAC account.
Accreditation
Under rules of admission of the Massachusetts Board of Bar Examiners, you must graduate from an ABA-approved or Commonwealth-authorized law school in order to be eligible to sit for the Commonwealth's bar exam.  The LSAC Official Guide to ABA-Approved Law Schools provides a comprehensive list of over200 ABA-approved law schools in the United States.
ABA-Accredited Law Schools in Massachusetts
ABA-accredited law schools in Massachusetts include:
Course requirements
The Board's Rules of Admission specify that all who plan to sit for the Commonwealth's bar exam be familiar with the following subjects. Therefore, courses you can expect to take in law school include:
Agency
Business organizations
Federal rules of civil procedure
Massachusetts rules of civil procedure
Constitutional law
Contracts
Professional responsibility
Real property (includes mortgages)
Criminal law
Descent and distribution of estates
Torts
Trusts
Domestic relations
Evidence (including Federal Rules of Evidence)
Unfair or deceptive practices
Uniform Commercial Code (Articles 1 through 9)
Federal jurisdiction
Wills
Online Law Degrees
(For students who choose to focus on a subset of law other than an attorney.)
Internship
You will be expected to take part in some sort of clinical field placement, whether it is an internship, externship, in-house clinic, or pro bono program, during your time as a law school student in Massachusetts. Many schools require more than one such practical course to be taken during the course of your law school curriculum. You will be guided and graded by in-field supervisors as well as by the faculty of your law school.
Degree Programs
The Massachusetts Board of Bar Examiners specifies that you must have a Bachelor of Laws (the foreign equivalent of the J.D. degree) or Juris Doctor (J.D.) degree in order to sit for the Commonwealth's bar exam. This course of study typically takes three years to complete. Other degrees that are offered by Massachusetts law schools include:
S.J.D. (Doctor of Judicial Science)
JD/MBA (Master of Business Administration)
JD/MPP (Master of Public Policy)
JD/PhD
JD/LLM (Master of Laws)
Foreign Law Schools
If you graduate from any of these Canadian law schools, you are eligible to sit for the Commonwealth's bar exam, as the Board has already pre-qualified these schools to be equivalent to ABA-accredited law schools:
University of Alberta
University of British Columbia
University of Calgary
Dalhousie University
University of Manitoba
McGill University
University of New Brunswick
University of Ottawa
Queen's University
University of Toronto
 University of Victoria
 University of Western Ontario
 University of Windsor
York University (Osgood Hall Law School)
University of Saskatchewan
If you are a graduate of another foreign law school not listed above, the Board must evaluate your education before you apply to sit for the Commonwealth's bar exam. It may be found that you need to take further legal coursework from an ABA-approved law school. If you have a foreign law degree, you may be eligible to sit for the Commonwealth's bar exam if you also meet these requirements:
Obtain Board ap­proval of your educational equivalency and work history
Verify that you have been admitted and are in good standing in another state, district, or territory of the United States and that you have practiced law for five of the past seven years
Pass the Multistate Professional Responsibility Exam (MPRE ) (more will be explained about this later)
Satisfy the Board that your moral character and fitness is up to par
Pass the Massachusetts State Bar Exam
You have your bachelor's degree, passed the LSAT, and now have your J.D. degree. Next, you are ready to apply to take the Massachusetts bar exam! This is one of the most important exams that you will ever take, in terms of the legal career to which you aspire.
Preparation
The Massachusetts Board of Bar Examiners administers the Uniform Bar Exam (UBE). Much preparation information can be gleaned at the National Conference of Bar Examiners website. Preparation information for the Massachusetts component of the Bar Exam may be found here. You should also study information on the Multistate Professional Responsibility Exam (MPRE) (which is not part of the bar exam but must be passed prior to bar admission). Other helpful preparation resources for the Massachusetts bar exam include:
Exam content
It takes two days to complete the Massachusetts Bar Exam. Day one consists of the Multistate Performance Test (MPT) and the Multistate Essay Exam (MEE). Day two consists of the Multistate Bar Exam (MBE).
You must also pass the Massachusetts Law Component (MLC) exam, which tests your Massachusetts knowledge of:
Anti-discrimination law
Access to justice
Business organizations
Consumer protection
Civil procedure
Criminal law/procedure
Evidence
Estates and wills
Domestic relations
The MLC must be passed before bar admission can occur. There is no fee for this exam, which is administered online.
Application Process
File a Petition for Admission by Examination. If applying for the July administration, applications are accepted until May. If applying for the February administration, applications will be accepted up to December 7. The exam is held in Springfield and Boston (indicate on the application where you wish to take the exam). You will need:
Your NCBE number
Your education history
Your employment history
Official UBE score transfer from NCBE (must occur within three years of filing the Petition)
Law School certificate from the school in which you graduated
MPRE score report showing a passing grade of 85 or higher
Any legal proceedings documentation
Two letters of recommendation (must be sent directly from the recommenders, may not be written by family members)
Certificate of Good Standing (if you are a bar member elsewhere)
Laptop computer registration form (if you wish to use your personal laptop for the exam)
Filing fee of $815 by money order or certified check only, payable to the Commonwealth of Massachusetts (and laptop fee of $75 if using your own laptop)
Mail all information above to Supreme Judicial Court for Suffolk County, Clerk Maura S. Doyle's Office, One Pemberton Square, John Adams Courthouse, Suite 1300, Boston, MA 02108-1707. You may also file your Petition in person at this address.
Pass Rates
The Massachusetts Board of Bar Examiners states that a total of 69.2 percent of test-takers passed the July 2018 bar exam. This includes both first time and multiple-time test takers. When broken down by the law school from which test-takers graduated, overall pass results are as follows:
| | |
| --- | --- |
| Boston College Law School: | 85.8% |
| Boston University Law School: | 91.5% |
| Harvard Law School: | 98.6% |
| Massachusetts School of Law: | 21.3% |
| New England Law: | 51.7% |
| Northeastern University Law School:  | 86.5% |
| Suffolk Law School: | 57.3% |
| University of Massachusetts School of Law-Dartmouth: | 81.8% |
| Western New England School of Law: | 54.1% |
| All other law schools: | 74.9% |
Multistate Professional Responsibility Exam (MPRE)
In addition to passing the Massachusetts bar exam, you must also pass the Multistate Professional Responsibility Exam (MPRE), given by the National Conference of Bar Examiners, before bar admission can occur. You must apply to take this exam separately and online at the NCBE website. It is administered in March, August, and November at various locations across Massachusetts (listed on the site).
Admission on Motion
In order to apply for Admission by Motion to the Massachusetts bar, you must meet the following requirements:
You must have proof that you have practiced law for five of the last seven years
The law school from which you graduated must be ABA-approved or Commonwealth-authorized to grant the J.D. or L.L.B. degree
Licensing and Admission to the Bar
It may take up to 14 weeks to receive your Massachusetts bar exam scores via mail. They will also be posted on the Massachusetts Board of Bar Examiners website. If you pass the bar, you will also receive by mail a formal invitation to your Bar Admission Ceremony. If you did not pass, you will receive instructions for re-taking the bar exam at a later date. Instructions on how to obtain your essay exam questions and graded answers will also be provided so that you will know where you went wrong.
You've Been Admitted to the Massachusetts Bar
Congrats on passing the Massachusetts bar exam! You are now ready to apply for a position in an existing law firm, or set up your own solo practice. Many resources throughout the Commonwealth are available to new lawyers to help you. Reading Massachusetts Lawyers Weekly can be of great assistance in networking and finding jobs. The Massachusetts Bar Association also offers new lawyers mentoring programs and law practice management advice to help you get your career off the ground in the Commonwealth. If you plan to open your own practice, you might consider joining Starting Out Solo.
If starting your own law firm is not your plan, you might consider joining one of the many existing firms across Massachusetts. Popular names include Murphy Hesse Toomey Lehane in Quincy, Doherty Wallace Pillsbury & Murphy in Springfield, Lawson & Weitzen in Boston, and Bowditch & Dewey in Worcester.
<!- mfunc search_btn -> <!- /mfunc search_btn ->
Many Fortune 500 corporations are headquartered in Massachusetts and also hire lawyers from time to time. These companies include General Electric Company and Liberty Mutual Insurance Group, both in Boston; TJX Companies Inc. in Framingham; Massachusetts Mutual Life Insurance Company in Springfield; and Raytheon in Waltham.
Legal specialty certification
The National Board of Trial Advocacy, housed in Wrentham, Massachusetts, provides legal specialty certification services for practice areas of interest. These include family law, civil law, and criminal law; social security disability advocacy, and civil trial law advocacy. Taking an examination is required before certification will take place. Contact (508) 384-6565 for more information.
Requirements for maintaining license
Continuing legal education (CLE) is not required to maintain your law license in Massachusetts. However, new attorneys must take a Practicing with Professionalism course after being admitted to the Bar.
Court Systems in Massachusetts
The Massachusetts Court System is structured in the following way:
Appeals Court: located in counties around Massachusetts, the court of general appellate jurisdiction
Supreme Judicial Court: established in 1692, Massachusetts' Supreme Judicial Court is the oldest appellate court in continuous existence in the entire Western Hemisphere. Hears appeals on civil and criminal cases, bail reviews, bar discipline hearings, other cases. Located at John Adams Courthouse, Suite 1-400, One Pemberton Square, Boston MA 02108-1724.
Elective membership organizations
As a new lawyer in Massachusetts, you might benefit from joining one of the following professional associations that fit your situation, including: