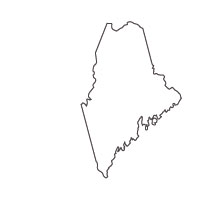 Steps to become a Lawyer/Attorney in Maine
Follow the step by step process or choose what situation that best describes you:
Law Career Info in Maine
The Bureau of Labor Statistics of the United States Department of Labor has published figures for May 2022 stating that the average lawyer in Maine earned a salary of $102,060 that year. Lawyers practicing in certain areas of the state made higher annual salaries than average. For example, lawyers working in the Portland-South Portland area earned an average salary of $111,170. Lawyers in Maine specialize in a variety of areas, including health law, insurance law, federal and state taxation, natural resources and environmental law, workers compensation law, women's law, child protection and juvenile justice, and elder law. If you would like to join the 3,669 actively practicing lawyers in the state and become a lawyer in Maine, keep reading.
Get Your Maine Undergraduate Pre-Law Major
The Maine Board of Bar Examiners requires that you have a minimum of a bachelor's degree before beginning your legal education.
Accreditation
Although Bar Admission Rules for Maine do not state any accreditation necessary for your undergraduate education, when you apply to an American Bar Association (ABA)-accredited law school, you will need proof that your bachelor's degree is from an accredited college or university. Accrediting organizations listed with the U.S. Department of Education are commonly recognized for such purposes by ABA-accredited law schools.
Requirements and Standards
The only requirement of your undergraduate education is that you obtain a bachelor's degree from a nationally or regionally accredited institution. However, the ABA has recommended certain types of courses and subjects that have proven to be most helpful to students when they enter law school. They include:
Economics
Politics and government
Communications (oral and written)
History
English
Psychology
Sociology
World Cultures
Degree Options
Since no major is specified by the Maine Board of Bar Examiners or by the ABA, any major is acceptable in your undergraduate education, so long as you graduate with a bachelor's degree. Majors taken from the above course and subject areas are usually the most beneficial to your future law school career, however.
<!- mfunc feat_school ->
Featured Programs:
Sponsored School(s)
<!- /mfunc feat_school ->
Sponsored Listings
LSAT (Law School Admission Test) in Maine
You must next pass the LSAT, or Law School Admission Test, before any ABA-accredited law school will accept your application for admission. It is a standardized test of about six hours in duration, given four times annually.
How to prepare
The Law School Admission Council (LSAC) provides free study resources at the LSAT website, including practice tests and question/answer explanations. Other LSAT preparation resources include:
LSAT Exam Prep Courses in Maine:
LSAT Prep, Maine Prep Group Classes & Private Tutors, Bangor, Bethel, Brunswick, Cape Elizabeth, Falmouth, Kennebunkport, Lewiston/Auburn, Newcastle, Portland, Scarborough, and Waterville
LSAT Prep Class, TestMasters, online
LSAT Prep Class, University of Southern Maine, in person
Exam content
There are four scored sections in the LSAT:
 Logical Reasoning – two sections in which you are presented with a short paragraph and must answer questions based upon the contents of the paragraph. It involves activities like finding answers based upon the paragraph, finding answers that weaken the paragraph's argument or finding assumptions made in the paragraph.
Reading Comprehension – one section consisting of four longer (600-word) passages, and seven questions per passage. You must be able to identify the main point of the passage and make inferences based upon the passage in order to answer the questions.
Analytical Reasoning – one section, also known by students as Logic Games. Four games with about seven questions per game are presented. Each game describes a situation and a list of rules. You must determine what is true and what is not true based upon the rules.
Application process
Apply online with the LSAC to take the LSAT. Your exam fee of $160 is also payable online. You may take the LSAT on Mondays or Saturdays in November, January and March. The following centers in Maine offer the LSAT:
Bowdoin College, Brunswick
University of Maine, Orono
University of Southern Maine, Portland
Colby College, Waterville
Receiving Your Score
It takes approximately three weeks before you will find your LSAT scores in your mailbox. The lowest score you can receive is 120, and 180 is the highest. Scores commonly accepted by ABA-approved law schools in Maine include:
University of Maine School of Law: 152
Go to Law School in Maine
<!- mfunc search_btn -> <!- /mfunc search_btn ->
Application process
You are now ready to apply to law schools. It is recommended that you apply to ABA-approved law schools, but the Maine Board of Bar Examiners will also accept non-ABA approved schools under certain conditions (see below). There are over 200 ABA-approved law schools across the United States. Services that each requires for admissions are on this list.
Credential Assembly Service
If you do apply to an ABA-approved law school, you must use the LSAC's Credential Assembly Service (CAS).  It will help you to gather your transcripts from all institutions you have attended up to this point, recommendation letters, and online evaluations. It will also apply electronically to the ABA-approved law schools you choose. You are charged $195 for the CAS, payable online through your LSAC account. Some non-ABA-approved law schools may also require you to use the CAS. Check with the schools in which you are interested in their specific admission requirements.
Accreditation
Under the rules of the Maine Board of Bar Examiners, you must graduate either from an ABA-accredited law school or from a law school accredited by the jurisdiction in which it is located. A list of all 200 ABA-accredited law schools in the United States may be found in the LSAC Official Guide to ABA-Approved Law Schools.
If you graduate from a law school that is not ABA-accredited, the following conditions apply:
You must have either graduated from a law school accredited by the jurisdiction in which it is located and have been admitted to practice by exam to a US jurisdiction and have practiced law actively in that jurisdiction for at least three years; OR
You must have completed two-thirds of your graduation requirements from an ABA-approved law school and within 12 months after completing these requirements, studied law in a Maine attorney's office full time for at least 12 months.  
ABA-Accredited Law Schools in Maine
Only one law school in Maine holds ABA-accreditation:
Course requirements
Law school coursework in Maine should include:
Civil Procedure
Constitutional Law
Legal Writing
Torts
Criminal Law
Property
Contracts
Administrative Law
Business Associations
Evidence
Taxation
Trusts and Estates
One upper-level commercial law course (such as bankruptcy, secured transactions, or negotiable instruments)
Online Law Degrees
(For students who choose to focus on a subset of law other than an attorney.)
Internship
Clinical internships/externships give you the opportunity to practice what you have learned in the classroom in a real-life, hands-on situation. Depending upon your law school, opportunities that may be available to you include legal aid clinics, justice clinics, prisoner assistance clinics, human rights clinics, and patent clinics. Your performance will be graded just as a regular academic course would, by on-site supervisors and law school professors.
Degree Programs
You must graduate with a Juris Doctor (J.D.) or Bachelor of Laws (foreign equivalent) degree from an ABA-approved law school (or non-ABA approved school if you meet the conditions outlined above). Other degree programs may exist at your law school, such as:
JD/MBA – dual law degree with a Master in Business Administration
JD/MCP – dual law degree with a Master in Community Planning and Management
JD/MS – dual law degree with a Master in Health Policy and Management
Foreign Law School Graduates
Did you graduate from a law school outside of the United States? You may be eligible to take the Maine Bar Exam if you satisfy the requirements of the state's Regulation for De­termining Equivalency of Foreign Legal Education and if you have practiced for at least three years in the jurisdiction in which you are licensed. Under this rule, you must complete 24 semester hours of credit at an ABA-approved law school, with at least 16 semester hours in five of the following categories:
Constitutional law
Evidence
Procedure
Taxation
Decedents' estates
Uniform Commercial Code
Business organizations/corporations
Real property
Torts
Take the Maine State Bar Exam
Once you have met the state's educational requirements, you may sit for the Maine bar exam. It is offered twice annually, in February and July. If you wish to take the February exam, you must file your application between October 15 and December 20. If you wish to take the July exam, you must file between March 15 and May 20.
Preparation
Maine administers the Uniform Bar Exam (UBE), consisting of the Multistate Essay Examination (MEE), Multistate Performance Test (MPT), and Multistate Bar Examination (MBE). Preparation information can be found at the National Conference of Bar Examiners (NCBE) website.
You may also want to consult the following preparation resources before taking the Maine bar exam:
Exam content
You will take the Maine Bar Exam over a two-day period. Parts of the exam include:
Multistate Bar Examination (MBE)– 6 hours, 200 multiple choice questions
Multistate Performance Test (MPT) – 90 minutes, one performance question
Multistate Essay Exam (MEE) – six 30-minute essay questions
Topics that you may encounter on the Maine bar exam include:
Business associations
Conflict of laws
Constitutional law
Contracts
Criminal law and procedure
Civil law and procedure
Evidence
Family law
Maine professional responsibility
Uniform Commercial Code
Taxation
Wills, trusts, estates
Real property
Application Process
Before filing an application to take Maine's bar exam, you must answer some preliminary questions found here.
If you graduated from the Massachusetts School of Law, read this.
If you graduated from a foreign law school, read this.
If you have a disability or condition that will affect your ability to take the Maine bar examination, read this.
Read the Maine Bar Admission Rules.
Read the Application Procedures.
Use the correct application form from the ones listed here, along with the supplementary documentation you will need.
The application fee is $600 for applicants who have not been admitted to practice law in another jurisdiction for one year or more. If you have been admitted to another jurisdiction, the fee is $650, plus a fee paid to the NCBE that may be from $90 to $450 (check the NCBE website).
All application fees must be paid via personal check, cashier's check, treasurer's check, or money order made payable to the Board of Bar Examiners
Applications, fees, and supporting documentation must be mailed directly to Executive Director, Maine Board of Bar Examiners, 40 Water Street, 2nd Floor, Hallowell, ME 04347.
Pass Rates
According to the Maine Board of Bar Examiners, in February 2018, the pass rate for the Maine Bar Exam was 69 percent.
Multistate Professional Responsibility Exam (MPRE)
You must also pass the Multistate Professional Responsibility Exam (MPRE) with a score of at least 80 before admission to Maine's bar can occur. Consult the NCBE for information on where and when to take the MPRE.
Admission by Motion
You may be admitted to the Maine Bar without taking an examination if you:
Are admitted to practice law in any other state, territory or DC, and
Have been actively practicing law for three of the past five years
Admission by Motion application forms can be found here.
Licensing and Admission to the Bar
It will take about 75 days for the Board to mail your bar exam results to you. Along with your scores will be instructions on where and when your bar admission ceremony will take place.
Now that You Have Passed the Bar in Maine
You have done it! You have passed the Maine bar exam and are now a licensed member of the Maine bar! The Maine Bar Association has many resources to help new lawyers get their careers off the ground, whether you wish to open your own practice or join an existing one.  Their free online research tool, Casemaker, is available to all bar members and can help streamline your legal research.
<!- mfunc search_btn -> <!- /mfunc search_btn ->
If your idea of being a Maine lawyer is to open your own solo practice, you might benefit from reading this article on MyShingle.com that addresses that very issue. Is joining a larger, more established law firm more to your liking? If so, many laws firms are located throughout Maine, including multi-service law firm Bernstein Shur in Augusta; personal injury specialists Peter Thompson & Associates in Falmouth/Portland; wrongful death attorneys Skelton, Taintor & Abbott in Auburn; criminal lawyers the DeGrinney Firm in Portland; and civil litigators Richardson, Whitman, Large & Badger in Bangor.
Nonprofit organizations often hire graduates fresh out of law school. Such organizations in Maine include Kennebunk Land Trust, Advocates for Children in Lewiston, Biodiversity Research Institute in Gorham, Allies Inc. in Bangor, and Birth Roots in Portland.
Legal specialty certification
Are you particularly interested in a certain area of the law? Why not become certified so that you can specialize in practicing it?  The National Board of Trial Advocacy provides certification services for specializations in civil, criminal, and family law; social security disability advocacy, and civil trial law advocacy. You must pass an exam as part of the certification process.
Requirements for maintaining license
In Maine, you must complete 11 hours of continuing legal education (CLE) each year to maintain your license to practice law. At least one of these hours must be in professional responsibility and/or ethics, and 5.5 hours of the 11 total must consist of live education credits (not online). Contact the Maine State Bar Association for more information.
Court Systems in Maine
The structure of Maine's judicial system includes the following:
Supreme Court– the highest court in Maine, the Supreme Court hears appeals from trial courts in civil and criminal cases, appeals from criminal sentences, and disciplines lawyers in the state
Superior Court– the only level of Maine's judicial system in which jury trials are available, the Superior Court is Maine's trial court of general jurisdiction. Among other types of cases, it hears adult criminal cases, post-conviction reviews, jury and jury-waived civil cases, and appeals from administrative agencies. Each of Maine's 16 counties has one Superior Court (except Aroostook, which has two).
District Court– The district court hears cases in 13 districts throughout the state. Without a jury, it hears civil, criminal and family matters, including domestic relations cases, as well as involuntary commitment cases.
Elective membership organizations
Think about becoming a member of one of the following associations for Maine lawyers. Membership in any of these organizations could help you as you start your career in Maine law:
2022 US Bureau of Labor Statistics salary and employment figures for Lawyers reflect national data, not school-specific information. Conditions in your area may vary. Data accessed April 2023.