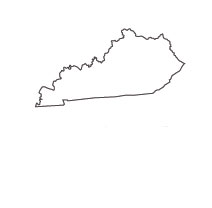 Steps to become a Lawyer/Attorney in Kentucky
Follow the step by step process or choose what situation that best describes you:
Law Career Information in Kentucky
The American Bar Association lists 13,672 resident and active lawyers in Kentucky as of 2021. Workforce Kentucky predicts about 3324 openings for lawyers across the state from 2016 through 2026. This represents an increase in employment in this profession of 5.8 percent. As of 2022, lawyers in Kentucky earn an average annual salary of $99,840, according to the U.S. Bureau of Labor Statistics. If you wish to claim one of the many jobs that are expected to become available for lawyers in Kentucky over the next several years, keep reading.
Get Your Kentucky Undergraduate Pre-Law Major
The Kentucky Office of Bar Admissions does not call for undergraduate education. The Kentucky Office of Bar Admissions stresses the importance of graduating from a law school approved by the American Bar Association. You must obtain at least a bachelor's degree before entering any ABA-approved law school.  
College Accreditation
National or regional accreditation by an agency listed with the U.S. Department of Education is mandatory before you will be accepted into any ABA-approved law school.
Requirements and Standards
Pre-law undergraduate education does not have any rules or limits imposed upon it by the ABA. You should take coursework that challenges and interests you. Recommended fields to take courses include economics, philosophy, political science, English, communications, psychology, and sociology.
Pre-Law Degree Options
The ABA does not require a specific major for your undergraduate degree. Some majors may be more helpful to your future success as a lawyer than others may be. Undergraduate majors taken from the above-listed disciplines have shown to help students the most in law school and beyond.
<!- mfunc feat_school ->
Featured Programs:
Sponsored School(s)
<!- /mfunc feat_school ->
Sponsored Listings
LSAT (Law School Admission Test) in Kentucky
All ABA-accredited law institutions mandate that you pass the LSAT, or Law School Admission Test prior to enrollment. It is a six-hour-long standardized test offered four times annually at examination centers all over the world.
How to prepare
The Law School Admission Council (LSAC) offers free study materials on the LSAT website that will help you get ready to take the LSAT. If you wish to take formal, paid LSAT preparation courses, the following options are open to you in the Kentucky area:  
LSAT Exam Prep Courses in Kentucky:
Exam content
The content of the LSAT includes:
Reading Comprehension – You must read a complex passage and answer questions based upon that passage
Analytical Reasoning– This may involve various types of logic games, including ordering games, characteristic games, grouping games, spatial games, networking games, and map games
Logical Reasoning–This involves critical reasoning, deductive reasoning, and finding logical fallacies and/or conclusions from arguments.
Writing Sample – You must write an essay during the LSAT on a given topic. This essay is not scored as part of the LSAT but is sent to the admissions personnel at the ABA-accredited law schools to which you apply.
Application process
LSAT applications are accepted online at the LSAC website, where you must create an account and pay the testing fee of $190. You may take the LSAT in November, January, and March (over a two-day period each month).  Centers throughout Kentucky that administer the LSAT include:
Western Kentucky University, Bowling Green
Centre College, Danville
Gateway Community & Technical College, Florence
Kentucky State University, Frankfort
Northern Kentucky University, Highland Heights
University of Kentucky, Lexington
University of Louisville, Louisville
Morehead State University, Morehead
Murray State University, Murray
Eastern Kentucky University, Richmond
Receiving Your LSAT Score
Approximately 21 days after taking the LSAT, you will receive your score via postal mail. The lowest score possible is 120, and the highest score possible is 180. The University of Kentucky accepts students with a median LSAT score of 152. The University of Louisville accepts students with median LSAT scores of 151. 
Go to Law School in Kentucky – Law Degree
<!- mfunc search_btn -> <!- /mfunc search_btn ->
Law School Application process in Kentucky
Kudos to you for passing the LSAT! Now you are ready to begin applying to ABA-accredited law institutions. The Kentucky Office of Bar Admissions prefers that you graduate from an ABA-accredited law institution in the United States – it need not be in Kentucky. There are more than 200 ABA-accredited law schools nationwide, listed in the LSAC Official Guide to ABA-Approved Law Schools. (Information for graduates of non-ABA-approved law schools and foreign law schools is provided at the end of this section).
Credential Assembly Service
The LSAC's Credential Assembly Service (CAS) is a handy and necessary tool when applying to any ABA-approved law school. This service helps you to gather all transcripts from undergraduate and graduate institutions you have attended thus far, as well as gathering recommendation letters and online evaluations of your character and work. The CAS also takes care of applying to the ABA-approved law schools of your choice. The LSAC charges $195 for the usage of the CAS.
ABA-Accredited Law Schools in Kentucky
Three law schools in Kentucky are ABA-accredited:
Course requirements
You will take coursework in (but not limited to) the following areas:
Business associations
Constitutional law
Conflict of laws
Civil law and procedure
Criminal law and procedure
Evidence
Federal law
Trusts and estates
Uniform Commercial Code
It must take you at least two years, but no longer than seven years, to earn your Juris Doctor (JD) degree, per ABA rules. This averages to about 83 semester hours in total.
Online Law Degrees
(For students who choose to focus on a subset of law other than an attorney.)
Internship
You will likely be placed into an internship of some sort during your time at law school. This may involve working in a school-based legal clinic serving indigent clients, working in a governmental agency or office, or working with real lawyers in tandem performing legal research. Your performance on your internship will be assessed by supervisors in the field as well as by law school faculty members.
J.D Degree Programs
The Kentucky Office of Bar Admissions insists that you have a Juris Doctor (J.D.) degree before taking the state's bar exam. It is preferred that this degree comes from an ABA-accredited law institution, but rules for graduates of non-ABA-accredited law schools and foreign law schools are listed below.  
Non-ABA- Approved Law School Graduates
If you graduated from a non-ABA-accredited law school, you may still be eligible to take the Kentucky bar exam. You must meet all of the following prerequisites:
You hold a J.D. degree from a school that is nationally or regionally accredited in the jurisdiction in which it is located
You have graduated from a course of legal study of at least three years and equivalent to that of an ABA-approved Kentucky law school (evaluation equivalency is conducted by the Board of Bar Admissions and paid for by the applicant)
You have worked actively as a lawyer for three of the past five years
You meet all other admission requirements (including moral character and professional responsibility)
Graduates of Foreign Law Schools
Did you graduate from a law school located in another country? You may still be eligible to take Kentucky's bar exam if you meet these prerequisites:
Your education equivalency is evaluated by the Board of Bar Admissions (paid for by you) and determined to be equivalent to that of ABA-approved law schools in Kentucky
You submit a certified copy of your license that allows you to practice law in the country from which you graduated law school
You have practiced law in that country for three of the past five years
Milestones
The University of Kentucky College of Law offers checklists of the following milestones that you should complete at the end of each year of law school:
First Year:

Identify and comply with the bar admission requirements of the jurisdiction in which you wish to practice law
Determine the bar exam subjects for this jurisdiction
Consider applying for a bar exam review course as the cost will be lower now
Consider your state's bar exam requirements when choosing the coursework
Learn IRAC
Review your performance on law school final exams with professors
Begin learning to write clearly and effectively

Second Year:

Recheck and comply with the bar admission requirements of the jurisdiction in which you wish to practice law in case they have changed
Determine bar exam subjects
Consider bar exam requirements when choosing the coursework
Plan ahead to have finances to cover bar exam and review courses
Check into applying for a bar exam loan if necessary
Plan to take off from work during the time that you will study for the bar exam
Plan to take the MPRE (Multistate Professional Responsibility Exam) during the summer after your second year of law school or fall of your third year (depending on your jurisdiction's requirements). Apply to take the MPRE here.

Third Year:

Recheck and comply with the bar admission requirements of the jurisdiction in which you wish to practice law in case they have changed
Update any applications you made during your first or second year of law school
Negotiate with employers to pay for bar exam application or bar review fees
Enroll in a commercial bar review course
Register to take the MPRE (if you have not already done so)
Plan ahead to have finances to cover bar exam and review courses
Plan to take off from work during the time that you will study for the bar exam
Plan where you will live while studying for the bar exam. Avoid moving during this study period, as it will take time away from your studying.
Plan to study six hours per day for the bar exam (in addition to  daily time spent in bar review courses)
Reserve a room in the city in which you will take the bar exam (if necessary)
Book transportation (if necessary)
Plan to arrive at the location at least a day before the exam
Seek approval for any medication (even over-the-counter) that you may need to take during the bar exam
Study your jurisdiction's instructions for the bar exam
Take and Pass the Kentucky State Bar Exam
You must have completed all requirements for your JD degree prior to sitting for the Kentucky bar exam. You must also meet the state's Essential Eligibility Requirements to practice law, and pass the Multistate Professional Responsibility Exam (MPRE) with a scaled score of 75 or more before taking the Kentucky bar exam. Apply to take the MPRE here.
Preparation
Exam review material is provided by the Kentucky Office of Bar Admissions at its website. Included are past Kentucky essay questions, information on studying for the national portions of the exam (the Multistate Essay Exam (MEE), and the Multistate Bar Exam (MBE)). Bar preparation courses that you may take in Kentucky include:
Exam content
You will take the Kentucky Bar Exam over two days. The first day is devoted to essay questions, with six state essay questions in the morning and six MEE essay questions in the afternoon. Subjects that may be included in this part are:
Administrative Law & Procedure
Agency
Conflict of Laws
Corporations
Domestic Relations
Federal Taxation
Kentucky & Federal Civil Procedure
Partnerships
Personal Property
UCC
Wills & Trusts, and Future Interests
Plus the subjects from the MBE (see below)
The second day is devoted to the MBE, consisting of 200 multiple-choice questions. Subjects may include:
Constitutional Law
Contracts/Sales
Criminal Law/Procedure
Evidence
Real Property
Torts
If you have already taken the MBE in another jurisdiction within the past three years, and obtained a scaled score of 132 or higher, you may arrange for these scores to be transferred to Kentucky.
Application Process
You must apply for admission to the Kentucky Bar online, creating a new online account when you do so. Once you begin your application, you may save it and come back to it any time to complete it. You will be given instructions if you must print out any forms to have notarized and mail into the Office. You will also be told of any supporting documentation you must send in. After your application is complete, submit the application online by clicking the appropriate button. You must mail your application fee of $875 payable to the Kentucky Office of Bar Admissions via certified check, cashier's check, money order, law firm check, or corporate check. (No credit cards or cash will be accepted). This fee must accompany the supporting notarized documents you mail to the Office. Mail to Kentucky Office of Bar Admissions, 1510 Newtown Pike, Suite 156, Lexington, KY 40511-1255. Along with your fee and other documents you must mail:
Application signature page, with passport photo taped, signed and notarized
Two Authorization and Release Forms, signed and notarized
Copy of your credit report no more than 60 days old
You must also submit criminal history records from every state where you have lived, worked or attended school for at least six months within the last five years
After applying, you will receive a confirmation email from the Office immediately. The status of your application (and approval to take the bar exam) will be listed on the "My Dashboard" page of your online account.
Bar Pass Rates
The Kentucky Office of Bar Admissions has posted the following passing statistics for past bar exams:
February 2018: 44 percent overall pass rate
July 2018: 67 percent overall pass rate
Admission Without Examination
If you meet the following requirements you may qualify for admission to the Kentucky bar without examination:
You graduated from an ABA-approved law school with a JD degree
You have already been admitted to the bar of another jurisdiction in one of the reciprocal states listed here
You have practiced law in that jurisdiction for at least five of the past seven years
The other jurisdiction has a similar policy that would allow Kentucky lawyers reciprocity without taking their bar exam
You obtained at least a 75 on the MPRE
Licensing and Admission to the Bar
It will take approximately nine weeks to obtain your bar exam scores by email. They will also be posted on the Office of Bar Admissions website. The Office will notify you of the date and location of your bar admission ceremony.
Now that You've Been Admitted to the Kentucky Bar
Now that you have been admitted to the Kentucky bar, you must decide where you wish to work. Do you want to open your own solo law practice? Would you rather join an established law firm? Perhaps you would like to work for a for-profit or non-profit corporation. All of these avenues are available to bar members in Kentucky.
The Young Lawyers Division of the Kentucky Bar Association can help you in deciding which direction you wish your career to take.If you are a Kentucky lawyer who is 40 years of age or younger or have practiced law for 10 years or less (regardless of your age), you may join the Young Lawyers Division.
<!- mfunc search_btn -> <!- /mfunc search_btn ->
Established law firms throughout Kentucky are often hiring new talent. Some of the most famous firms include multipractice firm McBrayer, McGinnis, Leslie & Kirkland in Lexington; multidisciplinary law firm Frost, Brown, Todd in Louisville; corporate law and civil defense litigators Boehl, Stopher & Graves in Paducah; civil, criminal and family lawyers Claycomb & Kidd in Richmond; and multipractice firm Blau & Kriege in Cold Spring.
Fortune 500 corporations in Kentucky that may need legal help include wine and spirits company Brown-Forman in Louisville, health insurer Humana in Louisville; food services corporation Yum Brands in Louisville; healthcare services company Kindred Healthcare in Louisville; and restaurant company Texas Roadhouse in Louisville.
Nonprofit organizations throughout Kentucky that may hire lawyers include the Centre for Nonprofit Excellence in Louisville; Center for Women and Families in Louisville; Kentucky Fish & Wildlife Foundation in Frankfort; Step by Step, Inc. in Lexington; and the Muhammad Ali Center in Louisville.
Legal specialty certification
Various organizations exist throughout the country offering legal specialty certification to lawyers who wish to practice in a certain area. They include:
Requirements for maintaining license
In order to maintain your law license in Kentucky, you must complete 12.5 hours of continuing legal education (CLE) annually. This must include at least two hours of ethics coursework. Contact the Kentucky Bar Association for further information.
Court Systems in Kentucky
The Kentucky Court of Justice consists of four levels of courts. They are, from highest to lowest:
Appellate Courts:
Kentucky Supreme Court – the highest court in Kentucky and the court of last resort, the Supreme Court hears direct appeals involving the death penalty, life imprisonment, and imprisonment for 20 or more years. Other appeals it hears come from the Court of Appeals. It is located in the State Capitol, Room 235, 700 Capitol Avenue, Frankfort, KY 40601.
Kentucky Court of Appeals– usually reviews cases that were decided in Circuit Court. Cases are not retried at the Court of Appeals level, just reviewed by the appellate judges. The Court of Appeals is located at 360 Democrat Drive, Frankfort, KY40601.
Trial Courts:
Circuit Court– Kentucky's court of general jurisdiction hears all types of cases, including civil matters over $4,000, capital offenses and felonies, divorces, adoptions, termination of parental rights, land dispute title problems, and contested probates of will. This court may also issue injunctions, writs of prohibition, and mandamus to compel or prohibit acts. Circuit Court may hear appeals from District Court and administrative agencies.
District Court– a court with limited jurisdiction, hears cases involving juvenile matters, city and county ordinances, traffic offenses, probates of will, felony preliminary hearings, and civil cases under $4,00; as well as cases of guardianship, conservatorship, voluntary or involuntary commitment, child abuse and neglect, and domestic violence.
Elective membership organizations
Think about becoming a member of any of these organizations for lawyers in Kentucky that is applicable to your situation:
2022 US Bureau of Labor Statistics salary and employment figures for Lawyers reflect national data, not school-specific information. Conditions in your area may vary. Data accessed April 2023.