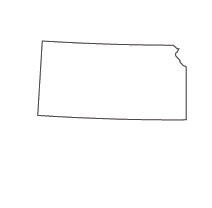 Steps to become a Lawyer/Attorney in Kansas
Follow the step by step process or choose what situation that best describes you:
Law Careers in Kansas
The Bureau of Labor Statistics notes that in May 2022, the average yearly salary for Kansas lawyers was $115,860. As of 2021, the American Bar Association reports that there are 7,932 resident and active lawyers practicing in Kansas. If you would like to learn how to become a member of the Kansas Bar and a practicing lawyer in the state, read on.
Find Undergraduate Pre-Law Education in Kansas
The Kansas Board of Law Examiners requires that you have a minimum of a bachelor's degree prior to entering an American Bar Association (ABA)-accredited law school.
School Accreditation
The Kansas Board of Law Examiners states in its rules for admission to the bar that your undergraduate degree must come from a school that holds accreditation by a regional accreditation organization recognized by the U.S. Department of Education.
Requirements and Standards
Under the Kansas Board of Law Examiners' rules, you must have a bachelor's degree, but it is not stated that the degree must be within a certain discipline. Majors for pre-law students may come from any area, but taking coursework and concentrating in the following areas has shown to be most helpful to your future success in law school:
Arts and humanities
Philosophy
Communications and English
Political science/government
Sociology
Psychology
Economics
History
World cultures
Undergraduate Degree Options
The Kansas Board of Law Examiners states that you must have a bachelor's degree prior to taking the bar exam. This is also a requirement of ABA-approved law schools. The major of your degree is up to you, but those taken from the coursework listed above are often helpful in facilitating later law school success.
<!- mfunc feat_school ->
Featured Programs:
Sponsored School(s)
<!- /mfunc feat_school ->
Sponsored Listings
Take the LSAT (Law School Admission Test) in Kansas
Before any ABA-accredited law school will accept you, you must pass the LSAT, or Law School Admission Test. This standardized test is six hours in duration and offered four times annually.
How to prepare for the Exam
The LSAT website offers test-takers free study resources to help get ready for the LSAT. If you want to take a formalized preparation course, the following options are open to you in Kansas:
LSAT Exam Prep Courses in Kansas:
Exam content
The LSAT consists of these sections, for each of which you will be allotted 35 minutes to complete:
Logical reasoning – two sections, some students call this the "argument" section. You must identify the deficiencies and weaknesses in an argument or use valid information in an argument to draw a conclusion.
Analytical reasoning – one section, also called the "games" section. You are presented with problems that describe various relationships, and your answers are based upon your understanding of those relationships.
Reading comprehension – one section in which you read and interpret lengthy texts (may or may not be law-related)
Experimental section/variable section – one of the above sections is repeated, and it is not scored. However, you will not know which section is the experimental/variable section, so do your best on every section of the LSAT.
Writing sample – Not scored as part of the LSAT, but will be sent to the law schools to which you apply for their review.
Application process
You need to apply online with the Law School Admission Council (LSAC) to take the LSAT, where you will create an account that will benefit you when applying to law school. The LSAC charges an exam fee of $190 (payable online through your account). The LSAT is given on Mondays and Saturdays in November, January and March. These are the testing centers for the LSAT in Kansas:
Fort Hays State University, Hays
University of Kansas, Lawrence
Washburn University, Topeka
Wichita State University, Wichita
Receiving Your LSAT Score
It takes about three weeks after the exam for the LSAC to email your LSAT scores to you. Your lowest possible score is 120 and the highest possible is 180. Law schools in Kansas and the corresponding average LSAT scores they accept are as follows:
University of Kansas: 156
Washburn University: 152
Go to Law School in Kansas
<!- mfunc search_btn -> <!- /mfunc search_btn ->
Law School Application process
The Kansas Board of Law Examiners mandates that you must receive a Juris Doctor (J.D.) degree from an ABA-approved law school within the United States.
Credential Assembly Service
Any law school that is approved by the ABA will ask you to use the LSAC's Credential Assembly Service when you apply for admission to the school.
The LSAC will also contact those who you wish to write recommendation letters for you and will coordinate online evaluations to send to the schools to which you apply. The fee for the CAS is $195, payable online through the account you set up with the LSAC.
Law School Accreditation
The Kansas Board of Law Examiners requires ABA accreditation of the law school from which you graduate. A list of all 200 ABA-approved law schools in the United States may be found in the LSAC Official Guide to ABA-Approved Law Schools.
ABA-Accredited Law Schools in Kansas
There are only two ABA-accredited law schools in the state of Kansas:
Course requirements
Foundational coursework you will take in an ABA-approved law school curriculum will include:
Civil litigation
Constitutional law
Criminal law and procedure
Tax law
Wills, trusts, and estates
Property
Torts
Contracts
Lawyering skills
Additionally, your law school may offer concentrations in various areas of the law, such as:
Business/commercial law
Criminal law
Elder law
Public law
International law
Environmental law
Online Law Degrees
(For students who choose to focus on a subset of law other than an attorney.)
Internship
Your law school may require that you participate in a clinical program in which you are placed into a real-life, real-world situation using the skills and knowledge you have learned in law school. You may work in in-house school clinics representing clients, or in agencies law firms outside of the school setting. Your work will be graded by supervisors on-site as well as the faculty of your law school.
Law Degree Programs
Kansas' Rules Relating to Admission of Attorneys states that you must have a Juris Doctor (J.D.) degree from an ABA-approved law school in order to become a member of the bar. Your law school may offer other degree options, including pursuing your J.D. degree along with another subject area (also known as a dual or joint degree). Possibilities include:
Business and Law
Economics and Law
Health services administration and Law
Urban planning and law
Political science and law
Journalism and law
Take the State Bar Exam in Kansas
Once you have your J.D. degree, you may apply to sit for the Kansas Bar Exam. If you apply to take the exam prior to graduation, you must graduate with your J.D. degree within 30 days of taking the bar exam.
Bar Preparation
Kansas administers the Uniform Bar Exam (UBE). The National Conference of Bar Examiners website offers free study information for the Multistate Bar Examination (MBE), Multistate Performance Test (MPT), Multistate Essay Exam (MEE), and Multistate Professional Responsibility Examination (MPRE) (which is separate from the bar exam but must also be passed prior to bar admission in Kansas). Additionally, you may opt to take a bar exam prep course or review materials such as:
Bar Exam Content
On the first day of the Kansas Bar Exam, you will take the Kansas Essay test. Topics that you should study for this portion of the exam are:
Personal Property
Domestic Relations and Family Law
Noncorporate Business Organizations
Agency and Employment
UCC & Commercial Transactions
Legal Ethics
Contracts
Corporations
Real Property
Constitutional Law
Criminal Law
Criminal Procedures
Kansas and Federal Civil Procedures
Torts
Wills
Trusts and Administration
Conflict of Laws
Evidence
Day two of the Kansas Bar Exam will be concerned with the Multistate Bar Exam (MBE). This consists of 200 multiple-choice questions on the following topics:
Constitutional Law
Contracts and Sales
Criminal Law and Procedures
Evidence
Real Property
Torts
If you have already taken the MBE in another jurisdiction within the past 13 months and received a scaled score of at least 120, you may have your MBE scores transferred to Kansas from that jurisdiction.
Application Process
Complete the Application for Admission to the Bar of the State of Kansas by Written Examination with all answers typewritten. (If you wish to use your own personal laptop for the bar exam, you must complete the Laptop Program Application as well).
Sign all areas where required in blue ink only, and have the application notarized where applicable.
The Kansas Bar Exam is given on the last Tuesday and Wednesday of February and July. If you want to take the February exam, you must have the application filed by October 15, along with the $1250 fee. For the July examination, your application must be filed by March 15.
Do not submit your application or supporting materials for more than six months prior to deadlines.
You must submit one complete application and one copy of the application and all additional material being sent.
Get a Kansas Bar Examination Fingerprint Packet from the Washburn University School of Law or University of Kansas School of Law. Complete it and send it in with your application for examination.
Tape a recent passport-sized photo of yourself to the first page of the application, as well as on the Photo Identification Sheet in the application.
Request that your undergraduate institutions and law schools send official transcripts directly to the office of Attorney Admissions
If you have been convicted of a felony, you may not apply for bar admission until five years after you have completed your sentence or probation
All information must be mailed to the Board of Law Examiners, Kansas Judicial Center, Room 374, 301 SW 10th Ave, Topeka, KS 66612.
Bar Pass Rates
Both of Kansas' ABA-approved law schools have published pass rates for their graduates who took previous Kansas bar exams:
Washburn University School of Law:
2017: 77% overall pass rate
2016: 80% overall pass rate
University of Kansas School of Law:
July 2018: 96.6% first-time pass rate, 90.6% overall pass rate
July 2017: 88.6% first-time pass rate, 88.8% overall pass rate
Multistate Professional Responsibility Exam (MPRE)
Within 180 days following completion of the Kansas bar examination, you must pass the MPRE with a score of at least 80. Information on applying to take the MPRE and administration dates is available here.
Admission to the Bar Without Written Examination
If you are already a bar member in another state, you may be eligible for membership in the Kansas bar without taking the Kansas bar exam. You must meet these qualifications:
You have been admitted to the practice of law by examination by the highest court in any state or the District of Columbia
You must have an active law license in a jurisdiction that recognizes reciprocity for Kansas lawyers (a list of reciprocal states is published here)
You must never have failed a Kansas bar exam
You must have an undergraduate degree from an accredited institution
You must have a J.D. degree from an ABA-approved institution
You must pass character and fitness investigation
You must never have been subjected to attorney discipline through suspension, disbarment, or loss of license in any jurisdiction
You must not be the subject of any pending disciplinary investigation in any jurisdiction
You must have actively practiced law outside Kansas for five of the past seven years
If you meet these qualifications, visit this page for more information.
Foreign Law School graduates
Foreign law school graduates are not eligible to take the Kansas bar exam.
Licensing and Admission to the Bar
About six weeks after taking the exam, your scores will be mailed to you. You will also receive instructions on where to report for your swearing-in ceremony for bar admission.
After Being Admitted to the Kansas Bar
You have passed the Kansas bar exam and are now a member of the Kansas bar! New lawyers in Kansas may wish to consult the Attorney Resources section of the Kansas Judicial Branch website (click on "Legal Community" for access). You may also wish to join the Young Lawyers Section of the Kansas State Bar Association. This organization can help you in setting up your own practice, finding work as a lawyer in Kansas, and in marketing and other professional and business areas. Review the Kansas Rules of Professional Conduct as well as you are starting out in the profession.
Kansas lawyers have a variety of career opportunities. Solo practice is one option, as is joining an existing legal firm. Major firms throughout the state include general litigation and business practice The Mathews Group, LC in Leawood; Koch Companies Public Sector, LLC in Wichita; workers compensation attorneys Haight Stang LLC in Overland Park; and full-service law firm Bond, Schoeneck & King, LLP in Kansas City.
<!- mfunc search_btn -> <!- /mfunc search_btn ->
Lawyers in Kansas may also work for the government at the county (such as an assistant district attorney or county attorney), state (in various government agencies), or federal level (such as for the Department of the Treasury); for companies including Nationwide Mutual Insurance Company in Overland Park and Westar Energy in Topeka; and for non-profit organizations like The Nature Conservancy in Topeka and The Land Institute in Salina.
Legal specialty certification
Would you like to specialize in a certain area of the law? The National Board of Trial Advocacy provides certification in areas of the law including disability advocacy, civil trial law advocacy, and civil, criminal, and family law. You must pass an exam to achieve certification.
Requirements for maintaining license
The Kansas CLE Commission (KSCLE) regulates Continuing Legal Education (CLE) for Kansas lawyers. You must complete 12 CLE hours annually, including two hours of ethics. You must send certificates of attendance for each in-person program to the Kansas CLE Commission within 30 days after the conclusion of the program. For more information, contact the KSCLE.
Court Systems in Kansas
The Kansas Judicial Branch has the following structure:
Elective membership organizations
Professional associations for lawyers in Kansas include:
2022 US Bureau of Labor Statistics salary and employment figures for Lawyers reflect national data, not school-specific information. Conditions in your area may vary. Data accessed April 2023.