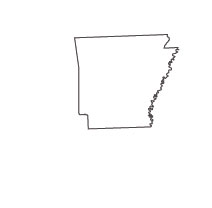 Steps to become a Lawyer/Attorney in Arkansas
Follow the step by step process or choose what situation that best describes you:
Arkansas Law Careers
Arkansas has produced some well-known lawyers over the years. Names that come to mind include President Bill Clinton, Secretary of State Hillary Clinton, Senator Dale Bumpers, Congressman Wilbur Mills, and Governor Winthrop Rockefeller. According to the American Bar Association, in 2021 there were over 6,808 attorneys licensed to practice and members of the bar in Arkansas. The U.S. Department of Labor's Bureau of Labor Statistics has quoted the mean May 2022 salary for lawyers in Arkansas as $116,730. Lawyers working in certain areas of the state average higher salaries, such as the Fayetteville-Springdale-Rogers area, where attorneys earn an average of $151,200. However, in the Jonesboro area, the average annual earnings for lawyers is $100,980. To find out how to become a member of the Arkansas bar, read on.
Complete Your Arkansas Undergraduate Pre-Law Degree
The Arkansas State Board of Law Examiners does not mandate pre-legal education for admission to the bar. However, it does require that you graduate from an American Bar Association (ABA) – accredited law school. All ABA-accredited law schools insist that applicants have at least a bachelor's degree.
Accreditation
Most, if not all, ABA-approved law schools require that your undergraduate degree comes from a college or university that is accredited. If your school is accredited by a national or regional accreditation agency recognized by the U.S. Department of Education, ABA-approved law schools will recognize your undergraduate education.
Requirements and Standards
There are no set rules, standards, or requirements for a pre-law undergraduate education, besides earning a bachelor's degree (at minimum). Schools may offer pre-law minors or pre-law advisors to help you choose the proper courses, minors, and majors to facilitate your entrance into law school after graduation. Coursework that has been shown to be helpful to get into law school includes:
Communications
English
History
Political science
Philosophy
Sociology
Psychology
Journalism
Degree Options
Just as the ABA does not designate which coursework you should take in your pre-law curriculum, nor does it specify a major – simply the fact that you need at least a bachelor's degree to enter an ABA-approved law school. Majors taken from the subjects listed above are often the best at preparing the pre-law student for the rigors of law school and for success on the Law School Admission Test (LSAT).
<!- mfunc feat_school ->
Featured Programs:
Sponsored School(s)
<!- /mfunc feat_school ->
Sponsored Listings
Take the LSAT (Law School Admission Test) in Arkansas
Admission into an ABA-approved law school requires that you pass the LSAT, or Law School Admission Test. This test, which lasts approximately six hours, is offered on a quarterly basis at examination centers worldwide.
How to prepare
There are free study materials at the LSAT website to help you prepare for the LSAT, such as practice tests and sample questions and answers. Additionally, you might want to sign up for a paid LSAT prep course, such as:
LSAT Exam Prep Courses in Arkansas:
Exam content
Three major subject areas are tested on the LSAT:
Reading Comprehension – Read long, dense passages and answer questions based upon those passages. You must be able to identify the way questions are phrased and glean the logic from the text.
Analytical Reasoning (Logic Games) – Questions in this section will test your ability to understand relationships and draw conclusions.
Logical Reasoning (Arguments) – This section tests your ability to take an argument apart, and identify its assumptions, flaws, logical fallacies and strengths.
Application process
Apply to take the LSAT online, and pay the $190 examination fee (payable online via credit card). The LSAT is administered on Mondays and Saturdays in October, June, February, and December. The following centers in Arkansas offer the LSAT (but not every center offers the test on every available date, so plan accordingly when scheduling to sit for the LSAT):
University of Central Arkansas,201 Donaghey Ave. , Conway, AR 72035
University of Arkansas-Fayetteville, Fayetteville. AR 72701
University of Arkansas-Pulaski Technical College, 3000 W. Scenic Dr, North Little Rock, AR 72118
University of Arkansas-Fort Smith, 5210 Grand Avenue, Fort Smith, AR 72904
University of Arkansas-Little Rock, 2801 S University Ave, Little Rock, AR 72204
University of Arkansas-Pine Bluff, 1200 N University Drive, Pine Bluff, AR 71601
Arkansas State University, 2105 E Aggie Road, Jonesboro, AR 72401
Receiving Your Score
You should receive your LSAT scores by email about three weeks after you complete the exam. The lowest potential score you can earn is 120, and the highest, 180. The average law school student's LSAT score range for those applying to an Arkansas law school, according to the University of Arkansas at Little Rock, is between 152 to 154.
Law School in Arkansas
<!- mfunc search_btn -> <!- /mfunc search_btn ->
Application process
When you have passed the LSAT, you are ready to apply to the ABA-approved law schools of your choice. The Arkansas State Board of Law Examiners specifies that you must graduate from an ABA-approved law school, but that it does not necessarily need to be located in Arkansas – just in the United States. There are more than 200 ABA-approved law schools across the nation.
Credential Assembly Service
All ABA-accredited law schools require that you utilize the LSAC's Credential Assembly Service when applying for enrollment. You must have transcripts from all institutions you attended and received college credit sent to the LSAC. Additionally, when you supply the LSAC with names of persons who are going to write recommendation letters and online evaluations to help you get into law school, the LSAC will contact them on your behalf and coordinate the receipt of these important documents. The LSAC charges $195 for you to use the Credential Assembly Service (payable online through your LSAC account). This also covers electronic applications to the ABA-accredited law schools you designate.
Accreditation
The Arkansas State Board of Law Examiners specifies that you must be a graduate of a United States ABA-accredited law school in order to take the state's bar exam. The ABA-Approved Law School List details ABA-approved law schools across the nation.
ABA-Accredited Law Schools in Arkansas
Just two law schools in Arkansas currently are ABA-accredited:
Course requirements
Coursework that you will take in an ABA-approved law school in Arkansas includes:
Administrative law
Civil procedure
Contracts
Legal research
Upper-level writing
Property
Torts
Criminal law
Constitutional law
Lawyer skills
Evidence
History, goals and responsibilities of the legal profession
The ABA mandates that you must be in law school for at least two years (with one academic year covering 130 days/eight calendar months) but it must take no longer than 7 years to obtain your Juris Doctor (J.D.) degree. Most law schools require that you complete an average of 83 semester hours (129 quarter hours) of credit.
Internship
Most ABA-approved law schools require that you participate in some sort of real-life work experience during your tenure there. This may be accomplished through working in a legal clinic setting, a real-life law office, the government or legislature, or in a variety of other settings in which lawyers work. You will be supervised by an on-site boss, as well as have your progress tracked and graded by that boss and a faculty member from your law school.
Degree Programs
You must have a Juris Doctor (J.D.) degree to become a member of the bar in Arkansas. Law schools in Arkansas may also offer an L.L.M. (Master of Laws) degree, but this is usually considered to be an advanced law degree that you obtain after receiving a J.D. degree. Arkansas law schools may bestow dual degrees such as J.D./M.B.A (Master's of Business Administration), J.D. /M.P.H. (Master's of Public Health, J.D./M.P.A. (Master's of Public Administration), J.D./M.P.S. (Master's of Public Service), and J.D./M.D. (medical degree). Earning the two degrees together takes less time than it would take to earn each degree separately. In addition, having two such degrees greatly increases your marketability as an attorney in Arkansas.
Online Law Degrees
(For students who choose to focus on a subset of law other than an attorney.)
Take the Arkansas State Bar Exam
When you have completed your J.D. degree at an ABA-approved law school, you are ready to apply to sit for the Arkansas State Bar Exam. Applications for the bar exam are posted online by the Arkansas Judiciary about five months prior to the exam.
Preparation
The Arkansas State Board of Law Examiners has made previous copies of essay exam questions from the Multistate Essay Examination (MEE) and the Multistate Performance Test (MPT) portions of the bar exam available at locations in Arkansas. These include:
Arkansas Supreme Court Library, Justice Building, 625 Marshall St., Suite 1500, Little Rock, AR 72201
Young Law Library at Fayetteville, University of Arkansas School of Law, Fayetteville, AR 72701
Law Library at Little Rock, William H. Bowen School of Law, Little Rock, AR 72202-5142
It has also published a list of questions and best answers at the Arkansas Judiciary website. Additional preparation materials may be found at the National Conference of Bar Examiners website. Pay particular attention to materials on the Multistate Essay Exam (MEE), Multistate Performance Test (MPT), and Multistate Bar Examination (MBE).
Exam content
The Arkansas State Bar Exam is administered over two days. You will take the MPT on the first day, followed by the MEE. The second day will be devoted to the MBE.
The MPT consists of a "lawyering task" involving a file and a library. Your abilities of factual analysis, legal analysis, legal reasoning, problem solving, identifying and resolving ethical dilemmas, written communication, and organization and management of a legal task will be tested on the MPT.
The MEE requires you to write essays on any of the following subjects: Agency, Arkansas Constitution, Commercial Paper, Corporations, Equity, Domestic Relations, Federal Civil Procedure, Partnerships, Security Transactions, Wills, Estates, Trusts, Criminal Law and Procedure, Federal Constitution, Evidence, Real Property, and Torts.
The MBE, a multiple-choice exam, takes about six hours to complete. Topics on the exam may include Constitutional Law, Contracts, Criminal Law and Procedure, Evidence, Real Property, and Torts.
Application Process
About five months before the exam, an application will be posted online. In addition to filing the online application, you must have your law school complete a page verifying that you have completed their J.D. program and that they recommend you for law school. If you graduated from an Arkansas ABA-approved law school, you need not file this form, as those schools will certify your graduation directly to the Bar.
You must also complete the Character Questionnaire portion of the application. Along with the application, you must submit three letters of recommendation from people who have known you for at least four years in a personal or business capacity.
The exam is administered in February and July in Little Rock. After the Board receives your application, they will issue you a fingerprint card with instructions on how to complete and return it by the deadline given.
Pass Rates
According to Adaptibar.com, the pass rate for the Arkansas Bar Exam in 2019 averaged 63 percent.
Multistate Professional Responsibility Exam (MPRE)
Before you can be admitted to the Bar of Arkansas, you must pass the Multistate Professional Responsibility Examination (MPRE) with a scaled score of 85 or more. If you take the MPRE in another jurisdiction, it is your responsibility to have your scores transferred to the Bar of Arkansas.
Admission on Motion
Another alternative for admission to the State Bar of Arkansas is Admission on Motion. If you are already a licensed lawyer in another jurisdiction, you may become a member of the Arkansas bar without examination if you meet the following requirements:
You are a bar member actively practicing law in another state, territory or the District of Columbia in good standing
You hold a J.D. or L.L.B. from an ABA-approved law school
You have actively practiced law for five of the last seven years
The state/jurisdiction in which you are licensed would allow reciprocal licensing of Arkansas lawyers
You possess good moral character and fitness
You pay the necessary fees
Jurisdictions that are currently reciprocal with Arkansas and in which, if you are a member, you may qualify for membership in the Arkansas bar, include: Alaska, Colorado, District of Columbia, Georgia, Idaho, Illinois, Iowa, Kansas, Kentucky, Massachusetts, Minnesota, Mississippi, Missouri, Nebraska, New Hampshire, New York, North Carolina, Ohio, Oklahoma, Pennsylvania, Tennessee, Texas, Utah, Washington, Wisconsin.
If you meet these requirements, complete and file the Application for Admission on Motion.
Licensing and Admission to the Bar
When you receive your bar exam scores by mail, you will be notified of the time and place of your bar admission ceremony. After taking the oath, you will be an official member of the Arkansas bar and licensed to practice law in Arkansas.
Now that You've Been Admitted to the Arkansas Bar
Congratulations on passing the Bar and becoming inducted into the Arkansas Bar Association! The Young Lawyers Section of the Arkansas Bar Association can assist you greatly in starting out in your legal career in the state. Additionally, the Bar Association provides practice handbooks, legal texts and other information to help lawyers at all stages of the profession on its website.
You may choose to set up your own practice or join an existing one. Popular law practices in Arkansas include Friday, Eldredge & Clark, LLP in Little Rock;Mitchell Williams Law Firm in Little Rock; Bassett Law Firm, LLP in Fayetteville; and Matthews, Campbell, Rhoads, McClure & Thompson in Rogers.
Major Fortune 500 corporations based in Arkansas are often in need of legal assistance. Some of the largest names in the state include the Wal-Mart Stores Headquarters in Bentonville; Tyson Foods headquarters in Springdale; Murphy Oil in El Dorado; and Dillard's home base in Little Rock.
Discover Arkansas, the labor market research group of the Arkansas Department of Labor, says lawyers are currently in demand and are expected to remain so. The top industries in Arkansas in which lawyers currently work are legal services, management of companies and enterprises, radio and television broadcasting, electric goods merchants and wholesalers, insurances agencies and brokerages, and depository credit intermediation.
Legal specialty certification
Would you like to specialize in a certain area of the law? The Arkansas Judiciary recognizes legal specialization certification organizations that are recognized by the American Bar Association and are listed here. Certification is available for specializations in criminal, civil and family law, as well as in civil trial law advocacy and social security disability advocacy. You must meet certain education, experience and examination criteria to become certified.
Requirements for maintaining license
You must fulfill Continuing Legal Education (CLE) requirements in order to maintain your law license and bar status in Arkansas. You must have 12 hours of CLE each year, including one hour of ethics. Once you have been licensed in Arkansas for 40 years or attain age 70, you no longer need to meet CLE requirements. The Arkansas Supreme Court Office of Professional Programs can tell you how many CLE hours you have or need. Contact them at (501) 374-1855.
Court Systems in Arkansas
Arkansas' court system is structured as follows:
At the lowest level are District Courts and City Courts. There are state and local District Courts throughout the state that handle minor civil and criminal cases and small claims. There are 89 City Courts in Arkansas handling minor civil and criminal cases.
The next level of Arkansas' court system is the Circuit Court. These are general jurisdiction trial courts across the state. They handle criminal and civil cases, jury trials, equity, juvenile cases of neglect and/or delinquency, families in need of services, domestic relations, guardianships, adoptions, commitments, and estates.
Next is the Arkansas Court of Appeals. There is one chief judge and 11 judges on the Court. They are located in seven districts across the state.
Finally at the highest level is the Arkansas Supreme Court. There is one chief justice and six associate justices. It is located in the Justice Building, 625 Marshall Street, Little Rock, AR 72201.
Elective membership organizations
Since you are now a member of the Arkansas Bar, think about joining another professional association for attorneys in the state to increase your marketability and networking potential:
2021 US Bureau of Labor Statistics salary and employment figures for Lawyers reflect national data, not school-specific information. Conditions in your area may vary. Data accessed April 2023.