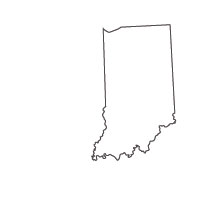 Steps to become a Lawyer/Attorney in Indiana
Follow the step by step process or choose what situation that best describes you:
Law Careers in Indiana
The Indiana Criminal Justice Institute has compiled crime statistics for the state for over twenty years. These statistics can be helpful to prospective lawyers in Indiana if they wish to determine an area of the law in which to specialize. For example, these are a few of the crime trends published in 2016:
18.9 percent of Indianans reported being a victim of identity theft in 2016
Eight percent of state residents reported experiencing stalking or intimidation in 2016
Three percent of state residents reported experience domestic violence at least once in 2016
5.8 percent of all Indianans report that they had been a victim of violent crime
17 percent of all Indiana residents report that they had been a victim of property crime
It is clear from these statistics that lawyers are highly necessary in Indiana. If you would like to discover how to become a lawyer and help improve Indiana's justice system and reduce its crime statistics, read on.
Get Your Indiana Undergraduate Pre-Law Major
The Indiana Board of Law Examiners has not ruled on undergraduate education for admittees. However, the American Bar Association (ABA) mandates a minimum of a bachelor's degree prior to entry into any ABA-approved law school.
Accreditation
When you apply to an ABA-approved law school, they will demand proof that you have graduated from an undergraduate institution that is accredited. If your undergraduate college or university is accredited by an organization listed on the U.S. Department of Education database, the ABA-approved law school to which you apply should accept such accreditation. 
Requirements and Standards
Your undergraduate major has little bearing on your admission to law school. Most law schools are looking to see if you took challenging coursework in your undergraduate studies, and could care less about the actual concentration or major you took. However, there are some courses that certain ABA-approved law schools may look for in your undergraduate course work. These include:
Political science
History
Philosophy
Economics
English
Sociology
Psychology
Communications (oral and written)
Degree Options
The ABA requires that, when you apply to ABA-accredited law schools, you possess a minimum of a bachelor's degree. This may be in any major you choose. Many pre-law students choose majors from the above-mentioned coursework options, but any challenging major should help you gain entrance to the ABA-approved law school of your choice following graduation.
<!- mfunc feat_school ->
Featured Programs:
Sponsored School(s)
<!- /mfunc feat_school ->
Sponsored Listings
Take the LSAT (Law School Admission Test) in Indiana
Once you have received (or are soon to receive) your undergraduate degree, you are ready to take the LSAT, or Law School Admission Test. This standardized test must be passed in order to be accepted into any ABA-approved law school.  
How to prepare
The LSAT website provides many helpful, free study aids to help you get ready to take the LSAT. If you want to take an LSAT Prep or Refresher Course, options throughout Indiana include:
LSAT Exam Prep Courses in Indiana:
Exam content
In the LSAT, you will encounter:
Logical reasoning – two sections of arguments that you must dissect and analyze, determining strengths and weaknesses
Reading comprehension – one section consisting of four passages of 500 words each, with about five questions per passage. Passages are usually on topics including arts, humanities, law, social sciences, and physical sciences. You must find the main idea in the passage, draw inferences, describe the structure, and find information.
Analytical reasoning – one section, also known as "logic games." These games concern matching, grouping, and ordering elements. You must draw conclusions from statements based on a premise and conditions about the premise.
Unscored Variable section – an experimental section that can be on any of the above. As you are taking the LSAT, you will not know which section is the experimental one, so you must do your best in every section.
Writing sample – This section gives you a problem and two criteria for making a decision. You must write an essay favoring one option over the other. This essay is not scored by the LSAC and does not figure into your LSAT score. However, it is sent to the law schools to which you apply and will be read by admissions personnel.
Application process
You must apply to take the LSAT through the LSAC online and create an account with them. The fee to take the test as of 2018 is $190, payable online via credit card. You may sign up to take the LSAT on Saturdays or Mondays in November, January and March. These centers throughout Indiana offer the LSAT:
Indiana University-Bloomington, Bloomington
Wabash College, Crawfordsville
University of Evansville, Evansville
Indiana University-Purdue University at Fort Wayne, Fort Wayne
DePauw University, Greencastle
Indiana University Robert H. McKinney School of Law, Indianapolis
Ball State University, Muncie
University of Notre Dame, Notre Dame
Des Moines Area Community College, Ankeny
Valparaiso University, Valparaiso
Purdue University, West Lafayette
Receiving Your Score
It takes approximately three weeks to receive your LSAT scores in the mail after you take the test. The lowest score possible is 120, and the highest, 180. The following are the median LSAT scores accepted by Indiana law schools:
Indiana University -Bloomington: 161
Indiana University Robert H. McKinney School of Law:  152
Notre Dame Law School:  164
Go to Law School in Indiana
<!- mfunc search_btn -> <!- /mfunc search_btn ->
Application process
Passing the LSAT is the next step in your quest to become an Indiana lawyer. Now you must apply to ABA-approved law schools, as the Indiana Board of Law Examiners requires that you be a graduate of one of them when you take the state's bar exam. There are more than 200 ABA-approved law schools in the United States. You may attend any one of them, not just ones located in Indiana.
Credential Assembly Service
As an applicant to any ABA-approved law school, you must register for LSAC's Credential Assembly Service (CAS).  The CAS helps to create law school reports to send to the schools to which you apply. It will forward your academic summary, LSAT scores, writing samples, copies of all transcripts, and copies of letters of recommendation to these schools for you.  It is your responsibility to provide the CAS with information including:
Transcripts from all institutions you attended and received college credit – both in the United States and elsewhere
Names of persons who will write your letters of recommendation
Names of persons who will provide online evaluations of your work and character
Fee of $195 for the CAS (payable online through your LSAC account)
Accreditation
The Indiana Board of Law Examiners requires all applicants to take the bar exam to graduate from ABA-approved law schools. Consult the LSAC Official Guide to ABA-Approved Law Schools for information about ABA-approved law schools in the United States.
ABA-Accredited Law Schools in Indiana
These law schools in Indiana hold ABA accreditation:
Course requirements
Foundational coursework in an ABA-approved law school should include:
Torts
Contracts
Criminal law
Legal research
Legal writing
Constitutional law
Civil procedure
Property
Jurisprudence
Business associations
Taxation
Ethics and Professional responsibility  (the Board mandates at least two hours must be taken in this prior to sitting for the bar exam)
It will take at least two but no more than seven years to complete all requirements for your Juris Doctor (J.D.) professional law degree. The ABA mandates that you complete at least 83 semester hours. Most Indiana ABA-approved law schools require an average of 90 semester hours for the J.D. degree.
Online Law Degrees
(For students who choose to focus on a subset of law other than an attorney.)
Internship
Clinical programs that you can expect to receive an opportunity to participate in will allow you to work with real-life clients in a legal setting. This may be through pro bono work, in legal aid clinics, in governmental or non-profit agencies, or in other settings in which lawyers work. You will be graded on your performance by in-field supervisors and faculty who will visit you on the job site.
Degree Programs
The Indiana Board of Law Examiners requires that you have a J.D. degree to take the bar exam. You may find other degree options in Indiana's ABA-approved law schools, including dual degrees and certificates. Some of these may be:
Dual Degrees:
J.D. /M.B.A.
J.D./M.A. in English
J.D./M.Eng. in Engineering
Advanced Law Degrees (obtained after receiving the J.D.):
L.L.M. in International and Comparative Law
L.L.M. in International Human Rights Law
J.S.D. in International Human Rights Law
Programs of Study/Possible Concentrations in your J.D. Program:
Business Law
Criminal Law
Global Law
Ethics and Public Policy
Public Law
Take the Indiana State Bar Exam
After receiving your J.D. from an ABA-approved law school, it is time to take the Indiana bar exam. This exam is offered in February and July. If you have less than five credit hours to complete to receive your J.D. degree, are within 100 days of graduation, have completed at least two hours of professional responsibility coursework, and have completed all other requirements for bar admission, you may also apply to take the bar exam.
Preparation
Options to help you prepare for the Indiana Bar Exam include:
The National Conference of Bar Examiners website also provides sample questions for the national portions of the test, including the Multistate Performance Test (MPT), and Multistate Bar Examination (MBE).
Exam content
The Indiana Bar Exam consists of:
Indiana Essay Examination, with topics including:

Administrative law
Business organizations
Family law
Federal and state corporate tax, personal income tax, and gift and estate tax
Indiana Constitutional law
Indiana employment law, including wage claim statutes and wage payment statutes
Indiana debt collection, including attachment, garnishment, and bankruptcy exemptions
Residential landlord-tenant law
Pleading and practice, including the Indiana Tort Claims Act and statutes of limitation
Secured transactions
Trusts, wills, and estates

Multistate Performance Test (MPT), which requires you to perform a lawyer's task involving a file and a library. You may be asked to write a memorandum, prepare a legal brief, or other similar performance tasks. Skills tested include:

Problem-solving
Legal reasoning and analysis
Factual analysis
Organization/management of legal task
Communications
Recognizing ethical dilemmas

Multistate Bar Examination (MBE), which could include questions on:

Constitutional law
Contracts
Criminal law
Evidence
Real property
Torts
Civil procedure
Application Process
Apply to take the Indiana Bar Examination online.  Make sure that you first register with the Indiana Bar Admission for an account before submitting your bar examination application.
You will be asked for contact information for three references. The Board will send these references forms to complete and return to them.
Pay a $250 filing fee if filing on time or $500 if filing late (after April 16 for the July exam and after November 16 for the February exam) payable to State Board of Law Examiners
Complete the application and submit it before uploading any documents requested. These include Dean's Certification- Form C3, Authorization and Release Form, and Certified Driving Record.
Upload a recent photo of yourself that is at least 300 x 300 pixels.
Have your fingerprints taken by going to State Police station or Law Enforcement Facility that takes fingerprints. Upload your fingerprint form when completed.
After your application is processed, you will be contacted with information on your Character and Fitness Personal Interview. This will be conducted in your county at least 30 days prior to the bar exam.
Pass Rates
The Indiana Board of Law Examiners reports the following passing scores for the most recent bar exams:
July 2018- 65 percent overall pass rate, 75 percent pass rate for first-timers
February 2018- 51 percent overall pass rate, 70 percent pass rate for first-timers
Multistate Professional Responsibility Exam (MPRE)
You must pass the Multistate Professional Responsibility Examination (MPRE) with a scaled score of 80 within two years before or after the date you pass the Indiana bar exam. Consult the above link to register to take this exam.
Attorneys Admitted to Practice in Another State
If you are already an attorney who is licensed to practice in another state, you may apply for admission to Indiana's bar in three ways:
Take the bar examination (see above)
Apply for Admission on Foreign License if you meet these requirements:

Practiced for five of the last seven years in your jurisdiction
Intend to actively and predominantly practice law in Indiana
Will practice for at least 1000 hours/year in Indiana
Graduated from an ABA-approved law school
You are in good standing in all jurisdictions in which you are licensed
You pass Indiana's character and fitness investigation/interview

Apply for a Business Counsel License if you meet these requirements:

Have less than five years of practice experience in another state
Reside in Indiana
Receive all your income from your employer
You plan to practice predominantly in Indiana
You plan to practice for at least 1000 hours/year in Indiana
You are in good standing in all jurisdictions in which you are licensed
You pass Indiana's character and fitness investigation/interview
For more information about application for Foreign License or Business Counsel License, click on the appropriate link.
Foreign Law School graduates
Foreign law school graduates are not eligible to take the Indiana bar exam.
Licensing and Admission to the Bar
You should receive your bar exam scores by mail about nine weeks after taking the exam. You will be told of the time and place of your swearing-in ceremony and admission to the bar. This is the oath you must take and subscribe to:
I do solemnly swear or affirm that: I will support the Constitution of the United States and the Constitution of the State of Indiana; I will maintain the respect due to courts of justice and judicial officers; I will not counsel or maintain any action, proceeding, or defense which shall appear to me to be unjust, but this obligation shall not prevent me from defending a person charged with crime in any case; I will employ for the purpose of maintaining the causes confided to me, such means only as are consistent with truth, and never seek to mislead the court or jury by any artifice or false statement of fact or law; I will maintain the confidence and preserve inviolate the secrets of my client at every peril to myself; I will abstain from offensive personality and advance no fact prejudicial to the honor or reputation of a party or witness, unless required by the justice of the cause with which I am charged; I will not encourage either the commencement or the continuance of any action or proceeding from any motive of passion or interest; I will never reject, from any consideration personal to myself, the cause of the defenseless, the oppressed or those who cannot afford adequate legal assistance; so help me God."
Now that You've Been Accepted to the Indiana Bar
You've done it – you've passed the bar exam and are now a licensed lawyer in Indiana! As a new admittee to the Indiana state bar, you must complete a mandatory six hours of applied professionalism coursework in your first three years of membership. You may also want to consider joining the Indiana State Bar Association's Young Lawyers Section for a minimal fee. All members under the age of 36 are eligible for membership in this section. It can be an invaluable resource in helping you set up your own practice, familiarize yourself with the laws of Indiana, and in networking for jobs.
If you choose to join an established Indiana legal firm, you have many from which to choose. Names include Bose McKinney & Evans, specializing in trusts and estate law in Indianapolis; tax attorneys Hargrove Madden in Indianapolis;   Bunger & Robertson, with a variety of specializations in Bloomington; Faegre, Baker & Daniels, with a variety of practice areas in Indianapolis; Rudolph, Fine, Porter & Johnson, specializing in workers compensation law in Evansville; and the Sweeney Law Firm, specializing in medical malpractice and personal injury in Fort Wayne.
Companies in Indiana that typically hire lawyers in some capacity include pharmaceutical giant Eli Lilly in Indianapolis; metals company Steel Dynamics in Fort Wayne; Lincoln Financial Group in Fort Wayne; retailer and merchandiser Vera Bradley Corporate Headquarters in Roanoke; insurers Baldwin & Lyons in Indianapolis; and the main office of health benefits company Anthem Insurance Companies, Inc. Indianapolis.
Legal specialty certification
To be recognized as certified in a field of law in Indiana, you must first be an active member of the bar in good standing, as well as be certified by an independent certification organization (ICO) approved by CLE. Furthermore, you must be in compliance with the Indiana Bar Certification Review Plan, the rules and policies of the ICO, and the rules and policies of CLE. Approved areas currently include family law, elder law, consumer and business bankruptcy law, civil and criminal trial advocacy, and creditor's rights.
Requirements for maintaining license
In order to maintain your law license in Indiana, you must complete 36 hours of continuing legal education (CLE) every three years, with a minimum of six hours completed each year. Three of your 36 hours must be in professional responsibility. For more information consult the Commission for Continuing Legal Education.  
Court Systems in Indiana
The Indiana Judicial System consists of the following, from the lowest court to the highest court:
Elective membership organizations
Although you are now a member of the Indiana Bar Association, you might also think about joining another beneficial professional membership organization for lawyers in the state, such as: