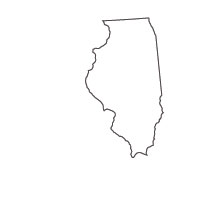 Steps to become a Lawyer/Attorney in Illinois
Follow the step by step process or choose what situation that best describes you:
Law Job Information in Illinois
The American Bar Association reports that in 2021 there were 62,720 licensed lawyers actively practicing in Illinois. The Bureau of Labor Statistics quotes the average Illinois lawyer's salary at that time at $158,030 annually. Lawyers working in the Chicago metropolitan area made, even more, averaging $163,220 per year.
The University of Chicago Law School had a teacher a few years back who is one of the most famous men in the world now. President Barack Obama, who received his law degree from Harvard Law School, taught Constitutional Law at the University of Chicago Law School. Later, he became elected to the state's senate, and the rest is history. While not all lawyers in Illinois go on to become President of the United States, if you work hard, anything is possible. If you would like to learn how to get your law degree and follow Obama's example, read on.
Get Your Illinois Undergraduate Pre-Law Major
The Illinois Board of Admissions to the Bar has ruled that all applicants to the Illinois Bar must have a preliminary pre-legal education consisting of at least 90 semester hours of undergraduate college credit. This credit must be obtained at a Board-approved college or university with admission requirements equivalent to those of the University of Illinois.
Accreditation
In order to be approved by the Board and by the American Bar Association (ABA), your undergraduate institution must be accredited by a national or regional accreditation organization acknowledged by the U.S. Department of Education.
Requirements and Standards
Because the Board uses the admission requirements of the University of Illinois as a standard for admission to pre-legal education, you must have completed a minimum amount of certain courses in high school prior to enrollment in your undergraduate education. These include:
English – 4 years
Math – 3 years
Social sciences – 2 years
Laboratory sciences – 2 years
One foreign language – 2 years
Flexible academic units (i.e., electives ) – 2 years
Within the required 90 semester hours of undergraduate education the Board says you must complete should be coursework in the following areas:
Cultural studies (Western and Non-Western)
Humanities and the arts
Composition and advanced composition
Natural sciences courses
Technology
Social and behavioral sciences
Quantitative reasoning/mathematics courses
Degree Options
The Board requires that you complete 90 semester hours of undergraduate coursework – not that you necessarily obtain an undergraduate degree. Under Board rules, you may obtain a diploma, degree, or certificate signed by the dean or registrar of your institution stating that you have completed the required coursework. However, ABA-approved law schools (which the Board requires you to graduate from) insist that you have at least a bachelor's degree prior to admission. This degree may be in any major. Majors in the above-mentioned coursework areas are often the most advisable for pre-law students.
<!- mfunc feat_school ->
Featured Programs:
Sponsored School(s)
<!- /mfunc feat_school ->
Sponsored Listings
LSAT (Law School Admission Test) in Illinois
The Illinois Board of Admissions to the Bar requires that you graduate with your first professional law degree from a law school accredited by the American Bar Association (ABA). All ABA-approved law schools insist that you pass the LSAT, or Law School Admission Test, prior to admission. The test is offered four times yearly at testing centers around the world.
How to prepare
The LSAT website provides some great, free study materials that will help you study for the LSAT. If you want to take a formal LSAT preparation course, consider the following options in Illinois:
LSAT Exam Prep Courses in Illinois:
Exam content
Subjects tested on the LSAT are:
Reading comprehension: Your ability to understand what you read is tested.
Logical reasoning: Your ability to identify conclusions, hidden assumptions, and evaluate an argument's strengths or weaknesses is tested.
Analytical reasoning: You must solve problems and draw conclusions by using analytical strategies.
Writing sample: This section is not scored as part of the LSAT but is sent to the law schools to which you apply. You will be given a topic on which you must write an essay, supporting your position.
Application process
You must create an account online with the Law School Admission Council when you apply to take the LSAT. You will also pay the $190 examination fee online. The LSAT is offered twice a week in November, January, and March, at these testing centers in Illinois:  
Southern Illinois University, Carbondale
Eastern Illinois University, Charleston
DePaul University, Chicago
John Marshall Law School, Chicago
Loyola University-Chicago, Chicago
University of Illinois at Chicago, Chicago
Richland Community College, Decatur
Northern Illinois University, DeKalb
Northwestern University, Evanston
College of DuPage, Glen Ellyn
Western Illinois University, Macomb
Western Illinois University – Quad Cities Campus, Moline
Illinois State University, Normal
Moraine Valley Community College, Palos Hills
Bradley University, Peoria
University of Illinois-Springfield, Springfield
University of Illinois at Urbana-Champaign, Champaign
College of Lake County Southlake Campus, Grayslake
Receiving Your Score
It takes about three weeks after the exam before your scores are mailed to you. The lowest score you can possibly receive is 120, and the highest score you can possibly receive is 180. Average LSAT scores accepted by some Illinois law schools in 2017 are:  
University of Chicago: 170
Northwestern University: 168
University of Illinois Urbana-Champaign: 161
Loyola University, Chicago: 158
Chicago-Kent College of Law: 156
DePaul University: 152
Northern Illinois University: 148
John Marshall Law School-Chicago: 147
Southern Illinois University-Carbondale: 149
Go to an Illinois Law School
<!- mfunc search_btn -> <!- /mfunc search_btn ->
Application process
After receiving a passing score on the LSAT, it is time to apply to ABA-approved law schools. Under the rules of the Illinois Board of Admissions to the Bar, you must graduate from an ABA-accredited law school in the United States (not necessarily within Illinois) in order to be eligible for bar membership.
Credential Assembly Service
ABA-approved law schools mandate that you use the LSAC's Credential Assembly Service when applying for admission. The CAS will ask you for a list of potential letter of recommendation (LOR) writers. Then you will indicate which letter you wish to have sent to which law schools you are applying. You will also obtain transcripts from your undergraduate institutions online through CAS, who will compile and distribute them to law schools.
Then you must complete the "Common Information Form" and you will be taken to the individual application for the law school(s) to which you wish to apply. You will answer the questions on the law school's electronic application and upload any documents required (such as essays, letters, personal statements, etc). The LSAC will charge you $195 for the CAS report and you will pay the school's application fee.
Accreditation
The Illinois State Board of Law Examiners specifies that you must be a graduate of a United States ABA-accredited law school in order to take the state's bar exam.  The LSAC Official Guide to ABA-Approved Law Schools lists ABA-approved law schools across the nation.
ABA-Accredited Law Schools in Illinois
The following law schools in Illinois are ABA-accredited:
Course requirements
Foundational legal coursework that usually does not vary from one law school to the next will include:
Administrative law
Civil law and procedure
Criminal law and procedure
Contracts
Legal research
Legal writing
Real property
Torts
Constitutional law
Evidence
History, goals and responsibilities of the legal profession
You must attend law school for at least two years, but no longer than seven years, to get your Juris Doctor (J.D.) degree. The average number of credits you will complete in law school is 83 semester hours.
Online Law Degrees
(For students who choose to focus on a subset of law other than an attorney.)
Internship
You will likely be assigned to some sort of internship or clinical placement during your tenure in law school. This will give you the chance to use what you have learned in the classroom in a real-life setting. You will develop your lawyering skills here. Your performance will be judged and evaluated by a supervisor on-site as well as by faculty from your law school.
Foreign Law School Graduates
If you graduate from a law school outside of the Untied State, you may still be eligible to take the Illinois Bar Exam. You must:
Be licensed and in good standing in the country which gave you your law degree or in another U.S. jurisdiction
Have actively practiced law for five of the past seven years
Your legal work must have been determined acceptable by the Board
If you meet these requirements, you may initiate your request for permission to sit for the bar exam by completing the Preliminary Questionnaire for Rule 715. It must be filed online and approved in writing before you will be allowed to take the bar exam.
Register with the Illinois State Bar
You should register with the Illinois State Bar during your first year of law school. If you start law school in the fall, file your Law Student Registration application online by the following March 1. If you start law school in January, file your application by July 1 of that year. The fee for filing your Law Student Registration application on or before these dates is $100. After these dates, you must pay the full filing fee of $450.  
Filing your registration online will initiate the Character and Fitness Questionnaire and investigation necessary prior to admission to the Bar. The Character and Fitness Questionnaire, the Illinois State Police Criminal History form, and the Notice and Acknowledgment form must be completed on the Bar's website and filed electronically. You must print the Authorization and Release Form from the website, execute it, and mail it to the Board with the requested additional documentation. Filing fees can be paid online through credit card or by certified check, cashier's check or money order payable to the Illinois Board of Admissions to the Bar. Mail everything to the Illinois Board of Admissions to the Bar, 625 S College Street, Springfield IL 62704-2521.
If you have already completed two years of law school and expect to be eligible to register for one of the next two upcoming bar exams, and you have not yet filed a Law Student Registration application, you may not file one now without written permission of the Board.
Degree Programs
The Board has ruled that you must have your first professional law degree (Juris Doctor – J.D. or L.L.B.- the foreign equivalent) prior to sitting for the Illinois Bar Exam.
Take the Illinois State Bar Exam
You are now ready to apply to take the Illinois bar exam. It is offered on the last Tuesday and Wednesday of February and July at various locations throughout Chicago.
Preparation
Illinois administers the Uniform Bar Exam. You may use the free materials provided by the National Conference of Bar Examiners website to help prepare for the bar exam. In particular, the sections on the Multistate Essay Exam (MEE), Multistate Performance Test (MPT), and Multistate Bar Examination (MBE) should be studied.  Additional bar preparation courses include:
Exam content
The first part of the Illinois Bar Exam is the Multistate Bar Examination (MBE). This lasts for six hours and consists of 200 multiple-choice questions on contracts, criminal law, torts, evidence, constitutional law, and real property.
The second part is the MEE, Multistate Essay Exam. This tests your knowledge of Illinois' laws.  Topics that may be covered include administrative law, agency and partnership, business organizations, commercial paper, conflict of law, criminal procedure, equity, family law, federal taxation, Illinois civil procedure, secured transactions, suretyship, trusts and future interests, and wills and estates.
The third part of the exam is the Multistate Performance Test (MPT). This tests your usage of lawyering skills, with a file and a library.
Application Process
Since you have already registered as a law student with the Bar, completing the rest of the application for the bar exam is easy. Go online into the account you created with the Bar when you registered. You will be asked to submit:
Upload a photo of yourself to the website
Send your driving record for the past 10 years to the Board
Send any police reports/court records to the Board (these will be as a result of your Character and Fitness questions' answers)
Mail everything to Illinois Board of Admissions, 625 S. College Street, Springfield IL 62704. The Board will not verify receipt of application materials if you phone them. You should use return receipt requested (USPS) or overnight carrier with receipt to ensure that the Board received all items.  
Pass Rates
Here are passing rates from the Illinois Bar Exam, provided by Adaptibar:
2017 – 69 percent overall passing rate
Multistate Professional Responsibility Exam (MPRE)
In addition to passing the Illinois Bar Exam, you must also pass the Multistate Professional Responsibility Examination (MPRE) prior to bar admission. This consists of 50 multiple-choice items and lasts just over two hours. The MPRE is offered in March, August, and November in various locations throughout Illinois. After you have completed 66% of the credits necessary (or 60 credit hours) for the J.D. degree, you may take the MPRE. Click on this link for more information on applying to take the MPRE.
Admission on Motion
If you are already a licensed attorney, you may apply for Admission on Motion to the Illinois Bar. You must meet the following requirements:
You have a J.D. or L.L.B. from an ABA-approved law school
You have licensed to practice in the highest court of a US jurisdiction for at least five years
You have been certified by the Committee on Character and Fitness
You passed the MPRE
You are a member in good standing of the bar in another jurisdiction
You have actively practiced law for five of the past seven years
You have not failed the Illinois bar exam in the past five years
If you feel that you meet these requirements, you must initiate application for a Preliminary Questionnaire. If approved, you will be instructed on how to proceed. The fee to file for admission on motion is $1250.
Licensing and Admission to the Bar
About six to eight weeks after taking the bar exam, your scores will be mailed to you. Information on where and when to report for your admission ceremony to the bar will be provided if you passed. After bar admission, you must complete a 6-hour Basic Skills Course/Mentoring Program.
What's Next After Being Admitted to the Illinois Bar
You are now a licensed Illinois lawyer and member of the Illinois Bar! Congratulations!  The Illinois State Bar Association gives all new lawyers free membership for one year. You will also be granted free membership in the association's Young Lawyers Division. This division can help you with practice tips, networking, and interpreting the law. The Practice Tools and Resources section of the Bar can help lawyers of all ages and experience.
Are you going to start you own solo legal practice in Illinois? Consult the Bar's General Practice, Solo, and Small Firm section for help. If you would rather join an established law firm in Illinois, names that may sound familiar to you include Baker and McKenzie in Chicago, Sawyier & Williams in Evanston, DLA Piper in Chicago, Churchill & Churchill in Moline, Mayer Brown in Chicago, Sidley Austin in Chicago, and Turner & Sackett Law Offices in Sycamore.
<!- mfunc search_btn -> <!- /mfunc search_btn ->
Perhaps you would rather work for a corporation as legal counsel. Many Fortune 500 corporations are Illinois-based, including Walgreens Boots Alliance in Deerfield, Boeing in Chicago, State Farm Insurance Company in Bloomington, Archer Daniels Midland in Decatur, Caterpillar Inc. in Peoria, and United Continental Holdings in Chicago.
Legal specialty certification
Are you well versed in a legal specialty area? You might consider becoming certified to practice in that area. The National Board of Trial Advocacy offers certifications for specializations in civil, criminal, and family law, as well as social security disability advocacy and civil trial law advocacy. Get in touch with the Illinois State Coordinator of the NBLSC, David Rapoport, at 312-327-9880 or drapoport@rapoportlaw.com for further information.
Requirements for maintaining license
As a licensed lawyer in Illinois, you must complete 20 hours of CLE (continuing legal education) during the first two years in which you are licensed. During your second two years, it is expected that you will fulfill 24 hours of CLE. For all subsequent two-year reporting periods, you must complete 30 hours of CLE. AT least four hours of CLE during each two-year reporting period must be in legal ethics, professionalism, diversity, mental illness and addiction, or civility.
Court Systems in Illinois
There are three levels to the court system in Illinois:
Circuit: 23 circuits exist in 102 counties, with one to 12 counties per circuit. This court hears most cases (known as the "court of general jurisdiction") and may review cases from administrative agencies. In 2016, 2.5 million cases were filed in Circuit Court.
Appellate: there are five districts throughout Illinois that hear appeals from the circuit court and industrial commission. They may also review cases from administrative agencies. In 2016, 9089 cases were filed in Appellate Court.
Supreme: the highest court in Illinois hears appeals from certain circuit court and appellate court cases and reviews all death sentences. In 2016, 2244 cases were filed in the Supreme Court.
Elective membership organizations
Now that you are a member of the Illinois bar, consider joining another elective membership organization for attorneys in the state:
2022 US Bureau of Labor Statistics salary and employment figures for Lawyers reflect national data, not school-specific information. Conditions in your area may vary. Data accessed April 2023.