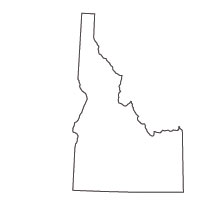 Steps to become a Lawyer/Attorney in Idaho
Follow the step by step process or choose what situation that best describes you:
Idaho Law Career Info
The Idaho State Bar operates as a self-regulating agency for attorneys, under the authority of the Idaho Supreme Court. The five commissioners who sit on the board of the Idaho State Bar are from each of Idaho's seven judicial districts. Under the rules, the Idaho State Bar administers pertinent areas including admissions to the bar, mandatory continuing legal education, professional conduct, practice of law, and client assistance fund, just to name a few. Many bar members in Idaho also participate in community outreach programs, donating their time and talents to working with the state's citizens; as well as charitable donations to organizations such as the Idaho Legal Aid Society and the Idaho Legal History Society. If you would like to become a member of the Idaho State Bar, keep reading.
Get Your Idaho Undergraduate Pre-Law Major
The Idaho State Bar Commission has not formally required applicants to the bar to have an undergraduate degree. However, the Commission does require that all applicants to the bar be graduates of an American Bar Association (ABA) – approved law school. ABA law schools require that you have an undergraduate degree prior to applying to law school (usually at least a bachelor's degree). By default, therefore, you must have an undergraduate degree.
Accreditation
The undergraduate college or university you attend must be accredited by a recognized agency. If the national or regional accreditation agency that accredits your school is listed in the U.S. Department of Education accreditation database, this should be sufficient for the ABA's purposes.
Requirements and Standards
Coursework for your pre-law education is not specified, but the more challenging your undergraduate coursework, the more favorably the ABA-approved law school to which you apply will look upon your application. Courses in the following areas are usually the most helpful to pre-law students:
Economics
English
History
Philosophy
Political Science
Sociology
Psychology
Degree Options
ABA-accredited law schools require that you have a bachelor's degree (at minimum) prior to entering law school. The major or chief discipline of this degree is not specified. However, any major from the above-listed coursework and/or disciplines is recommended.
<!- mfunc feat_school ->
Featured Programs:
Sponsored School(s)
<!- /mfunc feat_school ->
Sponsored Listings
Take LSAT (Law School Admission Test) in Idaho
The next step in becoming a lawyer in Idaho is to take the LSAT, or Law School Admission Test. Required for admission into all ABA-accredited law schools, the LSAT is a six-hour-long standardized test offered multiple times per year at testing centers around the globe.
How to prepare
The LSAT website provides free materials to help you study for the LSAT, including practice tests. You might also want to check out some of the following LSAT preparation courses, each of which carries its own fee:
LSAT Exam Prep Courses in Idaho:/p>
Exam content
On the LSAT, you will be presented with five 35-minute multiple-choice question sections and a writing sample. The major areas of the LSAT are:
Reading comprehension: This section will test how well you can understand and apply complex reading samples.
Analytical reasoning: This section will test how well you can follow a written description of a relationship structure and answer questions based on the relationship structure.
Logical reasoning (2 sections): These two sections will present an argument that you must either find a flaw in (if the argument is flawed) or draw a conclusion from (if the argument is valid).
Variable section: One of the above-mentioned sections will be repeated in the variable section, and will not count toward your LSAT total score. However, you will not know which section is the variable section, so take the test as if every section counts.
Writing sample: This writing sample is not scored as a part of your LSAT total score but will be sent to the ABA-approved law schools to which you apply. It figures into their admission process.
Application process
You can apply online to take the LSAT and also pay the $190 examination fee online. The test is given twice weekly in November, January, and March, at these centers in Idaho:
Boise State University, Boise
College of Idaho, Caldwell
University of Idaho, Moscow
Idaho State University, Pocatello
Brigham Young University-Idaho, Rexburg
Receiving Your Score
Your LSAT scores will arrive by postal mail about three weeks after the exam. The lowest score possible is 120, and 180 is the highest. In 2018-19, the median LSAT score for applicants to the University of Idaho Law School is 153.
Idaho Law Schools
<!- mfunc search_btn -> <!- /mfunc search_btn ->
Application process
Congratulations – you passed the LSAT! Now you may begin the law school application process. All ABA-approved law schools require that you use certain services when applying. Check your school's requirements before applying.
Credential Assembly Service
Using the LSAC's Credential Assembly Service is a necessity when applying for enrollment in any ABA-approved law school. This valuable service helps you collect all undergraduate transcripts, letters of recommendation and evaluations, and applies electronically to the ABA-approved law schools you choose. All transcripts from all undergraduate institutions you ever attended and received credit (but not necessarily a degree) must be mailed to Law School Admission Council. Instructions will be given online when you begin the CAS process.
You must pay the LSAC a fee of $195 to use the CAS. This is payable online through your LSAC account (which was created when you registered for the LSAT).
Accreditation
The Idaho State Bar Commission requires that you graduate from an ABA-approved law school in the United States (not necessarily in Idaho) prior to bar admission. Consult the LSAC Official Guide to ABA-Approved Law Schools for a complete listing of ABA-approved law schools across the nation.
ABA-Accredited Law Schools in Idaho
Just one law school in Idaho currently holds ABA accreditation:
Course requirements
Law school courses in an ABA-approved law school will likely include:
Procedure
Property
Criminal law
Civil law
Torts
Legal research
Legal writing
Constitutional law
Contracts
After completing these basic foundation law courses, you may opt to choose from electives such as:
Intellectual property law
Environmental law
Business entities taxation law
Land use law and policy
Wildlife law and policy
Native American law
Water law
You must complete at least 83 semester hours according to the ABA in pursuit of your Juris Doctor (J.D.) degree. Many law schools require more semester hours. Additionally, you may be required to do a certain number of hours of pro-bono work, internships and/or clinical placements prior to graduation.
Online Law Degrees
(For students who choose to focus on a subset of law other than an attorney.)
Internship
Internships will place you on-site in a real-life legal setting. This may be in a law office, governmental agency, or the like. You will work on your legal skills and use the knowledge you have learned in class, incorporating both into practice under the watchful eye of an on-site supervisor. A faculty member will also grade your performance periodically. Internships may last from one semester to one academic year, depending upon your law school's policies.
Degree Programs
You must have a Juris Doctor (J.D.) degree or the foreign equivalent, an L.L.B., to become a member of the Idaho bar. You may also have the option to concentrate on an area of the law that interests you, such as Native American law, business, or environmental concerns.
Take the Idaho State Bar Exam
Once you have received your J.D. degree from an ABA-accredited law school, you may apply to take the Idaho State Bar Exam. You must also meet the following requirements:
Be at least 18 years old
Be lawfully admitted to the United States
Have a good moral character
Have demonstrated the following essential requirements to practice law in Idaho:

Ability to be honest with clients, lawyers, courts, the Board, and others
Ability to reason, recall complex information, and integrate information with complex legal theories
Ability to communicate clearly and in an organized manner with clients, lawyers, courts, and others
Ability to use good judgment with clients and in your own professional business
Ability to conduct yourself with respect for and in keeping with the law
Ability to avoid acts which show disregard for the rights/welfare of others
Ability to comply with the requirements of the Idaho Rules of Professional Conduct, state, local, and federal laws, regulations, statutes, and applicable court or tribunal orders
Ability to be reliable and diligent when fulfilling obligations to clients, lawyers, courts, and others
Ability to be honest and use good judgment in financial dealings
Ability to meet deadlines and work within time constraints
Preparation
Idaho administers the Uniform Bar Exam. You may use materials available for free from the National Conference of Bar Examiners website to prepare for this exam. In particular, use the study materials for the Multistate Essay Exam (MEE), Multistate Performance Test (MPT), and Multistate Bar Examination (MBE). Other bar exam review courses that are available for a cost include:
The University of Idaho has compiled this Bar Exam Success Toolkit filled with additional resources to help you prepare for the Idaho bar exam.
Exam content
You will take the Idaho state bar exam over a two-day period in February or July. This year, the exam is administered in Boise, Meridian, and Moscow. Parts of the exam are as follows:
Multistate Essay Exam (MEE):  six 30-minute questions for which you are given three hours to write essays. Subjects may include: Federal civil procedure, conflict of laws, Constitutional law, contracts, business organizations, Uniform Commercial Code (Articles II, III and IX), family law, criminal law and procedure, evidence, real property, torts, wills/trusts/estates
Multistate Performance Test (MPT): two questions, with three hours to complete. Involves performing a lawyering task, with a file and a library.
Multistate Bar Exam (MBE): 200 Multiple-choice questions covering: Constitutional law, Contracts, Criminal law and Procedure, Evidence, Real property, and Torts. (If you have already taken the MBE in another jurisdiction within the past 37 months, you may have your score transferred to the Idaho State Bar. However, if you have a scaled score of less than 140, the Bar recommends that you take the MBE exam again instead of transferring your score).
Application Process
Complete the Application for Examination and Admission to the Idaho State Bar. If you are taking the July exam, the deadline to file your application is March 1 (for the February exam, it is October 1). The application fee is $500 for a student filing on time. If you file between March 2 and April 16 (October 2 and November 16), you must add a late fee of $100. All checks must be made payable to the Idaho State Bar. Applications filed after April 16 (or November 16) will not be accepted. When submitting the application to the Idaho State Bar, be sure to:
Sign the application where necessary and be sure to have it notarized.
Complete and submit two notarized Authorization and Release forms.
Request certified copies of transcripts from all undergraduate and graduate institutions and law schools you have attended to be sent directly to the Idaho State Bar.
Complete two Consent to Release Student Records forms for each law school you attended. The Bar will use these to obtain full records but still requires that you request the certified transcripts.
Mail the Reference Forms to your references, who must complete them and return them directly to the Idaho State Bar.
If you are a member of the bar in any other jurisdiction, request that a Certificate of Good Standing be sent directly from that bar to the Idaho State Bar.
Complete the Test Information Sheet.
Additionally, you must obtain a fingerprint card from the Idaho State Bar, and may request it online. Complete the card as indicated and return it with your application.
Enclose a self-addressed, stamped postcard (which will arrive with your fingerprint card from the bar). The Bar will use this to send to you to confirm receipt of your application materials.
Mail all materials (or have them mailed) to the Idaho State Bar, P.O. Box 895, 525 West Jefferson, Boise, ID 83702.
You will receive confirmation from the Bar and a status sheet listing any materials they still need from you.
Pass Rates
Results of the bar exam are released about two months post-exam. The Bar will also publish a list of those who have passed on its website.
The Idaho State Bar published a 68.7 overall pass rate for the July 2018 administration of the Idaho State Bar Exam.
Multistate Professional Responsibility Exam (MPRE)
Either prior to taking the Idaho State Bar Exam or within the next two administrations of the MPRE, you must take and pass the Multistate Professional Responsibility Examination (MPRE) with a scaled score of at least 85. or more. It is administered in Boise, Moscow, Caldwell, and Lewiston in March, August, and November.
Reciprocal Applicants
If you are already a licensed attorney in another jurisdiction, you may be admitted to the Idaho State Bar without taking the bar exam. You must meet the following requirements:
Be at least 18 years old
Be a lawful resident of the U.S.
Have a J.D. from an ABA-approved law school
Have demonstrated the essential requirements to practice law(listed above)
Have good moral character
Have passed the MPRE with a score of at least 85
Have passed the bar exam in the highest court in another jurisdiction and be admitted to their bar
That jurisdiction must also recognize Idaho licensed attorneys and bar members as reciprocal
Have been substantially engaged in practicing law for three of the past five years
Have not failed the Idaho bar exam in the past five years
Complete 15 hours of continuing legal education (CLE) within 6 months of admission to Idaho's bar
For more information, contact the Idaho State Bar.
Licensing and Admission to the Bar
Once you are notified of your passing score on the Idaho State Bar exam, you will also be instructed of the time and place of your admission ceremony. Within 12 months of admission to the bar of Idaho, you must complete a practical skills seminar.
Now that You've Been Admitted to the Idaho Bar
Well done! You are now a licensed lawyer and one of the 5076 active members of the Idaho State Bar! The Bar has many resources for attorneys who are just starting out in their practice in Idaho. This includes Casemaker, an Internet-based legal research library consisting of a searchable database of case law, statutes and regulations, that is free for all active Idaho lawyers.
<!- mfunc search_btn -> <!- /mfunc search_btn ->
The ISB has Practice Sections dedicated to various areas of legal practice, and you might wish to become a member of your corresponding section. Additionally, there are District Bar Associations of other lawyers practicing in your geographical area.
The ISB provides many benefits to its members. These include discounts for office supplies through Office Max, hotel discounts, discounted ABA publications, discounted car rentals, a health benefits program, and professional liability coverage. Contact (208) 334-4500 or isbwebsite@isb.idaho.govfor for more information on ISB's Member Services.
Legal specialty certification
The ISB has approved certain specialty certification agencies to provide specialty legal certification to Idaho attorneys. They include:
Requirements for maintaining license
As a member of the Idaho State Bar, you must complete 30 credits of continuing legal education (CLE) every three years to maintain your law license. At least two of these hours must be in legal ethics. CLE standards, course accreditation, and reporting information is available from the ISB.
Court Systems in Idaho
There are three levels to the Idaho Court System:
District Courts/Magistrate Courts – also known as trial courts:

Magistrate Division: Hears misdemeanors and civil cases involving a small amount of money; juvenile cases, family law cases, probate cases, and small claims cases. There are 83 Magistrate Judges throughout Idaho, with at least one in each county.
District Courts:  Hears felonies, civil disputes, and appeals from the Magistrate Division.  Seven judicial districts exist in Idaho, with 39 District Judges. The seven districts are:

First Judicial District: Benewah County, Bonner County, Boundary County, Kootenai County, Shoshone County
Second Judicial District: Clearwater County, Idaho County, Latah County, Lewis County, Nez Perce County
Third Judicial District: Adams County, Canyon County, Gem County, Owyhee County, Payette County, Washington County
Fourth Judicial District: Ada County, Boise County, Elmore County, Valley County
Fifth Judicial District: Blaine County, Camas County, Cassia County, Gooding County, Jerome County, Lincoln County, Minidoka County, Twin Falls County
Sixth Judicial District: Bannock County, Bear Lake County, Caribou County, Franklin County, Oneida County, Power County
Seventh Judicial District: Bingham County, Bonneville County, Butte County, Clark County, Custer County, Fremont County, Jefferson County, Lemhi County, Madison County,  Teton County

Court of Appeals – consists of a Chief Judge and two Associate Judges, and hears cases assigned to it by the Idaho Supreme Court
Idaho Supreme Court – The highest court in Idaho, it establishes statewide rules and policies for the operation of the entire court system. The Chief Justice and four Associate Justices on the Supreme Court are the final voice in the appeals from the District Court.
Elective membership organizations
Think about joining an elective professional membership association for attorneys in Idaho, such as: