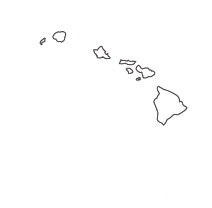 Steps to become a Lawyer/Attorney in Hawaii
Follow the step by step process or choose what situation that best describes you:
Law Careers in Hawaii
The American Bar Association reported in 2021 that there were 4,184 licensed lawyers in Hawaii. Twenty-seven percent of Hawaii's state bar members are solo practitioners. According to the Bureau of Labor Statistics, in 2022 lawyers in Hawaii averaged an annual salary of $106,520. Lawyers employed in the Kahului-Wailuku-Lahaina metropolitan statistical area averaged a slightly higher yearly salary of $116,440. Within the state, lawyers may specialize in and concentrate on a variety of legal practice areas, including admiralty law, alternative dispute resolution, child law, elder law, labor, and employment law, natural resources law, international law, and probate/estate law. The unique composition of Hawaii's population also affords Hawaiian lawyers the opportunity to practice in diverse areas such as native law, immigration law, and Asian-Pacific-American law. If you wish to have the opportunity to join this growing occupation in the state, read the following information about how to become a lawyer in Hawaii.
Get Your Hawaiian Undergraduate Pre-Law Major
The Hawaii Board of Bar Examiners does not require that you complete any specified pre-law school education. However, in order to be accepted into an American Bar Association (ABA)-approved law school, you must have at least a bachelor's degree.  The Hawaii Board of Bar Examiners does require that you graduate from an ABA-approved law school, so this means you must first have a bachelor's degree as your undergraduate pre-law education.
Accreditation
In order to be accepted into an ABA-approved law school, you must receive a minimum of a bachelor's degree from an accredited institution. Your school should be accredited by a regional or national agency recognized by and listed in the U.S. Department of Education database of accreditation.  
Requirements and Standards
You should take undergraduate coursework that challenges you if you wish to gain entrance into an ABA-approved law school after graduation. No courses, majors, or minors are spelled out that you must take, but you should take coursework that will challenge you and incorporate the following skills:
Problem-solving
Critical analysis
Reading comprehension
Writing skills
Oral communication skills
Listening skills
Organizational skills
Management skills
Promotion of justice
Public service
Degree Options
Certain undergraduate majors will prepare you more aptly for taking the Law School Admission Test and succeeding in law school. Successful majors and disciplines for pre-law students are usually culled from the fields of history, English, psychology, political science, sociology, and communications.
<!- mfunc feat_school ->
Featured Programs:
Sponsored School(s)
<!- /mfunc feat_school ->
Sponsored Listings
LSAT (Law School Admission Test) in Hawaii
All ABA-approved law schools require that you pass the LSAT, or Law School Admission Test, prior to acceptance. The six-hour-long test is given seven times annually at examination stations around the world.
How to prepare
The LSAT website provides a variety of free study resources, including sample questions, explanations of answers, and practice tests. If you would like to take a formal LSAT preparation course, choices in Hawaii include:
LSAT Exam Prep Courses in Hawaii:
Exam content
You will be faced with four sections of questions on the LSAT:
Logical Reasoning – There are two sections, each with about 25 questions. You will have 35 minutes to complete each section. The logical reasoning questions test your ability to discern an argument's main points, use logic to decipher abstract concepts, discover relevant information in a text, and analyze and evaluate arguments.
Analytical Reasoning – You will be presented with 25 questions and have 35 minutes to complete this section. The analytical reasoning section tests your ability to comprehend the effects of rules on decisions and outcomes, determine the relationships between concepts, analyze situations and draw conclusions based on guidelines, and apply logic to complex situations.
Reading Comprehension – This section will take 35 minutes to complete, and usually consists of about 27 questions. You will be presented with four sections, three of which have longer passages for you to read and one with a shorter passage. Your ability to draw inferences based on text, determine the main ideas of passages, find relevant information in a text, and understand dense, the scholarly text will be tested here.
Essay – This 35-minute section requires you to form an argument in writing based upon facts you are given, and to express ideas through writing. The essay section is not scored as part of your LSAT total score but will be sent to law schools to which you apply and reviewed by their admission personnel.
Application process
Applications to sit for the LSAT may be completed and filed online, where you may also pay the examination fee. The LSAT is offered on Mondays and Saturdays in June, July, September, October, November, January, February, March, and April. These test centers in Hawaii administer the LSAT:
University of Hawaii- Hilo
Hawaii Pacific University, Honolulu
University of Hawaii-Manoa, Honolulu
Brigham Young University- Hawaii, Laie
Kauai Community College, Lihue
Receiving Your Score
Your LSAT scores should arrive by postal mail about three weeks post-exam. The lowest possible LSAT score is 120, and the highest, 180. According to representatives of the University of Hawaii at Manoa William S. Richardson School of Law, the LSAT and your undergraduate grade point average (GPA) constitute about two-thirds of the admission decision. Most students admitted to this law school have an average LSAT score of 151.
Go to Law School in Hawaii
<!- mfunc search_btn -> <!- /mfunc search_btn ->
Application process
Passing the LSAT is the next milestone in your quest to become a Hawaii lawyer. You may now apply to the ABA-approved law school you choose anywhere in the United States (the Hawaii Board of Bar Examiners mandates that you must graduate from an ABA-approved law school anywhere in the U.S. – it need not be within Hawaii).
Credential Assembly Service
When applying to any ABA-accredited law school, you must use the Law School Admission Council's Credential Assembly Service (CAS). This handy service organizes all pertinent data, including your academic record, your LSAT score, and your letters of recommendation. It also helps you to access online law school applications for ABA-approved schools. You must have all institutions that you have attended up to this point send official transcripts to CAS.
After you apply to law schools, each school will submit a request for a copy of your Law School Report from CAS. This report will list a summary of your academic credits, copies of all your transcripts, yearly and cumulative GPA, overall grade distribution, the mean GPA of other students at your undergraduate institution, your percentile rank among those students, your LSAT scores, copy of your LSAT writing sample, and, if available, the mean LSAT score for students from your undergraduate school who took the LSAT.
Additionally, those writing your letters of recommendation need only send one original letter to CAS, who will distribute them to the law schools to which you apply. This makes the process easier for everyone involved.
The fee to use the CAS is $195, payable online through your LSAC account.
Accreditation
The Hawaii Board of Bar Examiners requires that you graduate from an ABA-approved law school prior to taking the Hawaii bar exam (unless you are exempt from this requirement and meet the years-of-practice requirement, explained later in this section). The LSAC Official Guide to ABA-Approved Law Schools provides a comprehensive list of ABA-accredited law schools across the United States.
ABA-Accredited Law Schools in Hawaii
Currently, one law school in Hawaii holds ABA-accreditation:
Course requirements
To earn your Juris Doctor (J.D.) degree in an ABA-approved law school in Hawaii, you must take the following courses/coursework areas:
Constitutional law
Civil law and procedure
Criminal justice
Contracts
Legal practice
Professional responsibility
Real property
Torts
Pro bono work
Clinical experience
The University of Hawai'i at Manoa-William S. Richardson School of Law requires that you complete 89 semester hours of credit in order to receive your J.D. degree.
Online Law Degrees
(For students who choose to focus on a subset of law other than an attorney.)
Internship
The University of Hawai'i at Manoa-William S. Richardson School of Law requires you to complete at least 60 hours of pro-bono legal work as well as complete at least one legal clinical experience accounting for at least two credit hours. Pro bono work is done under the supervision of a licensed lawyer and includes law-related work with any federal, state, or local government agency, court, or legislature, and working with indigent clients. Your internship/clinical experience may involve placement in an outside real-world legal setting such as a law office, agency, government office, or other settings in which you will interact with real clients. Skills that you may use and hone during these clinical experiences include handling depositions, negotiating for clients, giving oral arguments,  interviewing and counseling clients, drafting documents, investigating facts, performing alternative dispute resolution, motion practice, trial practice, and appellate practice.
Degree Programs
The Hawaii Board of Bar Examiners requires that you have a J.D. degree from an ABA-accredited law school to sit for the bar exam. However, other dual-degree options and concentrations are available that will increase your practice area as an attorney in Hawaii. These include:
J.D./M.B.A (Master of Business Administration)
J.D./M.S.W. (Master of Social Work)
J.D./M.P.H. (Master of Public Health)
Graduate certificates earned along with the J.D. degree may include (but are not limited to):

Accounting
Clinical psychology
Conflict resolution
International cultural studies
Public administration
Public policy
Southeast Asian studies
Urban and regional planning
Take the Hawaii State Bar Exam
Have you earned your undergraduate degree, passed the LSAT and earned your J.D. degree from an ABA-accredited law school? If so you are ready to apply to take the bar exam in Hawaii. The exam is offered in February and July. Applications to take the February exam must be received by November 1. Applications to take the July exam must be received by April 1.
Preparation
The National Conference of Bar Examiners website offers free study materials for the national portions of the Hawaii bar exam. These include the Multistate Essay Exam (MEE), Multistate Performance Test (MPT), and Multistate Bar Examination (MBE).  Other options for preparation for the Hawaii bar exam include:
Exam content
Taking the Hawaii bar exam is a two-day process. The first day, you will encounter the Multistate Essay Exam (MEE), Hawaii Legal Ethics Test and the Multistate Performance Test (MPT). The second day consists of the Multistate Bar Exam (MBE).
Subjects that may be covered in the Hawaii bar exam include:
Business associations
Conflicts of laws
Constitutional law
Contracts
Criminal law and procedure
Ethics
Evidence
Family law
Federal civil procedure
Torts
Real property
Trusts and estates
Uniform Commercial Code
Application Process
You may apply to take the Hawaii bar exam online through the Hawaii State Judiciary's eBar App System. If you prefer, you can print out and fill in the paper application. Follow the Hawaii Bar Application Instructions, making sure to download and print out any forms necessary and turn them back in as soon as possible. You may pay the exam fee online as well.
If you have any questions about the application, email baradmissions@courts.hawaii.gov or call (808) 539-4977.
Pass Rates
Ameribar.com has posted the following overall bar exam passing rates for Hawaii:
| | |
| --- | --- |
| July 2016 | 69% |
| February 2016 | 73% |
| July 2015 | 69% |
| February 2015 | 62% |
Multistate Professional Responsibility Exam (MPRE)
The Hawaii Board of Bar Examiners also requires that you pass the Multistate Professional Responsibility Examination (MPRE) with a scaled score of at least 85. The MPRE is administered at the University of Hawaii at Manoa in Honolulu in March, August, and November. Follow this link to register for the test and for more information on the MPRE.
Non-ABA-accredited Law School Graduates
If you graduated from a non-ABA-accredited law school and have passed the bar exam in another state, you may be eligible to take Hawaii's bar exam without any further legal education. This is only possible if you meet the years-of-practice rule: that is, if you have actively practiced law for five of the six years preceding your application to the Hawaii bar.
Foreign Law School graduates
If you graduated from a foreign law school, you are eligible to take the Hawaii bar exam if:
You have been admitted to practice and are in good standing before the highest court in the foreign country from which you graduated law school
English common law is the basis of jurisprudence in that country
English is the language of instruction and practice in the courts of that country
You have actively practiced for five of the past six years prior to filing the application for admission by examination.
Professionalism Course
You must also complete the Hawaii state bar's professionalism course by December 31 of the year after you are admitted to the state bar. Check the Hawaii State Bar Association website for details.
Licensing and Admission to the Bar
About ten to twelve weeks after taking the Hawaii bar exam, you will receive your scores in the mail. You will also receive instructions on when and where to report for your bar admission ceremony, in which you will take the oath of admission to the bar. The Bar will list you on its page of lawyers Authorized to Practice Law in Hawaii.
Now that You've Been Admitted to the Bar in Hawaii
Congratulations on your recent membership into the Hawaii State Bar Association! You should consult the important regulatory information for new lawyers on the Hawaii State Bar Association website under "New Admittees."
If you wish to join an existing legal practice in Hawaii, famous names in the state include Watanabe Ing LLP in Honolulu, Ashford & Wriston in Honolulu, Goodsill Anderson Quinn & Stifel in Honolulu, and Carlsmith Ball LLP in Honolulu.
Many government agencies exist across Hawaii that may also be in need of legal help. These include the Department of Justice in Honolulu, the Department of the Navy in Pearl Harbor, the National Guard in Hilo, the Department of the Army in Fort Shafter, and the U.S. Air Force in Honolulu.
Nonprofit and charitable organizations in Hawaii are also a great place to get your start in your legal career. These include the Legal Aid Society of Hawaii in Oahu, Big Island, Maui, Kauai, Molokai, and Lanai; the Native Hawaiian Legal Corporation in Honolulu; the Domestic Violence Action Center in Honolulu; the Hawaii Immigrant Justice Center in Honolulu; and the University of Hawaii Elder Law Program in Honolulu and Oahu.
The government of Hawaii's Department of Labor and Industrial Relations projects that about 120 new jobs for lawyers each year will become available in the state between 2016 and 2026.
Legal specialty certification
Private certification programs for lawyers who wish to specialize in certain areas are available in Hawaii. Specializations available include:
Business Bankruptcy
Civil Trial Advocacy
Consumer Bankruptcy
Creditors' Rights
Criminal Law Trial Advocacy
DUI Defense
Elder Law
Estate Planning Law
Family Law Trial Advocacy
Juvenile Law – Child Welfare
Legal Professional Liability
Medical Professional Liability
Social Security Disability
If you complete a specialty certification program accredited by the American Bar Association, the court will grant you a Hawaii Certificate of Specialization that must be renewed every five years. Contact the Office of the Administrative Director of the Courts at (808) 539-4900 for more information.
Requirements for maintaining license
In order to maintain your license to practice law in Hawaii, you must complete three hours of mandatory continuing legal education (MCLE) each year. You are encouraged, but not required, to complete nine additional hours of voluntary continuing legal education (VCLE) annually. Topics in which you may earn MCLE or VCLE include: Rules of Professional Conduct, legal ethics, law office management, client trust account administration, bias prevention and awareness, client and case management, and malpractice insurance and prevention. Contact the Hawaii State Bar Association for more information.
Court Systems in Hawaii
The Hawaii State Judiciary has three trial courts (Circuit, Family and District) and two appellate courts (Intermediate Court of Appeals and Hawaii Supreme Court). There are four circuits in which the trial courts operate:
First Circuit: Islands of Oahu
Second Circuit: Maui, Moloka`i, Lana`i, Kaho`olawe and Molokini.
Third Circuit: Island of Hawaii
Fifth Circuit: Islands of Kaua`i and Ni`ihau.
Responsibilities of the courts:
Elective membership organizations
Now that you are a member of the Hawaii Bar, think about joining another professional organization for attorneys in Hawaii, such as:
2022 US Bureau of Labor Statistics salary and employment figures for Lawyers reflect national data, not school-specific information. Conditions in your area may vary. Data accessed April 2023.