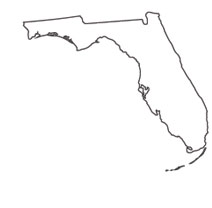 Steps to become a Lawyer/Attorney in Florida
Follow the step by step process or choose what situation that best describes you:
Florida Law Careers
The U.S. Bureau of Labor Statistics suggests that in 2022, lawyers in Florida averaged an annual salary of $135,840. The American Bar Association reported in 2021 there were 77,223 lawyers employed in Florida. According to U.S. News and World Report, Florida is home to four of the top-tier law schools in the country: the University of Florida Frederic G. Levin College of Law, the University of Miami, Stetson University, and Florida State University. Whether you graduate from one of these or another American Bar Association-accredited law school in Florida, your entrance into the Florida State Bar should be made much easier based upon the fact that a large majority of test takers of the most recent state bar examinations passed the exam on the first try. To learn how you can become a practicing lawyer in the Sunshine State, read on.
Florida Undergraduate Pre-Law Major
The Florida Board of Bar Examiners does not state requirements for undergraduate education in its bar admission rules, but it does state that you must graduate from an American Bar Association-accredited law school prior to taking the state's bar exam. In order to gain entrance to an ABA-approved law school, you must complete your undergraduate education and receive a minimum of a bachelor's degree, under ABA rules.
Accreditation
Your undergraduate college or university must be accredited by a national or regional accreditation agency recognized by the U.S. Department of Education. This is vital to your later admission to an ABA-accredited law school.
Requirements and Standards
The ABA notes that there is no one prescribed pathway for undergraduate education necessary to enter law school. However, they do make some recommendations on coursework you should take and the knowledge and skills you should have prior to applying to law school. The following skills and values are regarded by the ABA as crucial to success in law school, and should be honed during your undergraduate education:
Analysis and problem-solving skills
Oral communication
Good listening ability
Critical reading skills
Excellent writing skills
Research skills
Management skills
Task organization
Promotion of justice
Public service knowledge and skills
Degree Options
Once again, the ABA does not mandate majors that you must take in your undergraduate education. Law students come from all walks of life and may have degrees ranging from art to history. There are some undergraduate majors that are more conducive to later law school success, including: 
Business
Economics
Politics and government
Political science
History
Philosophy
English
Education
<!- mfunc feat_school ->
Featured Programs:
Sponsored School(s)
<!- /mfunc feat_school ->
Sponsored Listings
Pre-Law Advisor
Check with your undergraduate college/university to see if they have a pre-law advisor as a member of the faculty. This person can help you to make good choices when selecting undergraduate courses, and guide you along the way to preparing to enter law school.
LSAT (Law School Admission Test) in Florida
All ABA-accredited law schools require that you pass the LSAT, or Law School Admission Test, to gain admission. This standardized test lasts a half-day and is offered worldwide at various times throughout the year.
How to prepare
The LSAC (Law School Admission Council) provides free test prep materials to assist test takers in studying for the LSAT. You might also want to enroll in an LSAT preparation course or seminar in your area:
LSAT Exam Prep Courses in Florida:
Exam content
The following general content areas are tested when you take the LSAT:
Logical Reasoning: You will read short passages that present arguments, then answer questions based upon those passages. The questions test your ability to understand the point of the argument, follow a chain of reasoning, recognize an argument's weaknesses, and draw inferences from premises and evidence are given.
Reading Comprehension:  You will read four passages and answer about six questions per passage. The questions are designed to test your ability to comprehend the reading passage, define words based on context, make inferences, and recognize the passage's structure and organizational style.
 Analytical Reasoning: You will be presented with five logic puzzles and questions for each puzzle. A series of statements and requirements will be presented. You must make inferences from the information provided.
Experimental Section: This section is unscored, and consists of multiple-choice questions that are being tested for future LSAT exams. You will not know which section is the unscored, experimental section when you are taking the test, as it will resemble one of the scored sections.  
Writing Sample: While this section is also unscored, it is sent to each law school to which you apply.
Application process
Create an account at LSAC.org to register to take the LSAT. It is offered on Saturdays and Mondays in November, January and March. Not every testing center offers the test on every possible testing date during those months, however, so check with the center in which you are interested to make sure. Current LSAT testing centers in Florida are:
Florida Atlantic University, Boca Raton
Broward College, Coconut Creek
Broward College-Central Testing, Davie
Florida Atlantic University-Davie Campus, Davie
Bethune-Cookman University, Daytona Beach
Stetson University, Deland
Miami Dade College-West, Doral
Nova Southeastern University, Fort Lauderdale
Florida Gulf Coast University, Fort Myers
University of Florida, Gainesville
Miami Dade College-Hialeah Campus
Miami Dade College, Homestead
Florida Coastal School of Law, Jacksonville
Jacksonville University, Jacksonville
Florida Atlantic University – Jupiter
Florida Keys Community College, Key West
Florida Southern College, Lakeland
Florida Institute of Technology, Melbourne
Florida International University, Miami
Florida Memorial University, Miami Gardens
Miami Dade College-Medical Center Campus, Miami
Miami Dade College-North Campus, Miami
Miami Dade College-Wolfson Campus, Miami
Miami International University of Art and Design, Miami
Nova Southeastern University, Miami
Talmudic College of Florida, Miami Beach
Saint Thomas University School of Law, Miami Gardens
Barry University, Miami Shores
College of Central Florida, Ocala
Barry University Dwayne O. Andreas School of Law, Orlando
Florida A&M University College of Law, Orlando
University of Central Florida, Orlando
St. Johns River State College, Palatka
Gulf Coast State College, Panama City
University of West Florida, Pensacola
Keiser University – Port Saint Lucie
Thomas M. Cooley Law School-Tampa Bay, Riverview
Eckerd College, Saint Petersburg
University of South Florida-Saint Petersburg
Florida A&M University, Tallahassee
Florida State University, Tallahassee
University of South Florida, Tampa
Fees
You must pay a fee of $190 to the Law School Admission Council (LSAC) to take the LSAT, as of December 2018. This fee may be paid online by credit card through your LSAC account at the time of registration.
Day of the Exam
On exam day, you must take your admission ticket with you to the testing center. This ticket will either be mailed to you by the LSAC or printed by you when you register online. It will contain all pertinent test center information, address, reporting times and dates. Make sure to thoroughly read all five pages of your admission ticket. Plan to be at the testing center for seven hours.
Bring a government-issued ID with you to the testing center on test day. You must also attach a recent passport-type photo of your head and shoulders to your admission ticket and bring this along. You must have both the ID and photo with your admission ticket or you will not be permitted to take the LSAT.
Bring four sharpened number 2 pencils, as pencils and sharpeners are not provided at the testing center. The only other item you may bring into the testing room is a one-gallon size clear plastic Ziploc bag that you will store under your seat and have access to during the break. This bag may contain the following items only: your ID, wallet, keys, an analog (not digital) watch, medical or hygiene products, pencils (not mechanical), highlighter, erasers, pencil sharpener, tissues, and a beverage in plastic container or a juice box and snack. No aluminum cans will be allowed in the testing room. You must be able to fit all items inside the Ziploc bag and seal it.
Receiving Your Score
Your LSAT score will be emailed to you approximately three weeks after you take the test.
Go to Law School in Florida
<!- mfunc search_btn -> <!- /mfunc search_btn ->
Application process
Now that you have passed the LSAT, you are prepared to begin applying to ABA-approved law schools. Remember, under the rules of the Florida Board of Bar Examiners, you must attend an ABA-approved law school to gain admission to practice in the state. The LSAC provides a Credential Assembly Service and has your LSAT scores, so using this service is the best way to begin applying.
Credential Assembly Service
Most ABA-approved law schools require that you use LSAC's Credential Assembly Service when applying. Make sure to have transcripts from all institutions where you took coursework for credit (even if you did not receive a degree) mailed directly from that institution to LSAC.
The Credential Assembly Service also helps you gather recommendation letters and online evaluations necessary to apply to law schools. Simply give the LSAC names of people who have agreed to write recommendation letters and/or provide online evaluations, and they will collect these and collate them, sending the appropriate letters and evaluations to the schools you select.
The LSAC charges $195 to use their Credential Assembly Service. You may pay this fee online through your LSAC account. The fee covers the transcript summaries, law school reports, letter and evaluation processing, and electronic application processing for the ABA-approved law schools to which you choose to apply.
Accreditation
Under the rules of the Florida Board of Bar Examiners, you must graduate from an ABA-approved law school. This does not have to be within the state of Florida, but must be in the United States. There are over 200 law schools across the nation that are ABA-approved. The LSAC Official Guide to ABA-Approved Law Schools provides a complete listing of them. Approval methods for ABA-approved law schools are listed in the Standards and Rules of Procedure for Approval of Law Schools.
ABA-Accredited Law Schools in Florida
These Florida law schools hold ABA accreditation:
Course requirements
Degree programs in all ABA-approved law schools must include the following topics in its courses, under ABA Standards:
Substantial law
Legal analysis
Reasoning
Legal research
Problem-solving
Oral communication
Legal writing (including briefs, memorandums, letters, contracts)
Model Rules of Professional Conduct of the American Bar Association
Other necessary professional skills
Internships, live client, or real-life practice experiences. These may be clinical placements, fieldwork, pro bono work, mock trials, etc.  and your performance will be periodically evaluated by a faculty member as well as by an on-site supervisor
ABA standards dictate that you complete 58,000 minutes of instruction during law school. This is roughly equivalent to 83 semester hours of credit (129 quarter hours of credit). The ABA mandates that an academic year in law school must be at least 130 days long, over eight months. You must be enrolled in law school for a minimum of 24 months, and a maximum of 84 months, to earn your Juris Doctor (J.D.) degree.
Degree Programs
The Florida Board of Bar Examiners requires that you have a Juris Doctor (J.D.) degree of Bachelor of Laws (L.L.B.) degree prior to entrance to the state bar. (The L.L.B. degree is the foreign equivalent to the J.D. degree). Other unique degree options, programs, and certificates are available in Florida's ABA-approved schools, including:
Honors Certificate Program in Environmental Law– Barry University Dwayne O. Andreas School of Law
J.D/Master of Business Administration Dual Degree Program – Florida Coastal School of Law
J.D/Master of Public Policy Dual Degree Program – Florida Coastal School of Law
S.J. D. (Doctor of Judicial Science) Program in Taxation– University of Florida Fredric G. Levin College of Law
L.L.M. in International Taxation- University of Florida Fredric G. Levin College of Law
L.L.M. in U.S. Law – University of Florida Fredric G. Levin College of Law
Environmental & Natural Resources Law Certificate– Florida International University College of Law
J.D./M.A.L.A.C.S. (Dual Degree- J.D. and Masters of Latin American & Caribbean Studies)-Florida International University College of Law
J.D./Master of Social Work dual degree program – Florida International University College of Law
J.D./M.I.B. (Master of International Business) – Florida International University College of Law
Registration with the Florida Board of Bar Examiners
The Florida Board of Bar Examiners Law encourages students to register with the Board during their first year of law school. You may file as a First Year Student online at the board's website and pay the filing fee at this time. The Board will conduct a character and fitness investigation as well. When it comes time to take the bar exam, the Student Registration must be converted into a Bar Application by filing a Conversion Form online. This should be filed at the beginning of your last year in law school, to make sure that the Board completes its character and fitness investigation before you take the Bar exam.
Online Law Degrees
(For students who choose to focus on a subset of law other than an attorney.)
Take the Florida State Bar Exam
Once you have received your J.D. degree (or if you are still enrolled in law school but will receive your degree prior to taking the exam), you may apply to sit for the Florida General Bar Exam.
Provide proof that you have practiced law for at least 10 years in another state or US territory/possession and have been in good standing in that jurisdiction's bar
Provide a representative work product showing a compilation of your previous experience and practice. This must include samples of the quality of your work, including pleadings, briefs, legal memoranda, contracts, or other working papers that illustrate your expertise and academic and legal training. The work sample must come from the last 10 years of your legal practice.
Preparation
The Florida Board of Bar Examiners provides a free study guide for Part A of the bar exam, testing your knowledge of general law and Florida law. Part B of the exam, the Multistate Bar Exam, may be studied using guides provided by the National Conference of Bar Examiners (NCBEX). There are also study guides based on past bar exams provided by the Florida Board of Bar Examiners.
You must also take the Multistate Professional Responsibility Exam (MPRE) and may receive study aids at the NCBEX website.
If you prefer to take Florida Bar Exam preparation courses, resources are available at:
Florida Bar Review Course, AmeriBar (home study)
Florida Bar Review Course, Barbri, Naples, Orlando, Riverview, Jacksonville, Miami, St Petersburg, Gainesville, Coral Gables
Exam content
The Florida Bar Exam consists of the General Bar Exam, Parts A and B (the Multistate Bar Exam (MBE), of the National Conference of Bar Examiners). Part A is three hours of essay questions and three hours of multiple-choice questions. Subjects that you may expect to find on this part of the exam are:
Florida Rules of Civil and Criminal Procedure
Florida Rules of Judicial Administration
Florida Constitutional law
Federal Constitutional law
Trusts
Professionalism
Business entities
Real Property
Torts
Evidence
Administration of estates
Wills
Contracts
Criminal law
Constitutional criminal procedure
Juvenile delinquency
Family law and dependency
Rules Regulating the Florida Bar, Chapters 4 & 5
Articles 3 & 9 of Uniform Commercial Code
Part B of the exam consists of taking the Multistate Bar Exam (MBE), of the National Conference of Bar Examiners. This is a six-hour long exam consisting of 200 multiple-choice questions covering Constitutional law, contracts, criminal law and procedure, evidence, real property, and torts.
Additionally, you must pass the Multistate Professional Responsibility Exam (MPRE). This may be taken at the same time as the bar exam or while you are still in law school, but must be passed within 25 months of taking the Bar exam. It is a two-hour test of 60 multiple choice questions, given three times a year nationwide at test centers.
Application Process
The Florida Bar Exam is being offered at the Tampa Convention Center, 333 South Franklin St., Tampa for the February 2019 and July 2019 administrations. Tests are given over a two-day period. You must register online to sit for the exam. This handy checklist produced by the Florida Board of Bar Examiners can assist you in applying to take the exam. It tells you what information you must gather, what must be mailed and to whom, and deadlines to do so. The mailing address for the Florida Board of Bar Examiners is 1891 Eider Court, Tallahassee, FL 32399-1750. Information on submitting the required fingerprints is also included.
Fees and Deadlines
You must pay your fee of $600 to the Florida Board of Bar Examiners to sit for the bar exam by check or money order only (if you have previously filed as a Law Student Registrant). If this is your first time filing a Bar Application in Florida, the fee is $1000. The Board does not accept credit card payments.  If you plan to sit for the July exam and do not have your application in until between May 2 and June 1 (or Nov 15 and Dec 15 for the February administration), a $325 late fee is added. If you do not have your application in by June 2 to June 15 (Jan 2 to Jan 15 for the Feb administration), a $625 late fee is added.
Pass Rates
According to the Florida Board of Bar Examiners, the overall pass rate for the July 2018 bar exam was 67.2 percent. For the February 2018 administration of the exam, the overall pass rate was 57.9 percent.
Licensing and Admission to the Bar
After you take the Bar exam, results will be posted on the Supreme Court of Florida's website for 30 days. You must know your applicant file number to find your pass/fail grades. You will not be notified by phone if you call the Board regarding your exam score. On the same day as grades are posted on the Internet, the Court will mail your grades directly to you via postal mail. The time and place of your Bar admission ceremony will also be included.
What's Next After Passing the Florida Bar?
Congratulations on your admission to the Florida Bar, one of the leading organized bars in the United States! As a new attorney, the Bar can assist you in starting out in your legal career in a variety of ways. One of the most valuable resources offered is the Florida Lawyers Assistance Service which can greatly assist you when you are starting out as a young lawyer in Florida.
If you decide that you would rather work for an established legal firm, there are plenty to go around. Some of the more famous names in Florida's legal system include Greenberg Traurig in Miami; Holland & Knight in Miami; Akerman LLP in Miami; Wilson Elser in West Palm Beach; and the Law Offices of Daniel C. Consuegra, P.C. in Tampa.
<!- mfunc search_btn -> <!- /mfunc search_btn ->
Companies and corporations, both for profit and non-profit, across Florida are also in need of lawyers. Some of the bigger players in this area include the Nemours Foundation in Jacksonville; the corporate headquarters of Publix Super Markets in Lakeland; Tech Data Corporation in Clearwater; Office Depot's corporate headquarters in Boca Raton; and the corporate office of Fidelity National Financial in Jacksonville.
Legal specialty certification
The Florida Bar certifies lawyers who are qualified to practice in certain specialties. About 4500 lawyers who are members of the state's bar, or 7 percent of all lawyers practicing in the state, are board-certified to practice in one of 24 specialties. You must meet requirements, including five years of law practice, prior to applying for certification. Specialties in which you may become certified in Florida include:
Admiralty & maritime law
Adoption law
Antitrust & trade regulation law
Appellate practice
Aviation law
Business litigation
City, county & local government law
Civil trial
Construction law
Criminal appellate
Criminal trial
Education law
Elder law
Health law
Immigration & nationality
Intellectual property law
International law
Labor & employment law
Marital & family law
Real estate
State & federal government & administrative practice
Tax law
Wills, trusts & estates
Workers' compensation
Requirements for maintaining license
In order to maintain your legal license in Florida, you must fulfill 30 hours of Mandatory Continuing Legal Education (MCLE) every three years. Five of these hours must be in the area of ethics, professionalism, mental illness awareness, or substance abuse. You will be assigned your own, individual three-year reporting cycle when you receive your legal license. You must post your MCLE credits online in the Florida Bar system.
Court Systems in Florida
The Florida State Court System consists of County Courts, Circuit Courts, District Courts of Appeal and the State Supreme Court.
Florida's County Courts are Courts of Limited Jurisdiction. They handle misdemeanors, small claims under $5000, civil cases under $15,000, and traffic violations.
Florida's Circuit Courts are Courts of General Jurisdiction. There are 20 circuit courts that handle felonies, family law cases, civil cases over $15,000, probate/guardianship/mental health issues, juvenile delinquency and dependency, and appeals from the County Court.
Florida's five District Courts of Appeal are the state's intermediate appellate courts. They handle matters that are not directly appealable to the Supreme Court. They are located in Lakeland, Tallahassee, Tampa, West Palm Beach, and Daytona Beach.
Florida's Supreme Court is the Court of Last Resort in the state. It handles Constitutional questions, capital cases, bond violations, public utility cases, express validity of statutes, certified questions and decisions affecting constitutional/statutory officers. It is located in Tallahassee.
Elective membership organizations
Ponder becoming a member of one of the following elective organizations for attorneys in Florida:
2022 US Bureau of Labor Statistics salary and employment figures for Lawyers reflect national data, not school-specific information. Conditions in your area may vary. Data accessed April 2023.