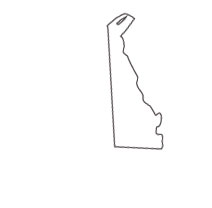 Delaware Steps to become a Lawyer/Attorney
Follow the step by step process or choose what situation that best describes you:
Delaware Lawyer Career Information
The American Bar Association reports that 3,058 lawyers practiced in the state of Delaware in 2021. The U.S. Department of Labor's Bureau of Labor Statistics notes that Delaware had the third-highest concentration of attorneys of any state that year, as well as the fifth-highest salary for attorneys in any state. The average lawyer in Delaware made a mean annual wage of $157,610. The Delaware State Bar Association is divided into sections according to the types of law practiced in the state. These include alternative dispute resolution, bankruptcy law, commercial law, corporate counsel, corporation law, criminal defense law, e-discovery, and technology law, elder law, environmental law, estates and trusts, family law, government, and consumer law, health law, intellectual property, international law, labor and employment law, litigation, real and personal property, social security disability, taxation, torts and insurance practice, and worker's compensation.  If you would like to become a practicing attorney and a member of the Delaware Bar, follow the steps outlined below.
Get your Undergraduate Pre-Law Education in Delaware
The Board of Bar Examiners of the Supreme Court of Delaware, more commonly known as the Delaware Board of Bar Examiners, requires that you obtain at least a bachelor's degree prior to taking the Law School Admission Test (LSAT) and applying for admission to an American Bar Association-approved law school.
Accreditation
In order to be accepted into an ABA-approved law school, your undergraduate college or university must be accredited by a national or regional accreditation agency recognized by the U.S. Department of Education.
Requirements and Standards
Delaware ABA-accredited law schools do not set any major or course requirements for undergraduate pre-law education, beyond the requirement that you obtain a minimum of a bachelor's degree. Some basic skills should be honed during your undergraduate studies to provide you with a solid foundation to begin law school. These include:
Problem-solving and analytical skills
Writing skills
Critical reading skills
Listening abilities
Oral communication skills
Research skills
Management skills
Organizational  skills
Ideas and methods to promote justice
Public service skills
Degree Options
The American Bar Association and the Delaware Board of Bar Examiners both mandate that you have at least a minimum of a bachelor's degree prior to entering an ABA-accredited law school, but no majors or fields are specified. There are some majors that are more helpful than others are to a law student, however. Consider the following fields as being appropriate pre-law majors:
Political science
Politics and government
Economics
Business
Sociology
Psychology
<!- mfunc feat_school ->
Featured Programs:
Sponsored School(s)
<!- /mfunc feat_school ->
Sponsored Listings
Pre-Law Advisor
Your undergraduate college or university might have a pre-law advisor on staff. If so, take advantage of this valuable resource. Your pre-law advisor will help to prepare you to be ready to take the LSAT and enter law school by recommending the best courses to complete and majors and minors to undertake.
LSAT (Law School Admission Test) in Delaware
The Delaware Board of Bar Examiners requires that you graduate from an ABA-approved law school before becoming a member of the Bar and being allowed to legally practice as an attorney in the state. All ABA-approved law schools require that you pass the LSAT, or Law School Admission Test, prior to gaining admission to law school.
How to prepare
The LSAT takes a half-day to complete and is offered four times yearly at testing locations worldwide. Much of what you will be tested on when taking the LSAT consists of common-sense problem solving and analysis skills. There are ways to prepare for the LSAT, however, including using some free sample questions, practice tests, and materials offered on the LSAT website. The website LSAT Exam Sample Tests also offer some valuable practice tests. Many institutions and organizations throughout Delaware also offer, for a fee, LSAT exam preparation courses, workshops, and seminars.
LSAT Exam Prep Resources in Delaware:
Exam content
Three crucial skills that are the backbone of any lawyer's success are measured when you take the LSAT. They include:
Reading Comprehension – You must read a selection and answer questions on that selection. Information that may be asked of you includes the main idea of the selection, author's purpose in writing the selection, principles of the selection, analogies to arguments found in the selection, and how to apply information found in the selection to a new context.
Analytical Reasoning – You must read passages and answer sets of questions about each passage. Deductive reasoning skills tested here include comprehension of basic relationships and their structure, reasoning with conditional statements, making inferences, and recognizing when two statements are logically equivalent.
Logical Reasoning – You must read a passage and answer a few questions about the passage. Skills tested here include recognizing parts of an argument and how they relate, drawing well-supported conclusions, reasoning by analogy, and identifying flaws in arguments.
Application process
Applications to sit for the LSAT are accepted online. The LSAT is given in the United States on Mondays and Saturdays in June, July, September, November, January, and March. The application deadline is 30 to 40 days prior to the test date. Not all testing sites administer the LSAT on each date, so make sure to plan ahead. LSAT testing centers in Delaware include:
Delaware State University, 1200 N. Dupont Highway, Dover, DE 19901
University of Delaware, Career Services Center, 401 Academy St, Newark, DE 19716
Fees
The fee to sit for the LSAT in April 2012 is $190. You may pay this fee online via credit card.
Receiving Your Score
The LSAC will email your LSAT score to you about three weeks post-exam (if you have an account at LSAC.org, which you should from registering online). Those who do not have an LSAC.org account will receive their scores by mail about four weeks after taking the exam. The lowest possible LSAT score is 120, and the highest possible LSAT score is 180.
If, after taking the LSAT you wish to cancel your score, this may be done beginning the day after the test to six calendar days after the test. You must log into your LSAC.org account to cancel your score during this time period.
Limitations
You may take the LSAT a maximum of three times in two years. This applies even if you cancel your LSAT score and it is not reported to the LSAC.
Find a Law School in Delaware
<!- mfunc search_btn -> <!- /mfunc search_btn ->
Application process
Once you have passed the LSAT, you are ready to take the next step in your quest to become a Delaware lawyer. In order to become a member of the Delaware Bar, you must graduate with your J.D. degree from an ABA-approved law school. The LSAC has an application service in which they will help organize your credentials and apply to ABA-approved law schools you wish to attend. Make sure of your prospective law school's admission requirements.
Credential Assembly Service
ABA-approved law schools require that you take advantage of LSAC's Credential Assembly Service. You must have already passed the LSAT and created an online account at LSAC.org in order to utilize this valuable service. Once you are ready, complete these steps:
Transcripts: Because LSAC will apply to law schools for you, the LSAC's Credential Assembly Service will instruct you in asking all institutions that you have attended up to now to mail official transcripts directly to them. The LSAC will not accept transcripts sent by prospective law school students – they must come directly from your institution. Any institution where you received credit must send transcripts to LSAC. These may include:

Community colleges
Undergraduate colleges and universities
Graduate colleges and universities
Medical, law, and/or professional institutions
Colleges/universities where you took evening or summer courses
Colleges/universities where you took courses but did not receive a degree
Colleges/universities where you took college-level courses while a high school student
Colleges/universities that sponsored you while you completed study overseas
International colleges or universities
If your degree if from an institution in another country (not including Canada or U.S. territories), you will be instructed where to send transcripts.

Letters of Recommendation and Evaluation Services: The LSAC will help compile and organize these for you. You must print recommendation forms from the LSAC website and give them to your recommenders, who will send them to LSAC. You must also submit your requests for evaluations online through the LSAC (who will contact your evaluators for you and obtain evaluations online).  Each school may have its own additional instructions, which you must follow as well. Information you must provide to the LSAC includes:

Names and contact information of your references/evaluators
Number of letters expected from each reference/evaluator and content in each
Which law schools you wish to apply to and which letters you wish sent to each school

Fee: The Credential Assembly Service costs $195, which pays for transcript summaries, creating law school reports, recommendation letter processing, evaluation processing, and submitting your application to ABA-approved law schools electronically. You may pay this fee online through your LSAC account. 
Accreditation
Under the rules of the Delaware Board of Bar Examiners, you must graduate from any ABA-accredited law school in the United States. This school does not need to be located in Delaware. There are presently over 200 schools on the list of the ABA-LSAC Official Guide to ABA-Approved Law Schools. Methods that the ABA uses to approve each law school are listed under Standards and Rules of Procedure for Approval of Law Schools.
ABA-Accredited Law Schools in Delaware
Just one Delaware law school currently holds the distinction of being ABA-accredited:
Course requirements
Under ABA Standards Chapter 3, your law school must require courses in these areas:
Substantive law
Reasoning and legal analysis
Problem-solving
Legal research
Oral communication
Legal writing
Model Rules of Professional Conduct of the American Bar Association
The legal profession's history, responsibilities, and goals
Other necessary professional skills
Clinical field placements, externships, and pro-bono work or other live client interactions
The ABA mandates that one year in law school must be at least 130 days long over at least eight calendar months.
ABA rules specify that you complete 83 semester hours (129 quarter hours) of college credit in law school. This breaks down into 58,000 minutes of class time, with 45,000 of those minutes consisting of didactic courses taken at your law school.
Additionally, if you are taking more than 12 class hours per week, you are not allowed to be employed for over 20 hours per week under ABA rules.
The ABA acknowledges that it must take you at least 24 months to earn your J.D. degree but states that may not take you longer than 84 months to attain this law degree.
Online Law Degrees
(For students who choose to focus on a subset of law other than an attorney.)
Externship
An externship is a necessary and vital part of your law school experience. You must have finished at least one year of your law school's J.D. program prior to beginning an externship. You will not be paid during this externship, which may occur in any legal setting. You will be evaluated by a member of your law school's faculty who will conduct on-site visits during your externship. Other opportunities for you to practice your legal skills may be offered by your law school, including clinics on various types of law (such as environmental law, criminal defense, and Veterans' Affairs), and pro bono volunteer activities in the public interest and/or governmental agencies.
Clerkship
In addition to the externship required by your school, the Delaware Bar requires you to complete a five-month Clerkship prior to applying for Bar admission. This should consist of 21 40-hour workweeks, and may be in the areas of:
Law office/legal department, under supervision of an attorney who has been a member of the Bar for at least five years
Law clerk, working for a justice or judge of the United States or Delaware residing in Delaware
Public office (including the Department of Justice of the State of Delaware, the Office of the Public Defender of the State of Delaware, the Office of the United States Attorney for the District of Delaware, the Office of the City Solicitor of the City of Wilmington, the Office of Community Legal Aid Society, Inc., the Office of Delaware Volunteer Legal Services, Inc. or in the office of a related organization approved by the Board
Degree Programs
You must receive a Juris Doctor (J.D.) degree to be admitted to the Delaware Bar. Some law schools provide specialty education in special concentrations, such as government, health law, advocacy, technology, business organizations, environmental law, and criminal law. Your law school may also offer joint degree programs, combining your J.D. degree with another degree. These may include:
J.D./MBA – Juris Doctor combined with a Master's in Business Administration – especially helpful if you plan to practice business or corporate law
J.D./Psy.D – Juris Doctor combined with a doctoral degree in Clinical Psychology – helpful if you wish to specialize in trial competence, child custody, malpractice, and the insanity defense
J.D./MPH – Juris Doctor combined with a Master's in Public Health – helpful if you plan to work as legal counsel to a medical or pharmaceutical organization
J.D./MSLS – Juris Doctor combined with a Master's in Library Science – helps to prepare you for a career as a law librarian
J.D./MMP-Juris Doctor combined with a Master's in Marine Policy – helpful if you plan to work on marine policy issues in the law
Law schools also commonly offer the following degrees if you do not plan to practice as a lawyer:
Non-J.D. Programs:
Masters of Jurisprudence in Health Law
Master of Laws in Corporate Law and Finance
Master of Laws in Health Law
Master of Jurisprudence Master of Public Health
If you already have your J.D. but wish to further your law education, the following degrees might be for you:
Doctor of Laws in Health Law
Doctor of Judicial Science in Health Law
Take the Delaware State Bar Exam and Become an Attorney
Once you have graduated with your J.D. degree from a law school approved by the ABA, have reached the age of 21, and have met additional requirements (see below), you are ready to apply to take the Delaware Bar Exam.  It is offered once a year (usually in July), over a two and one-half day period.
Preparation
Just as it was important to prepare for the LSAT, it is vital to have excellent preparation for the Delaware Bar Exam. Bar exam prep courses and resources in Delaware include:
Exam content
You will take the Delaware Bar Exam in five three-hour segments over two and one-half days. Previous bar exam questions may be viewed here. The exam is in three parts:
Essay
The first day you must answer eight Delaware essay questions. Subjects may include:
Corporations
Agencies
Wills
State and federal procedure
Trusts
Partnerships
Equity
Criminal law and procedure
Delaware  Criminal Code
Uniform Commercial Code (UCC)'
Contracts/sales
Constitutional law
Evidence
Real property
Torts
On the second day, you will answer two questions from the MPT (Multistate Performance Test), developed by the National Conference of Bar Examiners (NCBEX). These questions are each 90 minutes in duration and each includes a file and a library. You may be asked to prepare any of the following:
Client letter
Legal brief
Closing argument
Memorandum
Contract provision
Settlement proposal
Plan for discovery
Plan for witness examination
You will also complete 200 multiple-choice questions from the MBE (Multistate Bar Examination), developed by the NCBEX. Subjects that may be included are:
Torts
Evidence
Real property
Contracts and sales
Criminal law and procedure
Constitutional law
Application Process
You must file your Delaware Bar Application online with the Delaware Board of Bar Examiners. Provide all personal, educational, experiential, and other information requested. In addition:

Upload a passport-type photo of yourself no more than 30 days old and submit with your electronic application
The following documents must be tabbed as listed and submitted within 10 days of filing your electronic application (with the exception of your final law school transcript and preceptor certificate – see below):

Tab 1: Printed copy of your electronically filed Bar Application
Tab 2: Executed signature page of the application
Tab 3: Executed application releases
Tab 4: Two passport photos
Tab 5: Official college transcripts
Tab 6: Official or interim Law School transcript (if interim, must file final transcript by July 1)
Tab 7: Law school application
Tab 8: Good Standing certificates if you are licensed in other jurisdictions
Tab 9: Bar application from other states in which you are licensed
Tab 10: Application for Special Accommodations, if necessary
Tab 11: Preceptor Certificate (file by July 1 if not complete at the time of application submittal)(must be completed by a member of the Delaware Bar for at least 10 years who has agreed to mentor you, provide training, and report on your character and fitness to the Board). You must have served at least a 5-month Clerkship under your Preceptor or another five-year member of the bar as stated in Step 3 above) doing practical legal work in Delaware
Tab 12: Form 17 Divorce documents (if you have been involved in divorce proceedings in court)
Tab 13: Form 17 and 19 Litigation documents (if you have ever been involved in any types of litigation )
Tab 14: Copies of Form A reference letters mailed (must mail a Form A to each employer you have had since age 18 or within the past 10 years. These employers must complete Form A to verify your employment and return them to the Delaware Board of Bar Examiners)
Tab 15: Miscellaneous forms and associated required documents

Criminal Background Check: A complete criminal history record must be obtained on all who apply to the Delaware Bar. You must undergo checks with the Delaware State Bureau of Investigation and the Federal Bureau of Investigation. Instructions for fingerprinting and completing this requirement may be found here.
As part of the Board's Character and Fitness Investigation, they will require a personal interview with you.
Filing deadlines and fees: Your bar exam application must be filed no later than May 1 of the year in which you plan to take the exam in July. Fees must be paid online and are as follows:

If you are not admitted to practice in another jurisdiction and file before April 1, the fee is $700
 If you are not admitted to practice in another jurisdiction and file after April 1 but before May 1, the fee is $1400
If you are already admitted to practice in another jurisdiction and file before April 1, the fee is $800
If you are already admitted to practice in another jurisdiction and file after April 1 but before May 1, the fee is $1600
Also make sure to have your final law school transcript and Preceptor's Certificate to the Board by July 1.
Mail all documents and materials to: Board of Bar Examiners of the Supreme Court of Delaware, Carvel State Office Building, 820 North French Street, 11th Floor, Wilmington, DE 19801-3545
Pass Rates
According to the Delaware Board of Bar Examiners, the 2017 pass rate for first-time bar exam takers was 76%. The Board maintains a list of passing applicants for the past two years here.
Multistate Professional Responsibility Exam (MPRE)
Once you have passed the Delaware Bar Exam, you have four years to pass the Multistate Professional Responsibility Exam (MPRE), administered by the National Conference of Bar Examiners. This exam, which costs $125 to take, is just over two hours long and consists of 60 multiple-choice questions (50 of which are scored and 10 of which are not scored). It is to measure your knowledge of the professional conduct of lawyers as stated by the American Bar Association. The MPRE is offered three times per year, in March, August, and November in more than 200 test centers across the United States. Check the MPRE Subject Matter Outline for more information. Available test centers will be listed in your MPRE account after you begin the registration process to take the exam.
Bridge the Gap Pre-Admission Conference
Prior to admission to the Bar, you must attend the Delaware Supreme Court's mandatory two-day Pre-Admission Conference. More information is available from the Board by phoning (302) 651-3939.
Licensing and Admission to the Bar
You must be admitted to the Bar no later than December 31 of the year after you pass the Delaware Bar Exam. All requirements for Bar admission other than passing the exam must be fulfilled by this time. Once admitted, you must recite the Oath of Office in any open court during any session of court or in any judges' chambers. The Oath is as follows: "I (state your name) do solemnly swear (or affirm) that I will support the Constitution of the United States and the Constitution of the State of Delaware; that I will behave myself in the office of an Attorney within the Courts according to the best of my learning and ability and with all good fidelity as well to the Court as to the client; that I will use no falsehood nor delay any person's cause through lucre or malice."
What's Next After You Pass the Delaware Bar?
Congratulations on your recent admission to the Bar in Delaware! Now you must decide where to practice. Should you join a large firm, a smaller firm, or set out on your own in a solo practice?
Setting up a solo law practice can seem like a huge undertaking, especially for a newly admitted lawyer. Not only do you have to draw up your own marketing strategy to obtain business, you must create your business plan, find a backup attorney to cover for you when you are not available, secure administrative support, find necessary professionals like accountants and information technology specialists, set up your banking accounts – the list goes on and on.
Perhaps you wish to set up a joint venture or partnership with a fellow attorney. Many of the same decisions must be made as one would make in setting up a solo practice, plus you must decide on things such as division of profits, appointment of losses, and requirements for contributions to the practice.
<!- mfunc search_btn -> <!- /mfunc search_btn ->
If you opt to practice with a larger legal firm in Delaware, there are many from which to choose. Some of the more popular firms across the state include corporate law firms Saul Ewing LLP in Wilmington and Duane Morris LLP in Wilmington; full-service law firm Hudson, Jones Jaywork and Fisher in Georgetown, Rehoboth and Dover; environmental law firm Parkowski, Guerke & Swayze, P.A. in Dover, Wilmington and Georgetown; and trust attorneys the Williams Law Firm, P.A. in Wilmington.
Corporations need lawyers as well. Over sixty-six percent of all Fortune 500 companies are incorporated in Delaware and becoming legal counsel for one of them can be quite the accomplishment for a new attorney. Examples include: chemical and pharmaceutical giant DuPont in Wilmington and asset management company Navient Corporation in Wilmington. 
The Delaware Department of Labor predicts about 170 job openings per year from 2016 to 2026 for lawyers across the state.
Legal specialty certification
If you choose to specialize in a legal area, you may seek certification through the National Board of Trial Advocacy. Areas of specialization available through this organization include civil trial law, criminal trial law, family trial law, truck accident law, civil practice, and social security disability law.
Requirements for maintaining license
To maintain your legal license in Delaware, you must complete 24 hours of instruction in approved continuing legal education activities every two years. At least four hours must be from an Enhanced Ethics program. The provider maintains records of your continuing legal education. Accreditation standards and more information on continuing legal education for Delaware lawyers may be found here. Opportunities for continuing legal education are also provided by the Delaware State Bar Association.
Court Systems in Delaware
The Delaware Judiciary is made up of the Supreme Court, the Court of Chancery, the Superior Court, the Family Court, the Court of Common Pleas, and the Justice of the Peace Court.
Elective membership organizations
Members of the Delaware Bar might also consider joining the following elective professional membership organizations for attorneys in Delaware:
2022 US Bureau of Labor Statistics salary and employment figures for Lawyers reflect national data, not school-specific information. Conditions in your area may vary. Data accessed April 2023.