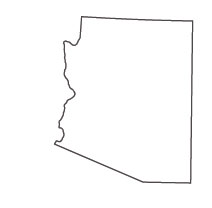 Steps to become a Lawyer/Attorney in Arizona
Follow the step by step process or choose what situation that best describes you:
Law Careers in Arizona
According to the Arizona State Bar Association's 2021 Annual Report, the total number of bar members in Arizona that year was 15,688. The Bureau of Labor Statistics of the U.S. Department of Labor quoted the average lawyer's salary in Arizona that year at $126,600. Lawyers in Maricopa County (the Phoenix-Mesa-Glendale metropolitan area) averaged a yearly salary of $131,160; while those working in the Pima County area (Tucson metropolitan area) earned an average of $116,560 a year. If you would like to learn how to become a member of Arizona's state bar and be eligible to practice law in Arizona, the following steps should help you to achieve this goal.
Complete Your Arizona Undergraduate Pre-Law Schooling
The State Bar of Arizona does not require nor specify any pre-legal education for its members. However, it does require members to be graduates of law schools approved by the American Bar Association (ABA). ABA-approved law schools typically require applicants to have a minimum of a bachelor's degree.
Accreditation
Your undergraduate college or university must be accredited by a national or regional accreditation agency recognized by the U.S. Department of Education. ABA-approved law schools demand that your undergraduate degree comes from such an accredited institution.
Requirements and Standards
Because schools do not have a major called "Pre-Law," there is not a standardized major or course of study that you should take to prepare for law school. You should take courses that personally interest you, improve your analytical ability, and help to hone your oral communication and writing skills. Coursework that you should take as a pre-law student includes political science, government, philosophy, mathematics, English, computers, and human behavior.
Degree Options
Degrees are not pre-set for pre-law majors. The minimum degree you must have for entrance into an ABA-approved law school is a bachelor's degree. The following undergraduate majors have been shown to help students the most when applying to law school:
Political Science
Government
Philosophy
<!- mfunc feat_school ->
Featured Programs:
Sponsored School(s)
<!- /mfunc feat_school ->
Sponsored Listings
Pre-Law Advisor
Your undergraduate college or university may offer a pre-law advisor or pre-law department. Their purpose is to advise students who plan to attend law school after graduation on choosing coursework, majors, and minors to help them achieve those goals.
Take the LSAT (Law School Admission Test) in Arizona
All ABA-approved law schools insist upon applicants passing the LSAT, or Law School Admission Test. This is the next step in your quest to become an Arizona lawyer. You must sign up to take the LSAT, which is offered by the Law School Admission Council (LSAC) four times yearly and usually takes about three and a half hours to complete.
How to prepare
Materials provided free of charge on the LSAT website can help you to prepare to take this standardized test that is so important in your law school endeavors. Additionally, there are preparation courses offered in Arizona for a fee, including:
LSAT Exam Prep Courses in Arizona:
Exam content
There are five sections of multiple-choice questions on the LSAT, as well as a 30-minute writing sample. You are given 35 minutes to complete each multiple-choice section. On the LSAT, you will encounter three different kinds of questions:
Reading Comprehension — You will read about four passages and answer approximately eight questions on each passage, based upon your comprehension and understanding of the passage.
Analytical Reasoning — Some students call this section Logic Games. There are about 24 of these questions arranged into four sets of analytical problems that you must answer.
Logical Thinking — You will complete about 25 questions in this section, testing your ability to perform logical reading and deductions. One section of the LSAT will not be scored, but you will not know which section this is. In addition, your writing section is not scored but is examined closely by the law schools to which you apply.
Application process
Applications to take the LSAT must be filed online. It is given in July, September, November, and January on Saturdays and Mondays. These testing centers in Arizona offer the LSAT (though not every center offers the test every day):
Brookline College, Tucson
Gateway Community College-Washington Campus, Phoenix
Arizona State University, Tempe
Southwest College of Naturopathic Medicine, Tempe
University of Arizona, Tucson
Arizona Western College, Yuma
Fees
You must pay the LSAC $190 to take the LSAT (usually paid online via credit card when you register).
Receiving Your Score
Your LSAT scores will be emailed to you by the LSAC approximately two to three weeks after you complete the exam. Your score may range from 120 to 180, calculated by the number of correct answers on the four scored sections.
Remember, the LSAT is just another tool you will use to gain admission to an ABA-approved law school. Schools will also look at your undergraduate record, character and other qualities you have exhibited in the past and to which your references will attest.
Go to Law School in Arizona
<!- mfunc search_btn -> <!- /mfunc search_btn ->
Application process
Now that you have passed the LSAT, you are ready to apply to ABA-approved law schools. All ABA-approved law schools require that you use the LSAC's Credential Assembly Service (CAS) when applying. Follow these steps to utilize the CAS properly:
Create a secure LSAC.org account.
Make sure your LSAT score is in your file.
Input information about all schools you have attended.
Send all required transcripts.
Send all required letters of recommendation.
Pay the LSAC $195 to use their Credential Assembly Service. The fee can be paid online through your LSAC account. It also covers the electronic processing of your applications to the ABA-approved law schools you choose.
Accreditation
Under the rules of the State Bar of Arizona, you must graduate from an ABA-approved law school in the United States (not necessarily in Arizona) to become a member of the state's bar. There are 203 law schools across the United States that hold ABA accreditation. They are listed among the ABA-Approved Law Schools.
ABA-Accredited Law Schools in Arizona
Three law schools in Arizona currently are ABA-accredited:
Course requirements
The ABA lists coursework and knowledge that all approved law schools must include in their curricula. These are:
Substantive law
Legal reasoning and legal analysis
Legal research
Problem-solving
Oral communication
Writing in the legal context
Rules of the legal profession, its structure, history, values, goals, and responsibilities (including the Model Rules of Professional Conduct of the American Bar Association)
Other professional skills necessary to a lawyer's success
Field placements, internships, externships, pro-bono work and other live client interactions must be offered to law school students
The ABA mandates that it must take you at least two academic years (260 days) to earn your Juris Doctor (JD) degree, but that it cannot take you more than seven years (84 months). You must complete 58,000 minutes of instructional time (83 semester hours or 129 quarter hours of credit).
In addition, the State Bar of Arizona has ruled that all applicants to take the bar exam must first complete a course on Arizona law.
Online Law Degrees
(For students who choose to focus on a subset of law other than an attorney.)
Internship
Depending upon your law school, you may be offered the chance to pursue an internship. This may be in a law office, government agency, law clinic, pro bono situation, or moot court setting. You may be able to work as a legislative intern for your state's government to earn college credit. The contacts that you make during this practical experience will prove to be quite valuable to you after you graduate from law school.
Degree Programs
The State Bar of Arizona has ruled that all applicants to take the bar exam must have a Juris Doctor (JD) degree from an ABA-approved law school. Arizona's ABA-approved law schools also offer varying degree programs for legal students. These include:
Take the Arizona State Bar Exam
If you have your J.D. degree from an ABA-approved law school and are over 21 years of age, of good moral character, and mentally, emotionally and physically able to practice law, the State Bar of Arizona welcomes you to take its bar exam. (The other two methods of admission to the Arizona bar, admission on motion and admission by transfer of Uniform Bar Exam score from another jurisdiction, will be discussed later in this step).
Arizona allows law students who are in their third year of study to take the Arizona Bar Exam prior to graduation, providing that they are enrolled in good standing in an ABA-accredited law school, are expected to graduate within 120 days of taking the bar exam, only have eight semester hours of school left at exam time, and are not enrolled in more than two semester hours at the time of the exam.
Preparation
Just as it was important to prepare for the LSAT, it is equally important to prepare to take the Arizona Bar Exam. Arizona administers the Uniform Bar Exam, consisting of three national examinations. Free materials are available from the National Conference of Bar Examiners for the national portions of the exam (the Multistate Essay Exam, Multistate Bar Exam, and Multistate Performance Test).
If you wish to take a preparation course for the Arizona bar exam, check out the following:
Exam content
The Arizona Bar Exam is offered twice annually, in February and July. The first day of the exam consists of six Multistate Essay Exam (MEE) questions. These may cover any of the following subjects:
Constitutional Law
Trusts and wills
Business associations
Criminal procedure
Family law
Contracts
Evidence
Commercial law
Torts
Real property
Criminal law
You will then have to complete two Multistate Performance Test (MPT) questions. These are essay questions as well, and may cover the above topics.
The second day of the exam consists of the Multistate Bar Exam (MBE), which is 200 multiple-choice questions (190 of them scored). Subject matter covered may include Constitutional law, contracts, criminal law and procedure, evidence, real property, and torts.
Application Process
Apply online through the Arizona Judicial Branch (they handle the Arizona Bar Exam, not the State Bar of Arizona) to take the Arizona Bar Exam and pay your application fee of $880 online. Exam applications can be only be accessed between January 15 to April 30 for the July exam, and August 15 to November 30 for the February exam. All documents that you mail to the Bar to support your online application must be received in the Bar office within five days of completing your online application. These include:
Declaration (signed and notarized)
Authorization and Release (signed and notarized)
Code of Conduct (initialed and signed)
Evidence of graduation with a J.D. degree from an ABA-approved law school (one of the following):

Photocopy of your degree
Original, verified transcript
Original dated letter from your law school attesting to the date you received your J.D. degree

Original 2 in. x 2 in. passport-style photograph
Original completed fingerprint card
Court or bar document (if you were previously admitted to the bar in another jurisdiction)
Citizenship information (one of the following):

Copy of birth certificate
Copy of passport information page
Copy of valid driver's license
Copy of completed I-9 form
Copy of certificate of naturalization
Copies of immigrant status if not a U.S. citizen
Submit the supporting documentation to Arizona Supreme Court, Committee on Examinations, 1501 W. Washington, Suite 104, Phoenix, AZ 85007.
After submitting your exam application, you must file a separate Character Report Application. This authorizes the Committee on Character and Fitness to begin a background investigation.
Because this takes three to four months, keep this in mind when planning your bar exam (although the report need not be completed prior to taking the bar exam).
Pass Rates
The pass rate for the July 2018 administration of the Arizona bar exam as reported by the Arizona Supreme Court was 59 percent.
Multistate Professional Responsibility Exam
In addition to passing the Arizona Bar Exam, you must also pass the Multistate Professional Responsibility Exam (MPRE) with a score of 85 within three years of admission to the Arizona Bar. The MPRE covers the American Bar Association Code of Judicial Conduct (CJC), Code of Professional Responsibility (CPR) and the Model Rules of Professional Conduct (MRPC). This test is given in March, August and November in Phoenix, Tempe and Tucson. For more information or to register to take the exam online, click the link above.
Admission on Motion
You may be admitted on motion to the Arizona bar if you meet all of these requirements:
You have been admitted by bar exam to practice in another jurisdiction that also allows for reciprocal licensing of Arizona lawyers
You hold a J.D. degree from an ABA-approved law school
You have practice law in one or more states for five of the past seven years
You have a passing score of 85 on the MPRE
You are a bar member in good standing of all jurisdictions in which you practice law
You are not subject to any discipline or pending disciplinary matter
You possess good character and fitness
You have completed the necessary course on Arizona law
For more information or to apply for admission on motion, click here.
Admission by Transfer of Uniform Bar Exam Scores
If you have already taken the Uniform Bar Exam (UBE), you may be eligible for score transfer and admission to the Arizona bar if you meet these requirements:
You hold a J.D. degree from an ABA-accredited law school
You passed the UBE with a score of 273 or greater
You must still register to take the necessary course on Arizona law. You may begin your application for UBE transfer here.
Licensing and Admission to the Bar
After you pass the Arizona bar exam and meet all other requirements, you will be notified of the time, date, and place of your swearing-in ceremony. At the ceremony, you must recite the Oath of Admission. Once this is completed, you will be a full-fledged member of the Arizona bar.
Now that You've Been Admitted to the Arizona Bar
Congratulations on becoming a member of the Arizona bar! Whether you are starting out and setting up your own practice or joining an existing law firm, there are resources available to help you in your career endeavors.
The State Bar of Arizona offers many practice resources and useful links online. These materials can be helpful if you are starting your own general civil practice, commercial law practice, real estate practice, domestic relations practice, criminal law practice, personal injury practice, and estate planning, and other senior issues.
If you would like to join an existing law firm, contact some of the larger firms in Arizona to see if they are hiring. They include DLA Piper Global Law Firm in Phoenix, Greenberg Traurig LLP in Phoenix, Snell & Wilmer LLP in Tucson and Phoenix, Clark Hill PLC in Scottsdale, The Cavanagh Law Firm in Sun City and Phoenix, and Goldberg & Osborne in Phoenix and Tucson.
Corporations are also often in need of legal help. Fortune 500 corporations housed in Arizona that could employ lawyers include Avnet, Inc. in Phoenix; Magellan Health in Scottsdale; ON Semiconductor Corp. in Phoenix; Republic Services in Phoenix; Insight Enterprises in Tempe; and Freeport-McMoran in Phoenix.
Legal specialty certification
The State Bar of Arizona's Board of Legal Specialization recognizes and certifies attorneys who wish to specialize in certain areas. To qualify, you must:
Have been admitted to practice law for at least five years (seven years for criminal law and real estate law specializations)
Have been admitted to the State Bar of Arizona for at least two years
Devote at least 50% of your practice time to the specialization (70% if specializing in family law)
Have been substantially involved in your specialization area for four of the past six years (five of the past seven years if specializing in real estate)
Pass a written examination
Pass a peer review
Certification areas available in Arizona include:
Bankruptcy law
Criminal law
Estate and trust law
Family law
Personal injury and wrongful death
Real estate law
Tax law
Workers' compensation law
For more information on legal specialization in Arizona, contact the Board of Legal Specialization at (602)340-7326 or email Patrick.braatz@staff.azbar.org.
Requirements for maintaining license
To maintain your Arizona law license, you must complete 15 credit hours of Mandatory Continuing Legal Education (MCLE) per year. Three of those hours must be in ethics courses. The State Bar of Arizona does not certify MCLE courses or providers. Lawyers in Arizona lawyers must review Arizona's MCLE regulations and make their own determination that a program qualifies for MCLE credit. You must file an affidavit stating your MCLE hours every year.
Court Systems in Arizona
Arizona's court system has three levels:
Justice Courts and City Courts – These are courts of limited jurisdiction.

Justice Courts hear civil cases involving landlord/tenant disputes, collection cases, consumer complaints, negligence (such as motor vehicle accidents), and breach of contract cases. They also hear criminal cases of assault and battery, DUI, bad checks, violations of protection orders/harassment, and underage drinking. Justice courts hear civil and criminal traffic violation cases as well.
City Courts or Municipal Courts hear misdemeanor criminal traffic cases, civil traffic cases, violations of city codes and ordinances, as well as issue protection orders and search warrants.

Superior Court of Arizona -The statewide trial court and the general jurisdiction court in Arizona. Hears equity cases, cases in which the value of the property is $1,000 or more, felony criminal cases, some criminal misdemeanor cases, insolvency proceedings, nuisance actions, probate matters, divorces and annulments, naturalization, and other special cases not provided for elsewhere in the court system. Superior Courts are located in:

Apache County
Cochise County
Coconino County
Gila County
Graham County
Greenlee County
La Paz County
Maricopa County
Mohave County
Navajo County
Pima County
Pinal County
Santa Cruz County
Yavapai County
Yuma County

Court of Appeals and the Supreme Court

Court of Appeals is the state's intermediate appellate court, reviews trials and decisions appealed to them from the superior court. (Death penalty appeals and certain cases involving elected officials and county disputes are appealed directly to the Supreme Court).

Division One is located in Phoenix (16 judges)
Division Two is located in Tucson (6 judges)
Supreme Court is the highest court in Arizona and the court of last resort. It is located in the Arizona State Courts Building, 1501 W. Washington, Suite 402, Phoenix, AZ
Elective membership organizations
Now that you are a member of the Arizona bar, you might want to join a voluntary professional organization for attorneys such as:
2021 US Bureau of Labor Statistics salary and employment figures for Lawyers reflect national data, not school-specific information. Conditions in your area may vary. Data accessed April 2023.