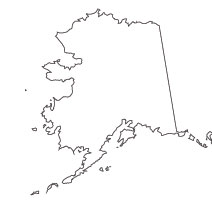 Steps to become a Lawyer/Attorney in Alaska
Law Careers Information in Alaska
According to the Alaska Bar Association, as of 2018, there are 4419 member lawyers, the majority of whom actively practice in Alaska. As judges in Alaska are appointed and not elected, many lawyers feel that this helps the state maintain more highly qualified judges that have consistency and depth. The Alaska Department of Labor and Workforce Development states that the average lawyer in Alaska brings home about $9451 monthly or $113,412 annually. You must follow the proper steps if you wish to become a lawyer in Alaska, which are outlined below.
Undergraduate Pre-Law Education in Alaska
The Alaska Bar Association regulates the licensing of lawyers in the state. Under the rules of the Alaska Bar, pre-legal education is not required in order to become a lawyer. However, if you wish to be accepted into a law school approved by the  American Bar Association (ABA) or Association of American Law Schools (AALS) (which is a requirement for admission to Alaska's bar), you must receive at least a bachelor's degree prior to entry to law school.
Accreditation
You must graduate from an undergraduate institution that is accredited by a national or regional accreditation agency recognized by the U.S. Department of Education. All law schools, regardless of their approval status, usually require that your undergraduate school is accredited by a known agency such as the ones recognized here.
Requirements and Standards
The receipt of an undergraduate degree denotes to both the ABA and the AALS that you have achieved a degree of intellectual maturity and accomplishment necessary for law school success. While neither the ABA nor the AALS sets coursework requirements for undergraduate education, certain coursework and areas of skill/knowledge are suggested to be helpful for future success in law school. They include: The ABA does not set requirements nor does it set standards for undergraduate pre-law education. It does state, however, that some basic areas of knowledge helpful to an attorney should be covered. Coursework should cover and include:
Analytical and problem-solving skills
Research skills
Oral and written communication skills
Task organization skills
Promotion of justice
Public service
Management skills
Critical reading skills
Reading comprehension skills
Degree Options
Just as coursework for an undergraduate pre-law degree is not specified by the ABA or the AALS, majors are not spelled out. However, ones that are suggested to be helpful include political science, government, history, English, philosophy, business, and economics.
<!- mfunc feat_school ->
Featured Programs:
Sponsored School(s)
<!- /mfunc feat_school ->
Sponsored Listings
Pre-Law Advisor
If your undergraduate college or university has a pre-law advisor on staff, utilize his or her services to help you choose the best courses, minors, and majors to help you later in law school. The pre-law advisor has knowledge of what you will need to be prepared for in law school and can assist you in selecting courses to help you get there.
Take the LSAT (Law School Admission Test) in Alaska
Before you can be accepted for admission into an ABA or AALS-approved law school, you must pass the Law School Admission Test (LSAT). This should be taken after you receive your undergraduate degree.
How to prepare
Practice tests and sample questions are offered at the LSAT website that can help you prepare for the real exam. Sample LSAT Prep Tests offered by the Law School Admission Council (LSAC) are very helpful and free resources.  Prep classes and courses can be very hard to find in Alaska. Other helpful preparation materials for the LSAT include:
LSAT Exam Prep Courses in Alaska:
Exam content
You will be tested on your knowledge and abilities in three main areas on the LSAT:
Reading Comprehension – Read long, complex passages and answer multiple-choice questions based upon your comprehension and understanding of those passages
Analytical Reasoning – Read statements, draw conclusions, and make deductions from those statements.
Logical Reasoning – Read materials and critically evaluate them to answer questions.
Application process
Applications to take the LSAT are accepted online by the LSAC. The LSAT is given on Saturdays and Mondays in July, September, November, and January. Not every test center offers the LSAT on every date, so plan accordingly when choosing a testing center. In Alaska, centers include:
University of Alaska-Anchorage, 3211 Providence Drive, Anchorage, AK 99508
University of Alaska-Fairbanks, 505 South Chandalar Drive, Fairbanks, AK 99775
The University of Alaska-Southeast, 11066 Auke Lake Way, Juneau, AK 99801
Fees
You must pay the LSAC a basic fee of $190 to take the LSAT (auxiliary fees may be added for incidentals such as changing test centers or dates). Fees may be paid online by credit card.
Receiving Your Score
You will receive your LSAT score by email about three weeks after the exam. The lowest possible score you can get on the LSAT is 120, and the highest possible score is 180. If you receive a score of less than 145, your chances of being accepted into an ABA-approved law school are slim.
Limitations
If you are dissatisfied with your LSAT performance, you may retake the test. However, you are not permitted to take the LSAT more than three times in two years, even if you cancel your exam score after the test and it is subsequently not reported to the Law School Admission Council (LSAC). Exceptions can be made if requested in writing. Email your request as an attachment to accom@LSAC.org or fax it to 215-504-1420. The LSAC will send you a return email to let you know if your request to retake the test has been approved or denied.
Go to Law School in Alaska
Featured Law School:
<!- mfunc search_btn -> <!- /mfunc search_btn ->
Application process
Once you have passed the LSAT, you are ready to begin submitting applications to law schools. Currently, there are no ABA- or AALS-approved law schools located within Alaska. However, you are encouraged to apply to approved law schools in nearby states. Consult this list of admission services required by ABA-approved law schools across the country. A list of ABA-approved law schools in the United States can be found here.
Credential Assembly Service
The LSAC's Credential Assembly Service must be utilized when you apply to any ABA-approved law school. These guidelines can help you to make the most of this valuable service:
Transcripts: All official transcripts from every institution in the United States that you have ever attended must be mailed from that institution directly to Law School Admission Council. Use the Transcript Request Forms provided by the Credential Assembly Service. Regardless of whether you received a degree, diploma or certificate, the LSAC needs transcripts from every school you attended and received credit. If you attended schools outside of the United States, inform the LSAC so that these may be obtained as well.
Letters of Recommendation and Online Evaluation Services: Give the LSAC names of persons who have agreed to provide you with recommendation letters and online evaluations. Print forms from the LSAC to give to your letter writers, who must submit these forms with their recommendation letters directly to the LSAC. The LSAC will help you submit online requests to your evaluators to complete online evaluations of your character and work.
Fee: The LSAC charges $195 for usage of its Credential Assembly Service. You may pay this fee through your online LSAC account. It covers transcript summarization, law school report creation, letters of recommendation and online evaluation processing, and application electronically for the ABA-approved law schools you select.
Accreditation
The Alaska Bar Association requires all applicants to have graduated from an AALS- or ABA-approved law school in the United States. There are 200 law schools across the country holding ABA accreditation, listed here.  Schools accredited by the AALS are found here.
ABA-Accredited Law Schools in Alaska
There are currently no ABA-accredited law schools in Alaska.
AALS-Accredited Law Schools in Alaska
There are currently no AALS-accredited law schools in Alaska.
Course requirements
ABA Standards 302-303 mandate that a law school's curriculum must cover these areas:
Substantive law
Procedural law
Legal analysis and reasoning
Legal research
Problem-solving
Oral communication
Legal writing/written communication
Professional responsibility
Ethics
Other necessary professional skills
Experiential courses
Law clinics/field placements
Opportunities for pro bono legal work for students
The ABA also states that each year in law school must last at least 130 days over at least eight calendar months. You must complete 58,000 minutes of instruction time, equal to about 83 semester hours of credit or 129 quarter hours of credit, in order to graduate from an ABA-approved law school. You must be enrolled in an ABA-approved law school for at least 24 months to get your Juris Doctor (J.D.) degree, but it may take no longer than 84 months.
AALS Membership Requirements for approved schools do not specify coursework, but rather that the approved law school must have a rigorous, broad, deep curriculum; academic freedom; scholarship; recognition of diverse viewpoints; varied methods of instruction; and offer courses from a wide variety of fields.
Degree programs
Rules of the Alaska Bar state that all applicants for bar admission must have a J.D. (Juris Doctor) degree or an L.L.B. degree (Bachelor of Laws, the foreign equivalent of a J.D. degree).
Online Law Degrees
(For students who choose to focus on a subset of law other than an attorney.)
Take the Alaskan State Bar Exam
You must be at least 18 years old and have a J.D. or L.L.B. degree in order to apply to sit for the Alaska Bar Exam. The exam is given over three days in February and July each year, in Anchorage, Fairbanks, and Juneau.
Multistate Professional Responsibility Exam (MPRE)
You must also pass the Multistate Professional Responsibility Exam (MPRE). You must obtain a scaled score of at least 80 on the MPRE. Bar rules state that you may take the MPRE as a law school student, before taking the bar exam, or after taking the bar exam. The MPRE is given in March, August and November. You may choose your test center after you register online.
Graduates of Non-ABA Law Schools
If you graduated from a non-ABA approved law school, you may still be eligible for bar admission in Alaska. If you passed the bar exam in another state and actively practiced in that state as a bar member for at least five years, you may take the Alaska bar exam without further legal education.
Foreign Law School Graduates
If you graduated from a law school outside of the United States, you must submit proof to the Alaska Bar that your school meets the ABA Legal Education Standards.
Preparation
The Alaska Bar Association does not recommend any vendor for preparation for the bar exam. They do, however, list the following Alaska bar review courses on their website:
The National Conference of Bar Examiners provides free study materials to prepare for the two national parts of the Alaska bar exam, the Multistate Bar Examination (MBE) and the Multistate Performance Test (MPT).
Exam content
The Uniform Bar Exam is given over two days in February and July.
You will spend three hours on the Multistate Performance Test (MPT). These questions give you a File and a Library and require you to complete a task described in a memorandum.
The Multistate Bar Examination (MBE) consists of two sessions of three hours and 100 multiple-choice questions each. The Alaska bar does not allow you to transfer MBE scores from other jurisdictions or from prior MBE exams you may have taken.
The Multistate Essay Examination (MEE) consists of six 30-minute essay questions.
Subjects covered in the MEE include:
Business Associations (Agency and Partnerships; Corporations and Limited Liability Companies)
Civil Procedure
Conflict of Laws
Constitutional Law
Contracts and Sales (including article 2 [Sales] of the Uniform Commercial Code)
Criminal Law and Procedure
Evidence
Family Law
Real Property
Torts
Trusts and Estates (Decedents' Estates; Trusts and Future Interests)
Uniform Commercial Code (Secured Transactions – UCC Article 9)
Application Process
File an Application for Admission to the Alaska State Bar. This application must be completed in its entirety, typed, and signed. You must print, sign, and have notarized an Authorization & Release Form which gives the Alaska Bar Association the right to conduct a Character Report. You will be given instructions on filling out a fingerprint card.
Fees
Submit your application fee of $800 with your application for admission to the bar. Fees are accepted online.
You will be notified at least 10 days in advance of the bar examination if your application has been approved or denied.
Pass Rates
You must receive a combined score of 280 or higher in order to pass the Alaska Bar Exam. Exam results are usually announced about 90 days after you take the bar exam. For the February 2018 Alaska bar exam, the overall pass rate was 62 percent. The first-time test taker pass rate was 75 percent. A total of 39 applicants took the exam, and 24 of them passed. Twenty-four test takers were first-time applicants, with 18 passing. A complete list of those who passed may be found here.
Admission by Reciprocity
If you are a member in good standing of the state bar of certain jurisdictions, you may be admitted to the Alaska bar without passing the bar exam. You must still pass the MPRE with a score of at least 80, however. A list of jurisdictions that have reciprocity with Alaska is here.
Licensing and Admission to the Bar
Within 60 days of being notified that you have passed the bar exam and completed all admission requirements (such as passing the MPRE and filing an affidavit with the Alaska Bar Association that you have read and familiarized yourself with the Alaska Rules of Professional Conduct), you must seek admission to the Bar. Swearing-in ceremonies are held approximately three weeks after exam results are released.
Now that You've Been Admitted to the Bar
Congratulations on your new status as a licensed Alaska attorney and member of the Bar! In a state as vast as Alaska, opportunities for lawyers exist far and wide. You may decide to venture out on your own and start a solo practice. If so, the article "Marketing a Startup Solo Practice" may be of assistance to you in helping you to get the word out about your new law practice.
Law firms across Alaska that may be hiring attorneys at any time include DeLisio, Moran, Geraghty & Zobel, P.C. in Anchorage; Robinson Law Office, P.C. in Palmer; Hoppner Law Office in Fairbanks; Dillon & Findley in Juneau; and Davis Wright Tremaine LLP in Anchorage.
Corporations headquartered in Alaska that might be in need of legal assistance include Doyon Limited in Fairbanks, The Aleut Corporation in Anchorage, Koniag Incorporated in Kodiak, Midnight Sun Brewing Company in Anchorage, and TDX Company on Saint Paul Island.
Legal specialty certification
If you wish to pursue an area of legal specialty certification, consult this list of Private Organizations with ABA-Accredited Certification Programs. Certifications for qualified attorneys are available in civil, criminal, and family law; social security disability advocacy and civil trial law advocacy. Most organizations ask you to apply and pass a certification examination before certification is granted.
Requirements for maintaining license
In order to maintain your legal license to practice in Alaska, you must fulfill Mandatory Continuing Legal Education requirements (MCLE) under Alaska Bar rules. This entails completing three hours of ethics courses each year. You are encouraged to earn nine additional VCLE (Voluntary Continuing Legal Education) credits each year, but this is not mandatory. You must report the three hours of ethics coursework you complete each year to the Bar.
Court Systems in Alaska
Alaska's judicial system is unique in that it is unified, centrally administered, and totally state-funded. There are no separate court systems at the municipal level. Four levels of courts exist in the Alaska Court System:
Supreme Court – the highest court in the state, hears appeals from lower courts and administers the entire judicial system for the state
Court of Appeals – three judges who hear appeals in cases involving post-conviction relief, criminal prosecutions, juvenile delinquency, habeas corpus, extradition, probation and parole, the excessiveness or leniency of a sentence, and bail.
Superior Court – the trial court of general jurisdiction in Alaska. There are 40 Superior Court judges throughout Alaska's four judicial districts. This court hears criminal and civil cases; serves as an appellate court for civil and criminal cases which have been tried in the district court; and hears cases involving: juvenile delinquency or children in need of aid, the property of deceased or incompetent people, involuntary commitments, domestic relations, guardianship, and conservatorship
District Court – the trial court of limited jurisdiction, consists of 21 district court judges serving in three judicial districts. They hear cases involving small claims, misdemeanors, preliminary hearings, civil cases, domestic violence, extradition, perform marriage and notary duties, and more.
There are four judicial districts across Alaska, as follows:
First District: Angoon, Craig, Haines, Hoonah, Juneau, Kake, Ketchikan, Petersburg, Sitka, Skagway, Wrangell, Yakutat
Second District: Barrow, Kotzebue, Nome, Unalakleet
Third District: Anchorage, Cordova, Dillingham, Glennallen, Homer, Kenai, Kodiak, Naknek, Palmer, Seward, Unalaska, Valdez
Fourth District: Aniak, Bethel, Chevak, Delta Junction, Emmonak, Fairbanks, Fort Yukon, Galena, Nenana, Saint Marys, Tok
Elective membership organizations
Think about joining one of the many professional voluntary membership organizations for attorneys in Alaska, including: