Do you enjoy helping others solve problems by offering valid advice? Do you consider yourself someone with good judgment and problem-solving skills? If so, you may enjoy a career as a mediator. Interested in how to become a mediator? Continue reading and learn not just how to become a mediator but also what the career entails.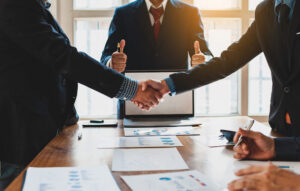 Overview – What is a Mediator?
A mediator is a professional trained in the area of mediation. They help opposing individuals or parties solve disputes and conflicts in a respectful and productive manner. Mediators with experience may work independently or for an organization or business. They guide parties through the agreement process and educate them on how to reach solutions independently.
Although mediators and arbitrators are often lumped together as though they are the same thing, they are not. Arbitrators will listen to the two parties and make a binding decision for them. Mediators, on the other hand, listen to the two parties and help guide them toward coming to an agreement that's mutually acceptable.
Career Outlook
Mediators are being used more than ever to help solve disputes and conflicts. One reason for this is that using a mediator to solve the issues is a lot less expensive than a court trial and all the fees that come from going to court. Another reason is that mediation is usually much faster and less complicated. In many cases, mediation is court-ordered.
The U.S. Bureau of Labor Statistics (BLS) reports that arbitrators, conciliators, and mediators should see an employment growth of 5% between 2022 and 2032. During that decade, about 400 new jobs should open up for these professionals. The state government is where the highest number of mediators are employed.
The states where the highest number of mediators are employed are:
Texas – 380
Michigan – 240
Pennsylvania – 220
Wisconsin – 200
Arizona – 150
Mediator Salary
As of May 2022, mediators, arbitrators, and conciliators earned an average annual wage of $64,030 according to the bureau. Wages ranged from $33,980 for the lowest 10% and $194,630 for the top 90%. Factors that can affect a mediator's wages include degree level, experience, certification, and geographic location. Below are the top states with the highest wages for mediators.
District of Columbia – $119,280
Massachusetts – $83,440
Michigan – $81,140
New Mexico – $78,040
Connecticut – $77,250
How to Become a Mediator – Steps and Education
Working as a mediator may seem like a basically simple process. You see two or more people having a dispute, and you reach out to help, right? It's actually not quite that simple because, for one thing, mediators need some sort of training. Secondly, mediators can work for a variety of industries that may require mediation regularly. Some of these industries might include:
Financial services
Healthcare
Media and communications
Environmental issues
Real estate
Professional and amateur sports
Public policy
Intellectual property
In addition to being able to work for various industries, mediators may have various specialties from which to choose. Couple seeking a divorce often require the service of a mediator. A civil case regarding a personal injury may also require mediation. Here are a few of the various areas of specialization mediators may choose.
Business
Divorce
Adoption
Technology
Personal injury
Civil
Employment
Environmental
Commercial
Intellectual property
The amount and type of training required to become a mediator depends on the area of specialty and industry chosen as well as the state in which the aspiring mediator lives and works. For instance, mediators in Oregon are not required to have any special education or training.
Wisconsin mediators, on the other hand, are required to complete a 40-hour training program approved by the Wisconsin Association of Mediators. Every state varies in their requirements so individuals interested in becoming mediators should check with their state licensing board.
The BLS reports that mediators should have a bachelor's degree as well as some work experience in the field of mediation. Many mediators choose to study the area of mediation in which they wish to work.
Courses Needed
Students in a mediation program will take a variety of courses, and these may vary based on the student's area of specialty. A divorce mediator may take courses in divorce mediation, negotiation, and mediation training as well as general mediation courses, such as:
Mediation Ethics
Intro to Mediation
The mediation process
Psychology of Conflict
Mediation theory
Mediation around the globe
Communication Strategies
Day in the Life
A day in the life of a mediator can change from day to day because their duties may change depending on where they work and what area of specialty they may have. Their main duty is to listen to different parties and help them come to an agreement without having to go to court. Other duties include:
Initiating communications between the two parties or groups to help them find an agreeable solution
Setting up meetings and appointments for the parties to describe the arbitration process
Assuring that both parties understand the process
Interviewing witnesses, claimants, and agents to obtain all necessary information
Evaluation all documentation and ensure its accuracy
Addressing the needs, concerns, and issues involving all parties
Determining fees, time requirements, and witness numbers involved in the procedure
Preparing settlement documents for parties to sign
Using all regulations, relevant laws, and policies necessary to reach an agreeable solution
Licensure, Certifications, and Continuing Education
There really isn't any specific type of national licensure required for mediators. However, there are training requirements in certain states. The requirements are different from one state to another. Many states require mediators to be certified before they can work on certain kinds of cases requiring mediation.
Most of the states that do require certification also require the mediator to complete 20 to 40 hours of training before they're eligible for certification. Certification can be obtained through the National Association of Certified Mediators.
Depending on the state, aspiring mediators may be required to complete additional training in the area of specialization in which they wish to work. Some states require their mediators to be licensed in the individual's area of specialty. For instance, many mediators are lawyers or CPAs. In these cases, the mediator must be licensed as an attorney or CPA.
Author: Tessa Long
Tessa has written about the law, attorney/client issues and law schooling for the last ten years. In her spare time, she likes to watch old reruns of her favorite legal show, LA Law.